How to clean:
First, remove the pusher block, blade frame and shield. Wash, rinse, sanitize, and then dry these parts. Before reassembling, wipe down the frame with a detergent solution, followed by a sanitizer solution.

How to assemble:
Tighten the nuts and bolts to attach the cutter handle and use a screwdriver to fasten the pusher block. Insert the shield, and then secure the blade frame by tightening the wing nuts.

How to use:
Place a potato on the shield between the pusher block and the blade frame. Swiftly pull the handle toward the blade frame to slice the potato into fries.
Watch this video to learn how to use, clean and maintain your French fry cutter! These step by step visual instructions will be sure to help you keep your French fry cutter with a 3/8 inch blade running like new.
Related Videos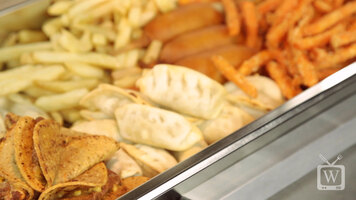 Avantco 2 Bulb Food Warmer
Looking for a way to keep your menu items warm? The Avantco free standing two bulb heat lamp & food warmer is an ideal solution. Equipped with convenient features like an adjustable stand, this heavy-duty aluminum warmer will meet your daily demands. West Bend 78002 Commercial Toaster
Learn about the features, controls, and uses for the West Bend 78002 commercial toaster!
Lincoln Impinger Oven 1100 Series: Basic Operations
The basic operations of the 1100 series ovens from Lincoln are covered in this video, from the basic functions on the control panel to standard operating procedures.