(Transcript Unavailable)
Watch this video to learn how to use, clean and maintain your French fry cutter! These step by step visual instructions will be sure to help you keep your French fry cutter with a 3/8 inch blade running like new.
Products In This Video


Related Videos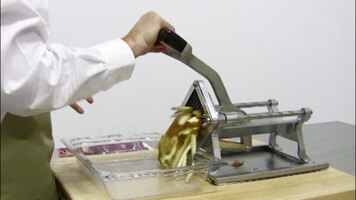 French Fry Cutter
Learn how to mount and use your Nemco Easy Frykutter so you can start making hot, fresh-cut fries today! West Bend 78002 Commercial Toaster
Learn about the features, controls, and uses for the West Bend 78002 commercial toaster!
Lincoln Impinger Oven 1600 Series: Troubleshooting
Troubleshooting with the 1600 series Impinger ovens from Lincoln. This video offers an overview of diagnostic messages as well as what you can do to ascertain exactly what your oven needs done!