(Transcript Unavailable)
Watch this video to learn how to use, clean and maintain your French fry cutter! These step by step visual instructions will be sure to help you keep your French fry cutter with a 3/8 inch blade running like new.
Products In This Video


Related Videos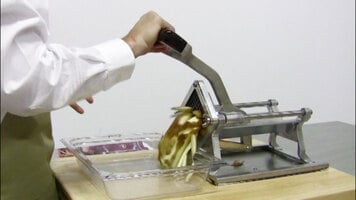 French Fry Cutter
Learn how to mount and use your Nemco Easy Frykutter so you can start making hot, fresh-cut fries today! How to Tie a Roast
Learn the proper way to tie a roast with butcher twine to not only help your roast hold its shape, but to ensure even cooking throughout. The great thing about using butcher twine is that it won't burn in the oven or ruin the taste of your meat! Gold Medal Popcorn Popper
This video will show you step-by-step instructions on how to operate and clean your Gold Medal popcorn popper! It also lists some valuable safety tips so you and your employees can stay safe while popping hot, delicious popcorn for your customers.