No vents, no hoods, no infrastructure, cook anywhere, easy to use. Load the food, set the timer for 2 – 5 minutes and your food will be ready to serve. Perfect for bars, clubs, cinemas, QSR, cafes, convenience stores, and bakeries, the automated cooking of these Perfect Fry fryers makes them the ideal choice for a multitude of applications. And you'll get perfect food every single time! It's not just for French fries either; you can cook spring rolls, chicken wings, shrimp, and much more in these fryers. Choose from the three models of Perfect Fry fryers to increase your profits without the bother of traditional fryers.
Check out the basics and benefits of picking up a Perfect Fry automated fryer!
Related Videos
Perfect Fry PFA7200 Demonstration
Learn about all the time, profit, and equipment benefits of the Perfect Fry PFA2700 automated fryer!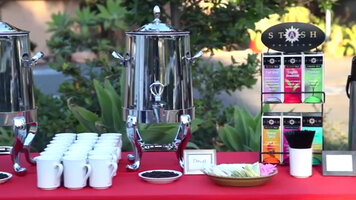 Eastern Tabletop LeXus Series Risers
Watch Doug Biggs from DJ's California Catering as he reviews Eastern Tabletop's LeXus series risers! They are eye-catching, easy to set up, and great for displaying any of your signature foods.
Using the Paraclipse Insect Inn Ultra
Flies are a major contamination risk in many restaurants and kitchens. This video will show you how the Paraclipse Insect Inn Ultra can eliminate these risks and solve your fly problems! And, there's no zap or harmful pesticides involved.