Since 1925, Edlund Company has been a leading equipment manufacturer, recognized for developing award-winning and innovative products for the global foodservice industry. From can openers to kitchen equipment to the most complete line of portion and receiving scales, each new product is given rigorous and extensive real-world field testing in commercial kitchens before being introduced to the industry. Food service facilities that field tested the model 401 electric knife sharpener with a program of higher quality purchased knives reported numerous benefits for their operations, including: - Better overall performance: The staff learned how to maintain their own edges, which resulted in sharper knives, faster production, less waste, improved efficiencies, more profits. - Improved attitudes in the workplace: By caring for the knives themselves, the staff developed a sense of ownership and greater respect for the tools. - Sanitation improved as well: Field testing showed that a prescribed sanitation regiment was more closely followed, again owing to the sense of ownership and pride taken in consistently sharper, higher quality knives. - The sharper knives improved safety: Lost days due to injuries or incidents related to cutlery were eliminated, as the staff maintained their own knives and were constantly aware of their condition. - The sharper knives boosted efficiencies in production and time resulting in higher product output and less waste. Compared to the costs of using a weekly sharpening service, the initial direct costs of the Edlund model 401 electric knife sharpener, combined with high quality purchased knives, were quickly offset. Payback was realized in as little as six months. In addition, the soft cost savings of this program were tangible. Our customers have realized additional savings in areas such as workers compensation claims, production time, loss prevention, worker efficiencies, sanitation control, and product yield.
Find out how the Edlund 401 electric knife sharpener can help improve your business from financial savings to employee safety!
Related Videos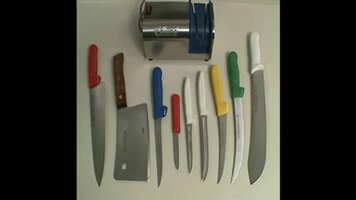 Edlund 401 Electric Knife Sharpener Introduction
Learn the ins and outs of the Edlund 401 electric knife sharpener, the only item of its kind to be NSF Listed!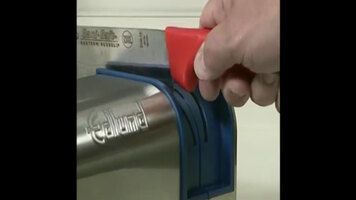 Edlund 401 Electric Knife Sharpener Operation
Make sure you get the most out of your commercial cutlery by caring for them with the Edlund 401 electric knife sharpener!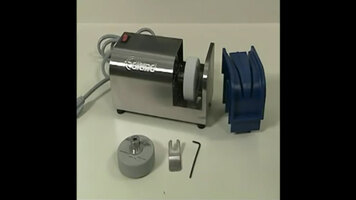 Edlund 401 Electric Knife Sharpener Cleaning and Maintenance
Keeping your Edlund 401 electric knife sharpener in premium working condition is important to maintaining a successful, efficient kitchen! Learn how to clean it and replace worn parts for excellent results with each use.