Welcome to the Crown Verity repair show, my name is Al Frenette. I'm in tech support and we're going to walk you guys through some repair sequences on Crown Verity's barbeques and there are a few things we want to do before we get into the repair jobs themselves. These are some measures you want to take before you get into; burner replacement, lighter tube replacement, anything to do with wheels or casters, conversion anything like that. Okay, there are a few things we want to do, just to be safe and make things easier for ourselves when we're doing these jobs. Okay, first things first, we want to make sure the grill is cool and we're not working on a hot grill. We're going to make sure the propane tank cylinder valve is in the off position. Remove the regulator, set it and the hose aside, lift the retainer, lift the propane tank remove and set it aside. If you're connected to natural gas, or a fixed propane system, shut the fuel supply off with the valve and disconnect the hose. The next thing we want to do is remove the grease tray. If there's a lot of water in there, get yourself a bucket. Remove the cap, drain out the excess water, and the grease pan comes out by lifting it, pulling, sliding it out, and we'll set that aside as well. Fuels disconnected, grease pans removed, there are a few other parts we're going to set aside here. We'll lift our warming rack out and set it aside. Cooking grates, they just lift out as well. Yours are probably dirty than mine. The heat shield also needs to come out, the heat shield is the piece of metal here sitting in front guarding the valves, set that aside.
Watch this video to learn how to prepare your Crown Verity grill for repair!
Related Videos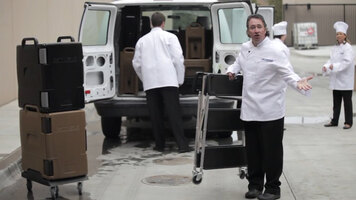 Carlisle Fold N Go Utility Cart
Find out why the Fold N Go utility cart is the ideal solution to transportation in your business! Learn How to Make Funnel Cake Swirls
Gold Medal puts a twist on a classic carnival favorite with this funnel cake swirls mold! Learn how to make this sweet treat on-a-stick to keep patrons coming back for more! Features of the Pacific Aura Wide Area Vacuum
The professional and versatile design of this Pacific Aura Wide Area Vacuum make vacuuming quick and easy for any business! With convenient features such as a top mounted hopper and bag and a 75 ft., safety yellow electric cable, you can't go wrong!