Nowadays, healthcare and other facilities keep leaning toward banning the use of open flames and sometimes flames just aren't practical. But, what if your job is to set up a buffet in a facility like that? Are you going to go out and buy all new electric chafers? Nope, you can just buy one of these. Hi, I'm Steve Ziegler, Product Expert at the WEBstaurantstore and this is the Universal Electric Chafer Heater from Vollrath. What's great about these heaters is they'll work with any chafer including the ones you already own and they plug into a standard 120volt outlet. Here, I'm going to show you how to use them now. The first thing I want to mention about these is I recommend these for single sided buffet service rather than dual sided because you really don't want people walking over an electrical cord that's attached to a chafer of hot food. Let me show you why these things are universal here. You see the bottom right here this will fit in any chafer fuel cell hole if it's the type of chafer that has like a hole that you put your fuel cell in. But also it has a spring right here; it's spring loaded and that ensures that this heater will press perfectly against your water pan. I'm going to go ahead and put this in here. You can see the great thing about these is they're so efficient you only need one of these per chafer. I'm going to go ahead and put that in there. Then, you just set your water pan on top filled with water. I always recommend you start with hot water. There you go and you just plug it in. It has a low or a high setting. You just set it to the desired temperature and you're ready to go. Well, thank you for watching and if you have any questions, please feel free to use our live chat button.
If you cater events where open flame isn't allowed, don't go out and buy all new chafers! Our Vollrath universal electric chafer heater works with any chafer and plugs into standard outlets. And, they're so efficient, you only need one per chafer!
Related Videos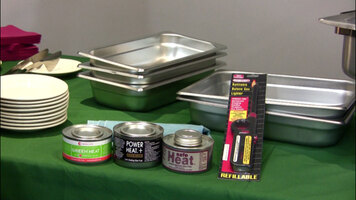 Chafer Accessories Review
Accessorize your Choice chafer with our full, 1/2, and 1/3 size food pans! Also check out our 3 types of chafer fuel, convenient microfiber cleaning cloths, and even our refillable long tip lighters.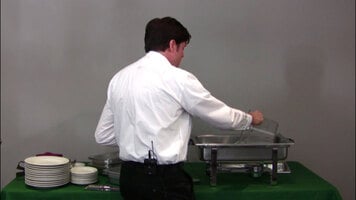 How To Use A Chafer
Watch as Steve demonstrates the proper way to use your chafer, from how much water you will need to when you should light the fuel. And remember, a chafer is only for keeping food warm, not for cooking it!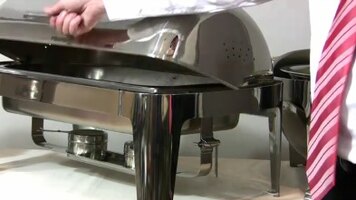 Supreme Chafer
With their extra heavy construction, large size, and simple and elegant styling, these supreme chafers will really make a statement! Featuring a lid that rotates up to 180 degrees, these chafers are perfect for both dual and single-sided service.