Seasoning your wooden cutting board is an essential step to keep it looking and functioning at its best for as long as you need it. Using a product like Emmet's Elixir Wood Conditioner helps preserve the life of your board so that you can continue to produce mouthwatering meals. Before you start, wash, rinse, and dry your cutting board carefully. Apply the elixir according to the manufacturer's directions. Rub it in firmly on all sides and the front and back of the board. Let it sit for about an hour. Buff your cutting board gently and it will be ready to use!
Taking proper care of your wood cutting boards is an essential step that will help extend the life of your board. This instructional video will show you how to properly season a wood cutting board to ensure it remains in great condition!
Related Videos Hamilton Beach Tango Blender
Learn about the great features of Hamilton Beach's Tango blender in this video! With a fruit-friendly lid, ExpressCare warranty, and a powerful 1 horsepower motor, this unit is perfect for commercial applications. VacMaster Vacuum Packaging Machines
VacMaster vacuum packaged products can last 3 to 5 times longer than non-packaged food while staying fresh! Watch this video for an illustration on how these useful machines are operated.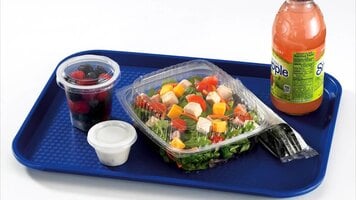 Cambro Fast Food Tray
Check out this video to see the many uses of the versatile Cambro fast food tray, available in a variety of sizes, colors, and even with an option for customization!