Introducing the Frymaster E4 Fryer. Operation of the Frymaster E4 Fryer is easy. A power switch under the control panel is a new safety feature. It provides power to the computer and it must be on for the fryer to operate. The handles, red for draining and yellow for filtration, fall readily to hand in the cabinet. When preparing the fryer for operation after boilout, covered in a separate video segment, or replacing the oil, return the basket rack to the fry pot and ensure that the drain valve is fully closed before adding oil. Fill the vat to the lower of the two etched marks in the fry pot. The oil will expand with heating and rise to the upper mark. Using too much oil will reduce the fryer's efficiency. If using solid shortening, lift the elements and pack the fry pot with the shortening leaving no air gaps. Lower the elements and continue packing until the shortening reaches the lower of the etched fill lines. Turn the fryer on, and allow it to heat. The computer enters an initial belt cycle, which heats the oil slowly to 180 degrees Fahrenheit.
This video provides you with a general overview of the newest features of the Frymaster E4 Series fryer, and will show you how to properly begin using your Frymaster E4 Series fryer.
Related Videos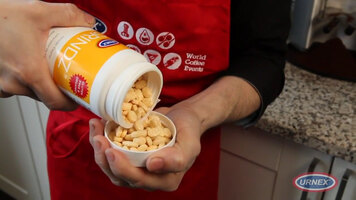 Urnex: How to Clean a Grinder using Grindz
Extend the life of your coffee shop's grinding machines with Urnex Grindz! By inserting a capful of Grindz cleaner into the hopper of your machine, you'll clear the inner components of any residue and keep your fresh coffee tasting great.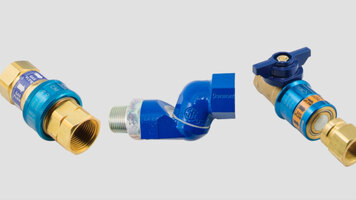 Dormont Blue Hose Accessories
Improve your commercial kitchen's safety by using Dormont's blue hose gas connector for your gas appliances! To further increase your productivity and efficiency, try Dormont's gas connector accessories such as the Snapfast, Safety Quik, and more!
Vollrath Super Pan V Steam Table Pans
Want to learn the benefits of the durable construction and patented corner, edges, and rim of the Vollrath Super Pan V? Explore that and other features as Chef Rich takes you to Lakeland College for a real world evaluation.