The first step in mounting the unit is to install the provided fall clip at the necessary height to allow for engagement with the turn down on the rear side of the sink. Install the sink to the top of the mounting clip as shown, ensuring it is firmly in place. Please note that there are additional mounting holes in the back of the unit if further security is desired.
This brief video gives you a few mounting tips for installation of your Advance Tabco 7-PS-90 hand sink!
Related Videos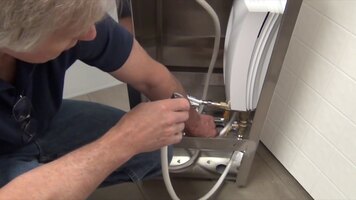 Advance Tabco 7-PS-90 Plumbing Installation
Learn how to correctly hook up the plumbing when installing your Advance Tabco 7-PS-90 hand sink by watching this helpful video! Robot Coupe CL-50 Gourmet
The extreme versatility of the Robot Coupe CL-50 Gourmet is unmatched! In this video, we see this machine dice, shred, cube, slice, and more! With so many different blades available, getting the perfect finished product every time is a breeze.
Get a perfect seal with a ARY VacMaster VP 210 vacuum sealer
An ARY VacMaster VP 210 chamber vacuum sealer is great for marinating, pickling, preserving, seasoning, or any of your other sealing needs! It's easy to use and affordable. Plus, with this model, you can even vacuum seal soup!