We only make things for one room: your kitchen. Because like you, it's where we shine. And now the revolutionary new KitchenAid 13 cup food processor is making culinary history. It features the first ever external blade control, thick to thin. This way, or that way. The new KitchenAid food processor, it's a lot less process and way more pro. Nobody knows the kitchen like KitchenAid.
This video will give you a look at the KitchenAid Food Processor, the first of its kind to feature external blade control.
Related Videos TableCraft Folding Tray Stand
Learn about the exciting features and benefits of this innovative new product from TableCraft!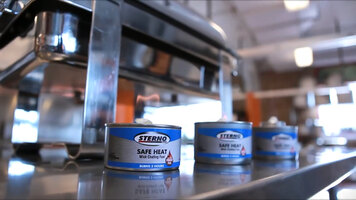 Choosing the Right Fuel For Your Event
Looking for the perfect Sterno for your next catered event? Check out this video to learn about all the Sterno options CandleLamp has to offer. Whether your want gel or liquid chafing fuels, they have an option to best suite your heating needs! Demonstration on MIWE Air Control
With Temperature, Moisture, and Circulated Air Control being the three elements that define the ideal cooking environment, you will find that the MIWE ovens will cook all your food to perfection.