So one of the great things about the Combi oven is that I can control the steam and the temperature in here so that I can produce a moist product in the end. So with the steak in this case, we are using a rib eye steak, we can cook, in this first step we used 100% steam and 131 degrees. I was able to set it so that the probe is on the inside and it told me exactly when it hit that point. When it hit that point, I opened up a vent and turned off the steam so that we could cook it up to 142 degrees and this process is going to dry out the outside and really prepare it to get seared at the end. So if you wanted to do a big banquet of steaks you could cook them all off this way, have that perfect temperature all the way through, the perfect color all the way through there, and then ten minutes before service, just put your grill pans in there and get them hot and put your steaks on, two minutes on each side. You have a perfectly grilled steak for 100 people.
Chef Thom England from Ivy Tech teaches you how to make the perfect steak with Hobart's Combi Oven.
Related Videos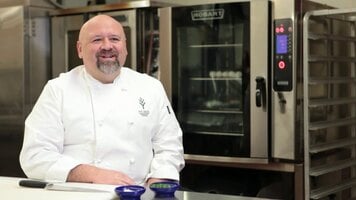 Hobart Combi Oven at Ivy Tech
Chef Thom England from Ivy Tech explains why he uses the Hobart Combi Oven, and the benefits of its steam integration. How to Make the Perfect Egg
Chef Thom England from Ivy Tech shows you how to make the perfect egg time after time using the Combi Oven from Hobart. Bron Coucke Deco Spoon
Use the Bron Coucke Deco Spoon and fascinate your guests with decorative swirling lines and eye-catching designs surrounding their entrees and desserts! Watch this video to see the product in action and discover exciting plate decorating ideas.