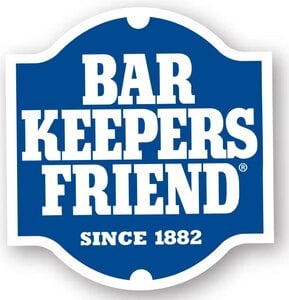 Bar Keepers Friend Overall Customer Rating:
Powerful Cleaners for Stainless Steel, Tile, and Other Surfaces
Bar Keepers Friend was founded in 1882 in Indianapolis by a chemist attempting to clean a household pot after using it to cook. Since then, the formulated cleaner he developed has expanded into a nationwide brand that has earned the trust of countless customers who use their cleaners. Read more
Bar Keepers Friend has expanded from simple dish cleaners into chemicals that can be used in the kitchen, bathroom, and even a residential garage. Equipped to tackle tough stains in almost any setting, these cleaners are as safe as they are powerful, making them great for businesses with new employees.