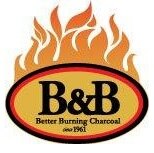 B&B Charcoal Overall Customer Rating:
Natural Charcoal for Grills and Smokers
Established in 1961, B&B Charcoal has become a leading producer of all natural oak and Quebracho Blanco wood. All of the resins and acids found in other charcoals are removed in order to help give your food a subtle, smoky flavor that will keep customers asking for more after they've finished their meals.
Read more
B&B Charcoal makes outstanding fuel for grills and smokers without the risk of adding a foul, chemical taste that accompanies acids and resins. All of these products are wood-only, guaranteeing you're using a safe and delicious charcoal that will add the perfect flavor to everything from salmon to burgers.