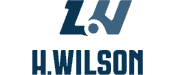 H. Wilson Overall Customer Rating
Our Overall User Rating represents the average star rating given in all customer reviews for H. Wilson's products. Use our Overall Customer Rating to evaluate the brand's quality based on feedback from your fellow customers!
H. Wilson Product Reviews
H. Wilson Links
Library Book Carts / Trucks
Luxor Book Carts
Whether you're transporting or re-shelving books at libraries, correctional facilities, or assisted living communities, Luxor makes a configuration of shelves to meet your needs.
Magazine Racks and Literature Displays
H. Wilson Company Quality Magazine Racks
Perfect for waiting rooms, news stands, or mall kiosks, attractive H. Wilson free standing or wall mount magazine racks are sure to boost sales.