We know you're busy. We also know you want to save money. We can read minds... kind of. So, here are a few ways to make shopping at The WEBstaurant Store the most cost effective and simplest shopping experience you've ever had on the web!
How Can I Save on Shipping?
Buy More and Save More!
Saving the absolute most on shipping at The WEBstaurant Store is simple -- bulk, bulk, bulk! Because we specialize in getting big orders to your business as quickly as possible, the more you order, the better your shipping cost per item will be.
Example 1: A case of foam cups is light, but the box is large, so it costs a lot to ship by itself. Solution: Why not order lids, napkins, stirrers, and other supplies you probably need or will need soon at the same time? Then, your shipping cost per item will go down.
Example 2: Similarly, ordering just one case of dish detergent is expensive because we can't ship it FedEx. Why not order some of your other chemicals at the same time, or throw a case of detergent on to your disposables order from example 1?
Don't Forget, Free Shipping Isn't Necessarily Free
Check out Brian Montgomery's blog post explaining The Truth About Free Shipping for more information about shipping with The WEBstaurant Store.
Save Time and Money By Registering!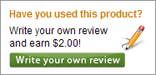 Submit Product Reviews and MAKE MONEY!!!
Every approved written review you submit will get you $2.00 off of your next purchase. For every approved photo, we'll give you $4.00 off of your next order. If you're feeling really ambitious, submitting an approved video will earn you $10.00 off your next purchase. So an approved photo, video, and written review will net you $16.00 in store credit!
Reorder Quickly
In a hurry and just need supplies you've ordered before? Browse through only the items you've purchased in the past with our Rapid Reorder feature.
Track Your Orders Online
Just click on My Orders to bring up details about your past orders, status of current orders, even quickly track your FedEx shipments right on our site!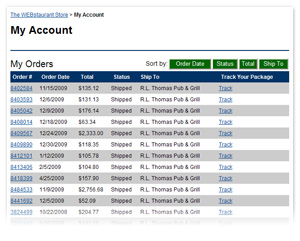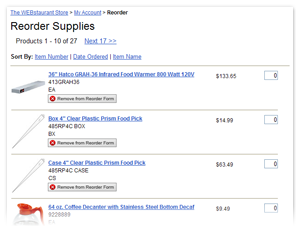 Any Other Ways to Save?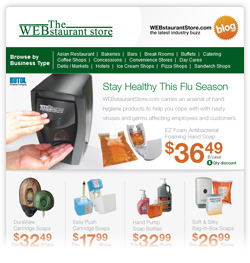 Sign Up for Our Money-Saving Email Specials
Learn about great deals, seasonal promotions, awesome new products, and get Coupon Codes for special discounts with our popular e-mailers. Sign Up Now!
Find The Best Deals on the Web
Find bargains on our Price Chopper and Cooking Closeouts pages. We update them regularly so, whatever you do, DON'T MISS THESE DEALS!
Find What You Need Faster with Filters
Our easy-to-use category filter system lets you narrow your search results based on criteria specific to the type of product you're looking for.
Stay Up to Date with Our Blog
The The WEBstaurant Store blog is a great way to find money-saving coupon codes, get news about our brand new items, and catch up on what we're excited about in the restaurant industry. Check it out, we guarantee you'll be thoroughly enlightened and entertained...well, we hope so.
Shop Smart with Buying Guides
Having trouble deciding which scale, linen tablecloth, or kitchen knife is right for you? Learn what you need to consider before you purchase with our colorful and interactive Buying Guides.