Noble Large Powder Free Disposable Vinyl Gloves for Foodservice
$2.69/Box
$20.75/CS
Buy in lots of 14:
$22.41

/CS

Buy 3 - 13
$23.24

/CS

Regularly:
$23.99

/CS
3.5 mils thick
Allergy free
Powder free
Ideal for food handling, food prep, janitorial duties, and more
1000 gloves per case; 100 gloves per box
Item:

394365L

Units:

Box

Shipping:

Usually Ships 1 Business Day
When will I receive my Item?

Units:

Case

Shipping:

Usually Ships 1 Business Day
When will I receive my Item?

Reviews:
Companion Items In this video, we give you an introduction to the Noble Gloves collection. With guaranteed quality and incredibly low prices, Noble Gloves is sure to have a selection of styles and sizes to fit the needs of your company.
When it's time to shop for a new case of disposable gloves, you want to make sure you get a superior product at a better price, give Noble gloves a try! Noble gloves have proven to be a reliable favorite for many of our customers thanks to their guaranteed quality and incredible prices. With the lowest prices in the industry, on boxes of a hundred gloves and cases of a thousand, Noble gloves ensure a high quality product with a selection of styles and sizes that are sure to meet your every need.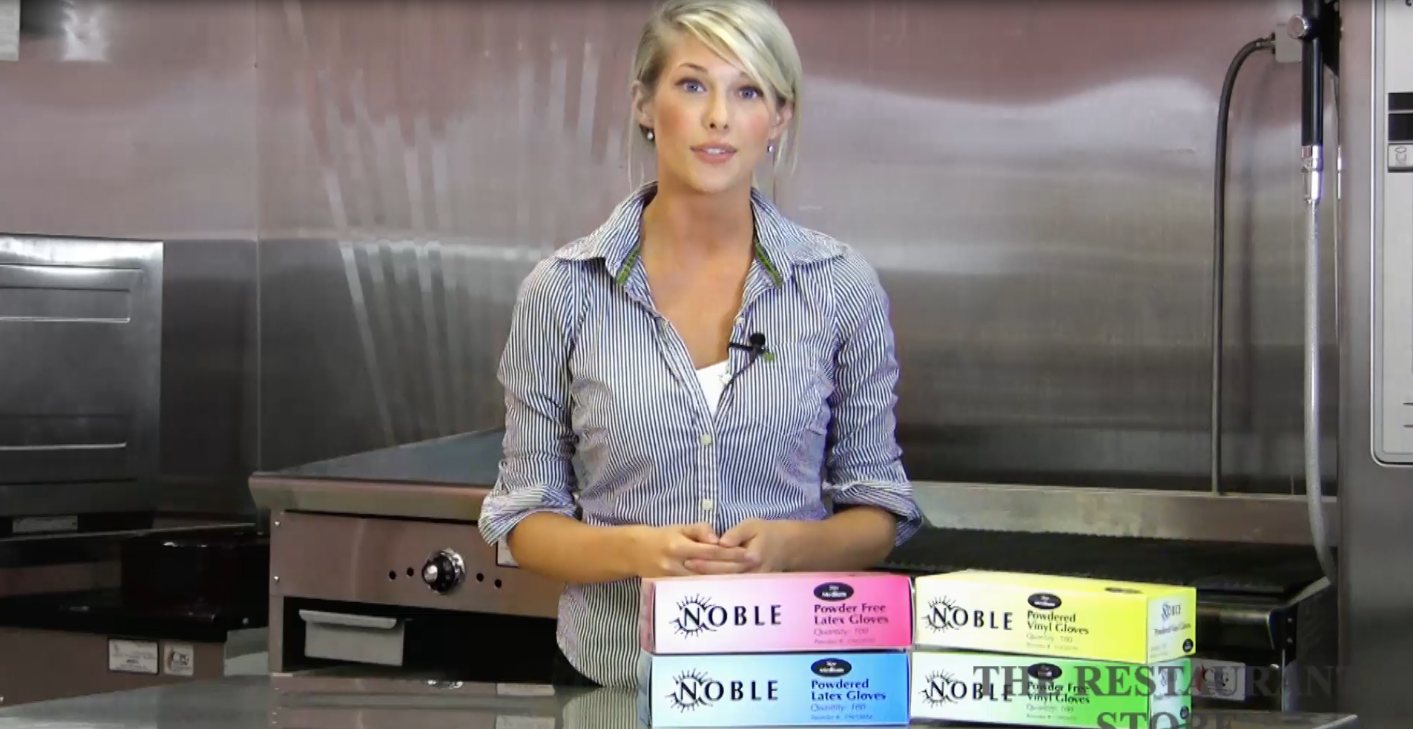 This video gives you an overview of what Noble Gloves offers. These versatile, food service-grade gloves can be used to protect hands in almost any situation and come in multiple sizes and styles so you can provide your employees with the perfect fit
Proper food handling is a vital part of any successful commercial kitchen, and Noble's food service grade gloves are the perfect way to help you ensure sanitation and prevent cross contamination. The gloves' durability and elasticity make them ideal for any type of food preparation, while changing and disposing of gloves between tasks is no longer a major blow against your bottom line, thanks to our always low price. Noble gloves are extremely versatile and can be used in a variety of other applications too, perfect for home use or on the job, they are a tremendous option for maintaining sanitary condition in daycare centers, protecting your hands from grease and other abrasives, in light painting, mechanical and industrial jobs, and can even be used for light janitorial work. These food service grade gloves are available in small, medium, large and extra-large sizes with both powdered, and powder free options to choose from. Noble gloves feature color coded boxes, so you can quickly pick out the best glove for a job. With pink, powder-free latex, blue powdered latex, green powder-free vinyl, and yellow powdered vinyl, this easy system will help you grab what you need, when you need it. It's important to invest in multiple gloves sizes so that you have the ideal fit for all of your employees. Gloves that are too big will not stay on, while those that are too small are more prone to rips and tears. Because you should always have numerous glove sizes on hand, it is also a great idea to install a wall mount glove rack for each size to ensure they are always in reach when needed.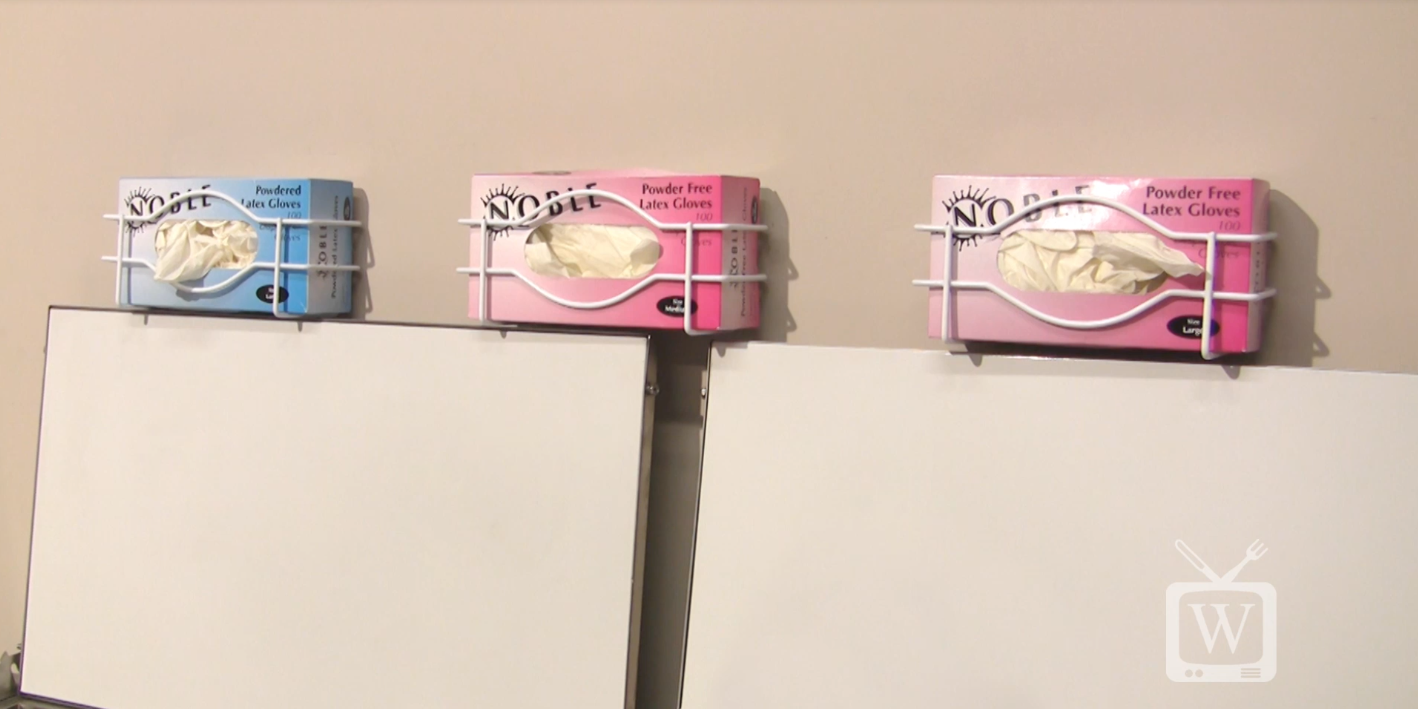 Noble Gloves - Types of Gloves
In this segment, we explain the different types of gloves offered by Noble Gloves. Whether you're looking for powdered or powder-free latex or vinyl gloves, Noble Gloves offers the best in disposable glove protection at affordable prices.
Ideal for light janitorial applications, powdered gloves can be put on more quickly and easily than powder-free, and they also decrease the chance of rips and tears. Some people have been known to have allergic reactions to the powder, however, so it's a great idea to stock both types. Powder free gloves are often preferred in restaurants because they bring no concern over bringing powder in the food. Vinyl gloves from Noble boast a 3.5mL thickness for reliable protection at an affordable price. These form fitting gloves are made from man-made PVC which makes them cost effective alternative to latex. Unlike latex gloves which can irritate those with latex allergies, vinyl gloves eliminate the potential for skin irritation. While they're a bit more expensive than vinyl, latex gloves from Noble provide customers with an ideal blend of comfort and protection. A natural product made using a milky fluid derived from rubber trees, these gloves have a 4.5 mL thickness for excellent puncture resistance. Their elasticity takes the hand's shape really well to provide the precision needed for more intricate tasks. Please be sure to check out our disposable gloves buying guide where you will find more information on poly-gloves, nitrile-gloves and other gloves offered on our site. In this video, we go over how to use Noble Gloves properly and most effectively; including how to properly remove these gloves. Proper wearing and removal of gloves can prevent cross contamination and keep your employees and customers safe.
All of the gloves offered by Noble provide a protective barrier between your bare hand and food, or unsanitary conditions. But that doesn't mean much if used incorrectly. For food handlers, it is always important that gloves be removed before or after handling money, and replaced with a new pair afterwards. Gloves must also be changed at least every four hours during continual use, and after handling raw meat and seafood, or poultry to cut down on cross contamination. Proper removal of disposable gloves is just as important as wearing the gloves properly. Cross contamination between soiled gloves and clean hands can can easily be prevented by following these simple steps. Grasp the outside edge of one of the gloves near the wrist. Peel it away from hand, turning the glove inside out. Hold this glove in the opposite gloved hand, then slide an ungloved finger under the wrist of the remaining glove, careful not to touch the outside of the glove. Peel it off from inside, creating a bag for both gloves. Discard, and wash hands thoroughly. Making gloves easily accessible allows you to slip on a pair even when in a rush. So don't forget to purchase a wire wall mount glove rack, so that you can keep your gloves within arm's reach of your sink, prep table, janitor's closet, and more.
Details
These high quality, multi-purpose, large powder free disposable vinyl gloves from Noble are designed for consistent fit, flexibility, and resilience! They are ideal for a variety of uses in the food service industry, from food handling and preparation to janitorial and housekeeping tasks. And for convenience, the box fits easily inside a protective glove dispenser.

These food service gloves are a perfect general purpose solution for any environment. These non-sterile, allergy and powder free gloves are ambidextrous and 3.5 mils thick. Best of all, these disposable kitchen gloves are sold 100 gloves per box, 10 boxes per case.
UPC Numbers: 072288116209
Downloads
Sizing Chart
A PDF viewer is required to view this product's information. Download Adobe Acrobat software
Other Products from this Line
Related Items
Customer Reviews
Overall User Rating:
Noble Large Powder Free Disposable Vinyl Gloves for Foodservice

(

4.8

stars from

73

reviews )
These gloves are high quality and durable. They are much less in price than other brands and are more reliable than others that I have tried.

Kimberly W. from No-Rea LLC Posted on 03/03/2014

I thought these gloves would be thin and flimsy but I'm pleasantly surprised how durable they are. They did not break when putting them on or while working in them. Will definitely purchase these again.

Mary M. Posted on 02/24/2014

What can I say? hahaha I use gloves to cook, to bake, etc. I love these. Good Quality and cheap. I bought the same for more. And here, I bought 3 boxes for almost the same price. WOW!! Thanks Webstaurant.

Maria N. Posted on 02/17/2014

I love these gloves for serving food powder free strong and easy to put on they are easy to remove from hands don't stick on your hand

Mary B. from sweets Posted on 02/12/2014

Economical and easy to use. It fits perfectly.It won't stick to the hand and be tear easily. High quality product. Highly recommended for any type of uses.

Keo p. from Bangkok Place Thai Restaurant Posted on 01/24/2014

Perfect gloves for every size hands. The are powder and latex free. They do not make your hands break out, and can not tell you even have them on.

John H. from Harts Repair Service. LLC Posted on 01/23/2014

Will purchase again. Like that I can buy one box at a time for the different sized hands in the kitchen. At these prices there is no excuse for not having gloves.

Athalia L. Posted on 01/09/2014

These gloves are way cheaper then any competitors, quality is really very comparable, if your looking to save money in your restaurant, then you need to look into using these gloves!!!

Jeff B. Posted on 01/06/2014

We have been using these powder-free vinyl gloves for a few months now and found them an inexpendable tool in our packaging routine. No more finger print marks on our chocolates!

Lydia Y. from U Specialties Inc. Posted on 01/06/2014

These gloves worked great for serving food at a party. I also used these when I colored fondant for cakes. They were a good price and would order again.

Lisa K. Posted on 11/29/2013

The noble large powder free disposable vinyl gloves is very strong. Quality is great and I love it. The price is right.l continued to purchased from your website. Great product and excellent customer service.

Joyce H. Posted on 11/06/2013

great gloves fits a litte snug for me but i get into them... for the money,we use webstaurant store before my suplier because of the cost, same as my supplier but cheaper and no minimum order thanks!!!!

Joseph B. from jeanne's bakeshop Posted on 11/02/2013

Any caterer should definitely have these because you can't serve food with your bare hands. These are very useful. Shows your guests how clean you are when it comes to dealing with food.

Theodora A. from Makd's catering Posted on 10/16/2013

Snug fit. Can be easily put on and removed. Gives a hygienic appearance. Very comfortable and flexible. Do not even realize they are on our hands.

Swati M. Posted on 10/15/2013

Well I have to be brutally honest. I should have bought the XL gloves. I find it strange that they offer a Small, Med, and Large, even through the majority of cooks can't fit the large on their hands without tearing. Maybe I should have tried the powered version. But the "Large" should probably only be used for prep girls, and the XL should be used to the men. I am trying not to sound sexist.

Mike K. from Cooper's On 5th Posted on 10/15/2013

We go through a lot of gloves when we tie dye. These gloves are so inexpensive and decent quality. Better yet, they seem to be fine for my students who have had reaction to latex.

Chris C. Posted on 10/06/2013

I don't go anywhere without these gloves. They are the best and they fit me (medium) and my husband (large) comfortable for when I make him help me bake for a vendor show. Also work very well when tempering eggwhites with your hands lol.

Rebecca D. Posted on 09/19/2013

We use these glove in both of our schools for work with children. They are the perfect solution and the price is the best that I've been able to find anywhere. As well, we usually get our order the next day which is very helpful.

Michael G. from The Goddard School Posted on 09/11/2013

we bought these to serve cooked food as well as prep. they gloves were a nice thickness and didn't tear when putting on. they held up well and we would buy again.

William G. from Peoples Baptist Church Posted on 09/03/2013

as we are handling food, for suppers we go through a lot of these, the women love these, no powder, slips on easy, and stays on very well!

Anna N. Posted on 08/13/2013

I will be purchasing some more of these gloves and keeping them on hand. They are good for all food service occasions. Great for serving!

Veronica M. from Where the Heart Is LLC Posted on 08/06/2013

These gloves work great. The large size is nice for the ladies' hands. The girls use these daily when portioning side salads and their toppings or when on expo.

Brent R. from Stoneyard Grill & Tavern Posted on 07/25/2013

These are my GO-TO gloves when making my product. They are strong and easy to use. I like that they are easy to slide on and off but do not rip/tear. As you can see in the picture, they come to about wrist length. I have "average" female hands and the Large size fits perfect. Perfect for protection!

Patricia Z. from Primitive Gardens Posted on 07/17/2013

Fit well and perfect for mixing/handling meat for meat loaf, meatballs, etc. Also when cleaning greasy grill/smoker or mixing oily items like homemade croutons! No powder is perfect!

Tom B. Posted on 05/30/2013

I love these disposable gloves. I go through so many in my ice cream business and because the price is so good I stop caring about how many we go through per day.

Tom K. Posted on 05/30/2013

These are great for handling food of course, but in a pinch, these will also work for doing dishes. They are perfect for all the small messy jobs you have to do, including polishing silver, stainless, or copper.

W. P. Posted on 05/12/2013

These are great food service gloves for handling ready to eat foods. They are nice for handling bagels and croissants when making breakfast sandwiches. A must have item to always stock up on.

Rick M. Posted on 03/23/2013

I expected these to be lower quality then they were. Rubber gloves are a necessity in this industry, and these gloves get the job done every time.

Daniel S. Posted on 02/17/2013

You cannot beat this value for high quality vinyl gloves. My Sysco rep can't believe how low the price is. Save money and buy these in bulk, you will not regret the purchase.

Domenico F. from Arturo's Posted on 02/05/2013

Buy then in bulk to realize the savings. Saving me a couple of bucks from buying them at Sams. Very good quality and good texture to do foods that require "hands on" preparation.

John P. from Eggs R Us Posted on 01/07/2013

Great gloves! We go through a lot of gloves & Webstaurant has the best price around. I have medium hands & I order the Large size, they fit pretty snug with a little room for somebody with larger hands.

Lina B. from Doughlicious Cakes Posted on 12/08/2012

Great price on these gloves. Use alot of these gloves on a daily basis. The only reason they didn't get five stars is because they sometimes rip when putting them on...but it only happens once or twice per box, so it's not a deal breaker:)

Angela E. from annaB's gluten free LLC Posted on 09/01/2012

This gloves are very comfortable and are a great fit. I don't mind wearing them at all. The powder free ones don't dry my skin.

David D. Posted on 07/29/2012

The vinyl gloves are wonderful when we are frosting cupcakes or decorating cakes. They are not bulky and do not tear easily. Perfect for our bakery.

Brittany W. from Fix it with Frosting Posted on 07/24/2012

These are the best gloves I've ever used. Once I got the right size, they fit snugly and comfortably, and I never had to worry about accidentally getting bits of latex glove in my food.

Margaret S. Posted on 07/22/2012

We go through a ton of these gloves with the amount of children we have here. I used to order them through a specialty distributor but they can't come close to this price. Quality is great, shipping is very fast and customer support is helpful when I've needed them. Thanks!

Michael G. from The Goddard School in Sparks, MD Posted on 06/14/2012

wasn't real inpressed with these gloves. I was hoping for a better fit and more dourablity would be good for light duty work but not for long term work. Sorry

Gerard S. from O'Towne Tavern Posted on 04/26/2012

Thanks for the review! If you are using your gloves for highly intensive work then you may want to consider a more durable glove of the same size like the Large Vinyl Glove General Purpose 6.5 Mil - Green.

WEBstaurantStore.com Customer Solutions

Great gloves at a great price. Highly recommended for general food prep purposes. Appreciate buying by the case because we go through a lot of them1

Toni L. Posted on 04/05/2012

The kitchen staff likes the powder free gloves better than the ones we normally get. Also, the price was cheaper than our food service provider and we got free delivery!

Aldo P. from Barfly Inc. Posted on 03/08/2012

Easy to order from website. Product great for general use in a day care setting. I have searched different companies several times and these are the best prices too. Reasonable delivery time.

Sandy G. from Tree House Childcare Posted on 03/06/2012

Thid is great price for the gloves. the quantity is also more than enough. Leaves hands not dry and the hands dont have the white powder.

Aaron h. from The new haven cafe Posted on 03/05/2012

You can never have too many gloves in food service applications. These gloves are a good quality and fit well for adult male hands. Highly recommended product.

Michael H. Posted on 03/01/2012

When I'm in the store I can usually be found with a pair of these gloves on. We use them for our chicken products. We've been using these for years and have never had any problems.

Allyson S. from Breads, Buns, n' More! Posted on 02/23/2012

I use plenty of gloves on a daily basis.This is a great price for these gloves. Great fit. It to put on and take off

Donna R. Posted on 02/03/2012

These gloves have made cake pop preparation wonderful! They make rolling the cake into balls mess free and sanitary, which is very important for me and my customers.

Amanda B. from Scrumptious! Posted on 01/30/2012

These gloves are by far the best value on the market! We use them on a daily basis and they fit great and are extremely comfotable and durable.

David A. from Good Bread Co. LLC Posted on 01/24/2012

I use these gloves daily. They are priced right, go on easy, are durable and one pair lasts me for three hours while cutting up meat.

Shannon B. from Swamp Mama's Jerky Posted on 12/30/2011

These are disposable vinyl gloves that last for a long time. It's stretchable and also durable. Comes in a huge amount for that low price

Wendy Z. Posted on 12/27/2011

These are great vinyl gloves,powder free no itchy hands due to latex allergy, great for cake decorating also nice fit,Not loose on the hands good fit.

Angela H. from Harrison Familey Restaurant Posted on 12/17/2011

These are great in preserving the sanitary virtues of your kitchen. I use them to prepare foods as well as for decorating cakes. I won't hesitate in reordering these great multi-purpose gloves.

Marie F. Posted on 11/20/2011

Powder free gloves are the way to go if you don't want dry hands, but you must have dry hands to get them on. Works great.

Joseph C. Posted on 11/18/2011

I use these in the food ind. work great very easy to slide on and for the price an easy choice, we use these in large supply so will keep using with a smile

Randall H. from Randys family restaurant Posted on 09/10/2011

These vinyl gloves are as described and exactly what you see in the picture. Easy to use and economical. Will definitely be buying more again.

Candy L. Posted on 09/08/2011

the gloves were great as they did not have powder and they did not make the hands sweat as reported by the caterers. Easy grip on items with gloves on.

Caroline M. Posted on 08/30/2011

My kitchen staff really enjoys these gloves. They fit well and dispensw quickly from the box as they perform daily duties in a busy restaurant.

Bill L. Posted on 08/19/2011

The sizing on this brand of glove is a little different than gloves we have used in the past. We like the quality and fit, however had to buy 2 different sizes to accommodate everyone who needs to use them.

Mary M. from MacDaddy's Rollin' Smoke BBQ Posted on 07/14/2011

We now use these gloves in our lunch room. They are cheaper than the latex and the staff like them. The price is lower than the latex. We have purchased these before.

Jessica R. from Embassies of Christ Posted on 07/01/2011

excellent packaging and delivery. this product fills the need for employees when putting out hot dogs and buns in our steamer for customers at our internet cafe.

Elaine B. from gold dust Posted on 05/17/2011

We are a Child Care Center and we changed diapers probably more than 100 times a day. These gloves are very easy to put on and off. They are also strong enough to avoid breakthroughs. My staff and I are very please with these product & will continue to buy these.

Kaytee C. from Small Blessings Child Care Center Posted on 04/01/2011

These are sturdy and work for using them in preparatio serving and assembly. My only problem is the shipping adds so much to the price.

James C. from SMOKEY J'S Posted on 02/01/2011

We are an Infant/Toddler Center and change 100s of diapers daily. These gloves are an excellent product that allow for ease on and off while keeping our staff safe from contaminates. They are strong enough to avoid breakthroughs and does not irritate skin. Thank you for such a great price on such a great product.

Victoria G. from LSLC Posted on 01/25/2011

These gloves are great to use and the best value around. Highly recommended! They don't tear easily and are great for so many tasks. Since I've started buying these, I've never used any others.

Kim Z. from Cold Stone Creamery Posted on 01/12/2011

Love these gloves! We've been ordering them in mediums, and with some new employees we also ordered a case of large - these easily fit a 6'6" man's hands - and they aren't tight and are not prone to ripping. Love them!

Anna S. Posted on 01/03/2011

Great gloves at agreat price. Great value for what you get. My distributor cannot touch the price for the 10 boxes of gloves that come in each case.

Bernie R. Posted on 10/24/2010

The Noble Powder Free disposable vinyl gloves are great for many uses and they are a great value. We buy them by the case quite often and we would highly recommend them to anyone.

Debbie E. Posted on 09/24/2010

Outstanding value for the money. Very economically priced, yet heavy duty enough for rigorous cleaning jobs. Keep them on hand for kitchen, restroom, and utility room cleaning jobs. Great for meat handling, as well.

Wesley O. from morton pub Posted on 07/20/2010

The quality of your powder free disposable vinyl gloves are the best, we have been buying gloves for a long time and the professionalism that your company delivers is just amazing. I hope that our business relationship last forever.

Carol F. from Dansville Redemption Center Posted on 06/13/2010

These gloves are highly recommend because of being powder-free. The size actually will fit most people, so it is good to have at least some on hand for those staff that need larger size gloves. Excellent price too.

Lucas P. from Shaharazade's Restaurant & Tea Room Posted on 03/29/2010

Great gloves and a good value. They hold up to heavy use like cleaning but are supple enough to do fine work in them as well.

Wendy H. from Cooks on the Loose Posted on 03/21/2010

Excellent value and quality.Ive tried many different gloves and for the price and quality these gloves can't be beat. Delivery was quick. Service was excellent.

Anthony M. Posted on 09/30/2009

I love these gloves. We used to use the cheap saran wrap type gloves. I bought these and we'll never go back to the others. great price too.

Darrell S. Posted on 09/04/2009

These gloves are great. They don't rip easily when putting them on and of coarse I love the fact they are powderless. I don't like the powdered at all.

Joann C. Posted on 08/03/2009

the gloves were a great help with me serving food to our guest. When I looked around at other sites these were the cheapest thanks

Ebony G. Posted on 07/25/2009
Have you used this product?
Log in to write your own review and earn up to $16.00 with video, photo, and text reviews!
Write a text review
Earn $2.00
Post a product photo
Earn $4.00
Post a product video
Earn $10.00
Login or Register