Menumaster MXP22 Express Radiant High Speed Combi Convection Microwave Oven
$9,199.50/Each
Add this item to your cart. (You can remove it at any time.)
Cooks food up to 15 times faster than traditional cooking methods
Catalytic converter filters grease and odors from exhaust
Convection: 2000W; microwave 2200W; infra-red radiant: 3000W
ETL Listed, 208/240V
Item:

140MXP22 208/240

Units:

Each

Shipping:

Usually Ships 1 Business Day
When will I receive my Item?

Reviews:

MFR Item:

MXP22
White Glove Delivery - Available -
What is White Glove service?
Standard common carrier delivery options cover the cost of getting an item to your shipping address but our White Glove delivery service does that and more!
The White Glove agent will call to schedule a delivery appointment within a four hour window, which gives you the flexibility to work around your busy schedule and to prepare the space where your item will be placed. Upon delivery, trained professionals will unload your item from the truck, bring it into the room of choice, unpack the item and remove all packaging debris from the premises.
Please note that White Glove delivery will typically add 5 - 7 business days to your order's transit, and only includes 30 minutes of on-site time. If on-site time beyond 30 minutes is required, you may be responsible for additional fees. Additionally, this service does not include set-up of the items being delivered.
View all Menumaster Rapid Cook / High Speed Hybrid Microwave Ovens
Companion Items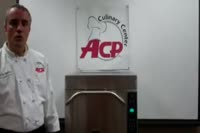 This video provides you with a quick overview of the symbols on the touch panel display of the AXP22 oven.
Welcome to the ACP culinary center, my name is Chef Tony and today we are going to be talking about the AXP22 display. First of all, we are just going to take the display from top to bottom, and cover all of the symbols. The first symbol we come to is the on and off key pad, and this is something that is different than previously, it's one key pad that is used for both functions, on and off. Next we have the program key pad which looks like a little book. This key pad is used to program items, edit items, delete them, into your menu, your oven. It also is used to transfer your user options, transfer data from your USB up to the oven. Also, if you're looking to program a password into your oven to protect your menu from being changed, you can. The next symbol, the next icon, is for manual cook, you just press this whenever you do any manual cooking. The next symbol it looks like a thermometer, you can use this to either check your preset temperature, or to edit your temperature. Example, is it at 310 I want it at 520, and I just hid the right arrow or accept and it changes it to 520. Next we have the up and down arrows, these are used to scroll up and down within your current menu. For example if I am in program mode I can scroll down from the delete into accept, and if I use the right and left arrows, those arrows are used to navigate between the different pages of your screens. So if I press the right arrow, it takes us to the next level, press it again it takes me to the next level, and so forth. And press the back arrow, it will take me back to the beginning to the main screen. Next we have the green key pad which is used to start a cook cycle, for example when you're in manual cook and you're finished with your settings and you're ready to start it, just press the key pad. The red key pad is used to stop and reset, so if you're in the middle of a cook cycle and you want to pause it, just hit the red key pad and it will pause the cook cycle. If you hit it again it will reset the cook cycle, but if you hit the green key pad after you've paused it, it will continue the cook cycle from where you left off. Next we have the numerical key pad, and these key pads are just used to enter information, your settings, your temperature and so forth. And also, on each key pad, you have either symbols or the alphabet; these are again used to enter information to name your items as your entering them into your oven. The space key function when you are naming your menu would be on the zero along with other symbols there.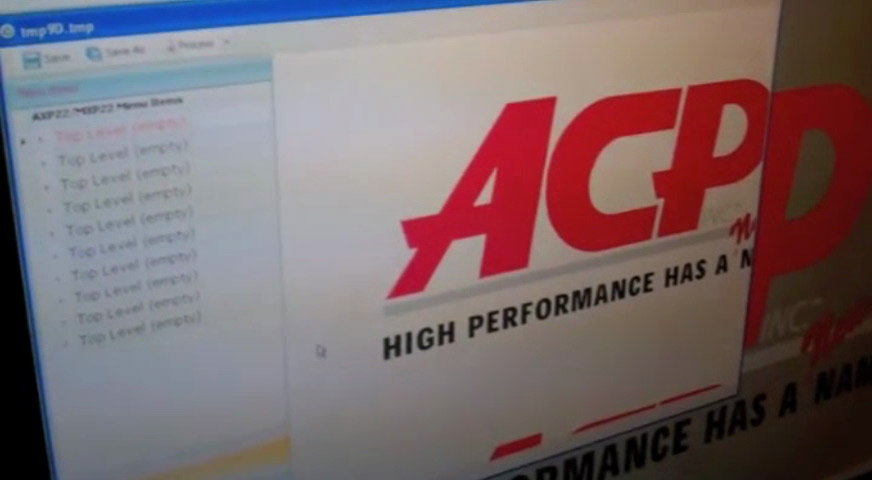 AXP-MXP22 USB Programming Software
One of the new features of the AXP22 oven is the USB port. This USB port requires you to download the USB programming software. This video will walk you through how to download, set up, and upload all of your settings from computer to oven.
Hey everybody, welcome back to the ACP culinary center. I'm Chef Homunck and today we are going to be talking about the AXP programming software. To find this program and software, just go on the ACP website which is at ACPsolutions.com. It will be located on the AXP product page, its titled AXP Programming Software. So once you get it downloaded from our website, on your screen it will appear as ACP Remote Programming Interface. So you click on the interface, it will pop up and what you'll first want to do is select a new program, go to new and select the oven, AXP22, then this is the menu that will appear. So as it appears right now it is in 3 levels. It has the top level, a mid-level, and the recipes. So you just click on the arrow and it will drop down from there. So first what you'll want to do is name your top level, so we will name our top level "Pizza". Then you'll go to the second level and name that level "single topping". Then you will want to label the actual recipe so we will call the actual recipe "cheese". So what we are doing is we are programming a setting for a single topping cheese pizza. So to begin programming the actual recipe, first you will want to pick a temperature for the oven. So you can use the actual buttons which go up in temperature all the way up to the maximum 520, so we will leave it at 520, then you can go ahead and pick your time. So you can do your time for 2 minutes, and you can use the arrows either going up or down, or you can actually highlight the time and enter a time, so we have 2 minutes and 30 seconds and the total time is displayed at the very top. So the recipe is laid out microwave, fan, radiant, just like on your oven. So you pick a percentage on your microwave, so if you want 50%, the amount of fan, we will say 30% and the amount of IR we will leave at 100%. And if you go ahead and do this all the way down through all four stages, and they'll appear right on the screen and it will give you a total time of all the stages. Next you will want to go take a look at your user options, so down at the bottom of the screen there are some menu items and user options. So click on user options, and this has all the options that are inside the oven. Now, if you just hover over the option, a box will appear and show you what is actually there for that option. So for our menu, in 3 level, for manual cook we are allowing manual cook, and just go through all the options and make sure whichever options you want are highlighted for your setting. You can also change the preheat of the oven, from 200 up to 520 degrees. So once you like everything that's in the oven, go back to the menu and then we will go back and save this, hit save and save as, give it a name, we will call it pizza menu, and we will save that on our desktop, so now this setting will be saved on your desktop to be used at a later date. Now that the setting is saved on your desktop, you'll want to put it on your flashdrive, so you can save it to your flashdrive and take it to the oven. So you take the flashdrive and put it into the computer, and we go back into the software, it's recognized that it is in the computer now, go back the software and hit process, ASP20, pick the item you want to process, our pizza menu. Then you pick what you want to put it on, obviously removable disc, hit that, hit okay and now it's saved onto your flashdrive. So we just exit out of this, grab your flashdrive and go over to download it into your oven. Now that you have your settings saved, you're going to want to put this into the oven. So you take the flashdrive, there is a slot in the bottom, slide it into the slot, and you have to go into user options so you press and hold number 2 and that will take you to the options, you can just hit back and it will take you to the last option, option 17, and then highlight whatever you want to do. From the card to the oven, or from the oven to the card. Now we want to take our info from the card and so we highlight that, hit the book, it will say transferring, and the data is transferring into the oven, and when it is done transferring, done will display. Once done is displayed, you hit the green button, save everything, then hit the red button to take us out. Now if we view our settings we just hit the book, so our pizza program is in the oven, single topping is in the oven, and the cheese pizza is also in the oven. Our settings that we saved earlier are now in the oven. So there you go, that's just a quick overview of the AXP programming, if you do have any questions, feel free to contact us at the culinary center. Thanks for stopping by.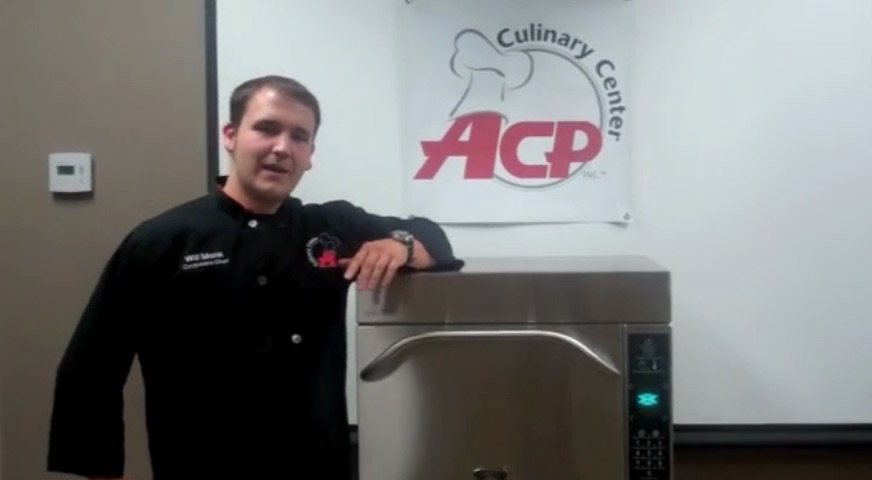 If you would like a brief overview of how to utilize the user options of the AXP22 oven, then check out this video. There are 17 different user options so that you can customize this oven to your individual kitchen needs!
Hello, and welcome back the ACP culinary center. I'm Chef Homunck and today we are going to be going over the user options for the AXP22. I'm just going to be doing a brief overview of these user options, so if you'd like a more in depth definition of what each user option does make sure you reference your user manual and that will define everything for you more in depth. Now first to get in to the user options you want to walk up to the oven in the off position, press and hold option 2 and this will take you to the user options. This takes about 5 seconds of holding the button in, and it will take you to the user options. The first option you see, number one, is double digits or single digit entry, number one is highlighted so you just press and go, you press one and it will start going. Second option, it will ask you how you want the characters to appear within the settings, so ABC's is capitals, either all capitals, all lowercase, or a mixture of capitals and lowercase. Next user option will be the layout of how the menu appears. It will be 10 items, 100 items, or 360 items. The next user option is either allow or do not allow manual cook, you're allowing manual cook so you can walk up and press the finger and then it will get you into a program so you can start cooking. Then next it will ask you if you want to save after a manual cook, so if you actually do a manual cook within the oven it will ask you to save once you're done. The next user option is whether or not you want it password locked, if you want it password locked that means no one can come in and mess around with settings in the oven, that way the check mark is yes the X is no, so right now we have X highlighted so we don't have the password enabled. The next user option 7 is what the door set reset, so if you open the door it will either reset the program or pause the program, X is so it won't reset, it will just go back the menu. The next one is option 8, is key leave activation, which is how long to activate the screen, either 30 seconds, 60 seconds or two minutes. The next is key beep, so you can actually shut off the beeps for the oven, so if you already have a lot of loud beeps in your kitchen you don't need any extra ones, you shut the beep off so when you touch a button, it won't make any sound. User option 10 is the key beep itself, so it will actually show the volume - low, medium or high. User option 11 is the way the key beep is displayed, either one beep, a burst of three beeps or one solid continuous beep. User option 12, now this is the warning if the oven is up to temperature or not, you have the little warning sign with the temperature bulb inside, X again it won't show it, checkmark yes it will show if the oven is not up to temperature. User option 13, just Fahrenheit and Celsius, you can put the oven on Celsius if that's what you're used to. Option 14 is clean the filter, the filters on the side it will warn you if you want to clean them or not, this could be completely shut off or you could have it every 7 days, every 30 days or every 90 days. Option number 15 is microwave only cooking. You can actually shut off all the other elements but just use the microwave itself when the oven is cold so if you wanted an instance where you just used the microwave, this actually allows microwave only mode. Now user option 16 is an auto-shut off feature, so if you do forget to shut this oven off at the end of the day, it will automatically shut itself off and you can choose between completely disabling that, having 2 hours of inactive use, 4 hours, or 8 hours and it will automatically shut itself off. The next user option, option 17 is loading a new program to the oven. So we've done away with the old card and now we are using USB ports, you can load everything on the USB port from the computer, and you can go up to the oven and you put it into the bottom of the oven and you pick what you want the display to be. So you can either load from the card to the oven and that's what that displays, or you can go from the oven to the cards, if you like the settings on this oven and you want to bring it to a different oven, you load it onto the card and you go to the other oven and you load that in there. Now to actually use this you go and hit the book, and you say okay I want to load from the card to the oven, hit the book, it will say transferring and it will transfer what's on the card to the oven, or if you want to go the other route from the oven to the card, you hit the book it will transfer. Once you're done transferring, go ahead and hit the green start button and that will save everything in the oven. And just to get out of this, all you have to do is go up and hit the red stop button and you are back to the oven in the off mode. So there you have it, there is a quick overview of the user options for the AXP22.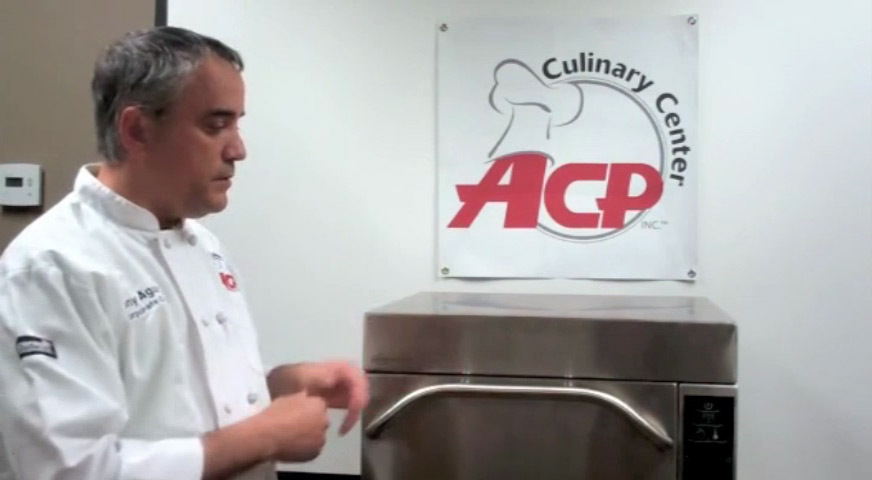 Conducting a Demonstration with the AXP-MXP22
The two most important pieces of advice to remember when you are planning to give a demonstration for the AXP-MXP22 combination oven (or any product) are: know your audience and know your equipment.
No Video Transcript entered.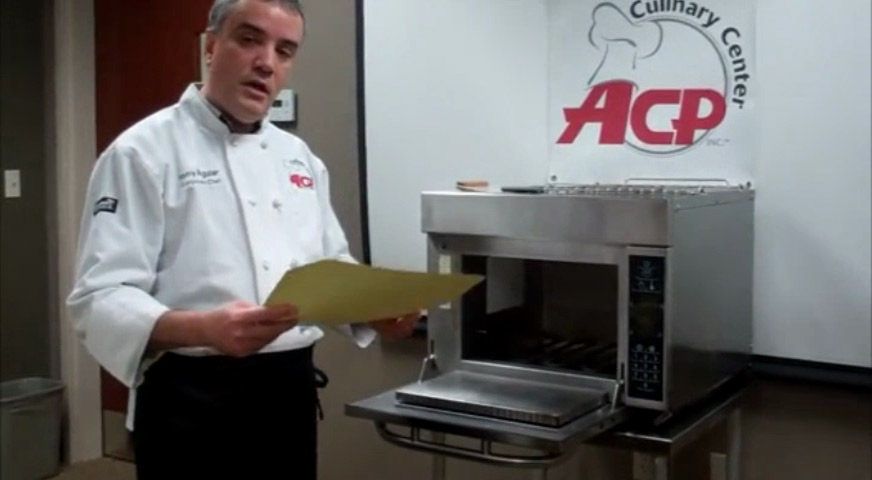 In this video, Chef Tony from ACP explains how to best install the new Teflon liners into the AXP-MXP22 oven. Check out his helpful hints and brief demonstration.
No Video Transcript entered.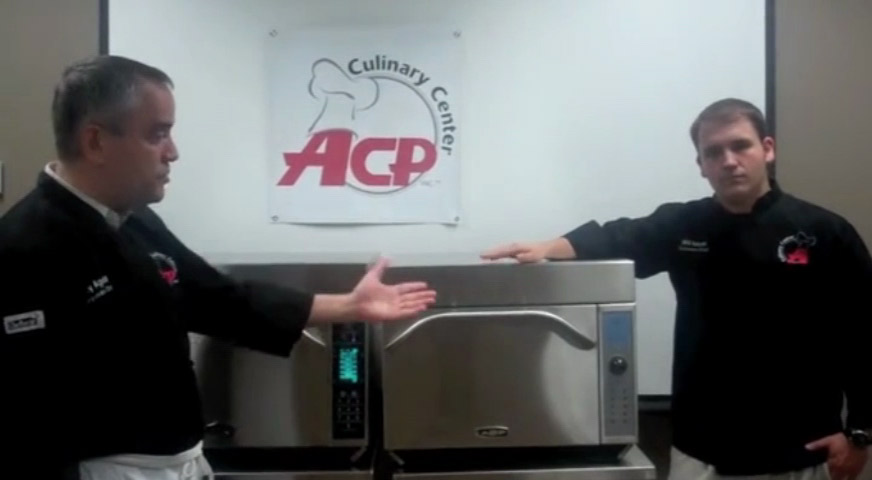 If you thought the AXP20 was a great oven, check out the new and improved AXP22! It has convenient features such as a crisp fluorescent display and a USB port so you can download information from your computer and upload it straight to your oven.
Welcome to the ACP culinary center, I am chef Tony and this is chef Homuck. Today we are going to discuss our latest oven, the AXP22 and how it compares to the AXP20. First off, we'd just like to start with introducing the visual change between the old oven and the new oven. Obviously just by looking at it, you can see that the new oven doesn't have the dial that the old oven has, we have eliminated the dial, and also we've gone away from using the touch screen, this new oven no longer has a touch screen. So instead of a dial, we have arrows going up and down, left and right. And instead of having the touch screen which prompts you for the different changes of the menu, we've gone to actual icons on the screen. And also we've gotten rid of the on/off buttons, the buttons are different. With the old oven there was actually a button that said off and then pressed the screen to turn on, now with the new one, there's just one universal button for on and off. One of the really noticeable new features is just the display itself. You can see that the new one uses a fluorescent display, which is a lot easier to read and you can see it from any angle. As opposed to our previous screen which was an LCD screen which was just a little fainter. Also, we've mentioned the icons are different between the two ovens, as opposed to before you had someone program, now you have a manual button that is a hand pointing at the screen so you press that to do manual cook, and then this is your temperature change which changes the temperature of the oven that's an actual bulb so you realize that is for changing the temperature of the oven. These symbols really went into place because of the language barriers when you do business worldwide, so just to cross literacy barriers. One of the really nice features of the new oven is just the speed of refresh and how fast it starts cooking. All I am going to do is just put my item in, and I can either just push the arrow down to get the item I want to select, or just push the button that is associated with that item, and within a fraction of a second the item will start cooking. It's just very fast, the whole process it's just one step instead of having multiple steps. Now when you first go to use this oven in the morning just like the old AXP, you want to turn it on to preheat the oven. But the difference is that the old AXP20 and the new 522 is that with the old oven you would see a rectangle that would fill up as the oven heated, now with the new one there is an actual temperature bulb that looks like the mercury is rising as the temperature is rising. One of the last features of the oven, you really don't notice it on the outside, we've redesigned the wave guide system in the oven itself, so now our wave guide is removable and the way we adhere the guide to the oven is actually different so it's not as critical the way you clean the oven inside and the type of scouring pad you might use. A few other points I want to make, is the way the manufacturer is laid out is a little bit different. With the new oven, you can see all four stages that you want to program right there in front of you, your time, temperature, microwave, and it prompts you on the screen, you use the arrows to navigate, you press the amount that you want, and it's right there in front of you, you know what you're going to cook. With the old oven, there was two levels, you had to navigate between the first and the second, this just makes it a little more user friendly this way. We've also eliminated the need for the old data cards that we used to use, you used to program the oven then take the card, then put it in the bottom of the oven and then load it within this card, which is a little bit more difficult to use. So we've done away with that, and we've moved to a USB port. The USB will just make it more convenient for you to use, so you can just download the information to your computer and you can come over here and put it into your oven and just upload the information and you're all set. So there you have it, there is the major difference between the AXP22 and the old AXP20, we will be moving to the 22 from here forward.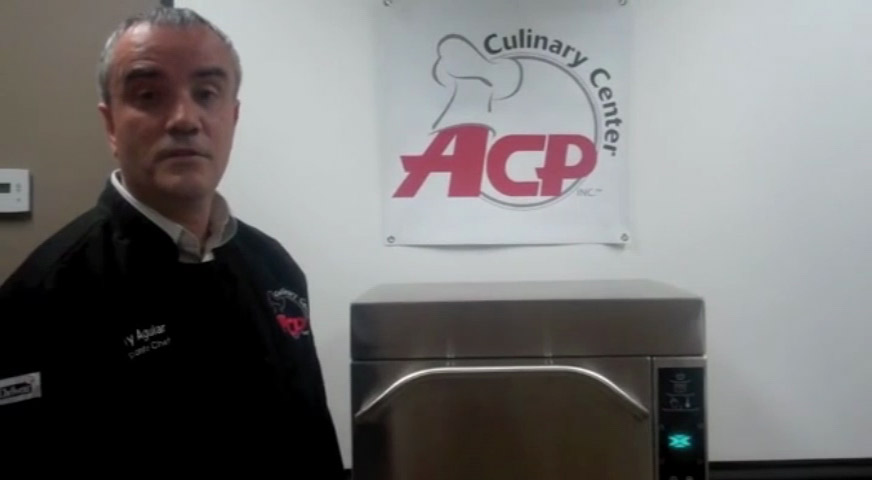 Programming your AXP22 oven can save you valuable time in the kitchen. If you're a visual learner (or just want a little extra assistance), then this video will help you make sure you are programming items the right way.
Welcome to the ACP culinary center, I'm Chef Tony. Today I'd like to talk about our new oven, the AXP22, and how to program it. First of all, we are starting off with the oven being in the off stage, the universal icons, you will want to use the little book up there in the display, then you can either do accept the little check mark, or delete. Right now, we want to program so we want to check mark to accept it. And then we are going to program items into the oven. Right now we have several items that are programmed into the oven, and we want to program a new one. So I will go down to the item that is empty, which is item number 6, and then I come up here again and press the book to program. Now the first thing it asks you to do is to name the new item that you want to program. So we are going to give it a name, and when we are done, we are going to hit the check mark on the side for accept, and then it takes you into the setting mode. Now the first setting that you're going to come to is your temperature which is going to be in the top right hand corner. You set it to whatever temperature you want, you scroll down from there to your actual energy settings. Now, the new settings are all in symbols so the first one is a little clock for the time, then you have your microwave, the symbol for microwave is the two curved lines, you have the fan symbol, then you have the IR symbol with the heat coming up from the bottom. So we are going to set our time for our particular item, we press the down arrow to take it over to our microwave, and we want to do 20% so you just press the number 2, and if you were doing 40% you would press 4, and so forth. Press the down arrow again for your fan, we want to do 80% so just press number 8 and we move on to our IR, our infrared, and we are going to keep it at 100% so we are done with our settings, we want to accept that so hit the bottom arrow on the right hand side to accept for the check mark and we are done. Now if we want to continue, adding items, we would just hit the check mark again to hit accept. But we are done, we hit the back arrow, so we are done with that, and our item will be on our menu and the number of the item will be put on our display. It's as easy as that, and you're ready to cook and go on with your day.
Details
The Menumaster MXP22 Express Radiant high speed countertop combination convection microwave oven cooks foods up to 15 times faster than traditional methods thanks to its innovative combination of convection, radiant, and microwave technology! Because of its compact, multi-functional nature, the Menumaster MXP22 is ideal for quick serve locations, restaurants, delis, or any location with limited space.

The Menumaster MXP22 brings a vivid, high contrast digital LCD display screen and a more user-friendly control design with a more responsive keypad. The fan speed also slows when the door opens, while a USB port allows standard flash drives to be used for programming in seconds-no specialized programming cards needed!

By combining convection, radiant, and microwave cooking, you can simplify recipes and prepare specialty dishes faster than with conventional cooking methods. The fan speed, microwave power, temperature range, and radiant level are all independently adjustable, and you can program up to 360 different menu items for effortless, repeatable results.

This high speed countertop commercial combination convection microwave oven features a catalytic converter to filter grease and odors from the exhaust, for ventless installation (you should still check your local fire codes). User-friendly controls require minimal user training, and its durable stainless steel exterior and interior are easy to clean.

The Menumaster MXP22 high speed combi convection microwave oven utilizes an automatic voltage sensor so it can run on either a 208V or 240V single phase electrical connection, and is ETL Listed. Please consult the Specification Sheet for additional details, capacities, and installation requirements.

Exterior Dimensions:
Width: 25 1/8"
Depth: 27 1/2"
Height: 20 3/8"

Interior Dimensions:
Width: 16"
Depth: 15"
Height: 10"
This Item Ships via Common Carrier. For more information and tips to help your delivery go smoothly, click here.
Downloads
Specsheet
Warranty
A PDF viewer is required to view this product's information. Download Adobe Acrobat software
Warranty Info
RESIDENTIAL USERS: Vendor assumes no liability for parts or labor coverage for component failure or other damages resulting from installation in non-commercial or residential applications.
Related Items
Customer Reviews
Overall User Rating:
Menumaster MXP22 Express Radiant High Speed Combi Convection Microwave Oven

(

5.0

stars from

2

reviews )
This Menumaster MXP22 Express Radiant High Speed Combination Convection Microwave oven is a great buy for when you need food done fast. Great for if you needed a dish done "Yesterday"

Zach K. Posted on 01/25/2013

The Menumaster MXP22 Express Radiant high Speed Convection microwave Oven is great. It cooks food 15 times faster than the conventional oven. Great for quick serve locations.User frendily controls.

Angela H. from Harrison Familey Restaurant Posted on 11/07/2012
Have you used this product?
Log in to write your own review and earn up to $16.00 with video, photo, and text reviews!
Write a text review
Earn $2.00
Post a product photo
Earn $4.00
Post a product video
Earn $10.00
Login or Register