Our laminated, reversible table tops are available in a variety of standard sizes. We offer two styles in each size. Each size is available in either a walnut / oak finish or a cherry / black finish.
All our reversible laminated table tops are easy to clean and feature a vinyl strip around the edge to prevent scuffing and chipping.
Round or Square Base?
We stock both square and round styles. While some of your decision comes down to preference, there are advantages and disadvantages to each type.
Round Bases
Round table bases are often chosen to match round table tops. A round table top attached to a round table base is generally more stable than a round table top attached to a square table base. Round table bases are also easier to vacuum and sweep around. However, they do not allow chairs to be pushed in fully, so if aisle or floor space is at a premium, a round table base may not be the best choice.
Square Bases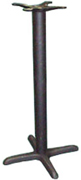 Square table bases are more difficult to clean around, but allow chairs to be pushed in further than with round table bases. Because of this, they are often preferred for rectangular or square table tops, but they can also be used for round table tops.
So which table base goes with which table top? Click here for recommendations! Keep in mind that these recommendations are specifically for our table tops and should be considered minimum requirements. If your table tops are made of heavy materials, selecting a table base two sizes larger than our minimum recommendation is a good idea.
Don't forget the Accessories!
When shopping for table tops and table bases, there are a few accessories and components that are often overlooked.
---