There is nothing more satisfying for a customer than walking into a coffee shop and seeing a menu full of varying cappuccinos, lattes, espressos, and more. Having specialty coffee drink options adds unmatched versatility to your business that, in turn, draws in a much larger variety of caffeine-craving guests. By following this guide, you can find the right specialty coffee equipment and accessories to make sure your business is serving flavorful hot drinks that turn one-time hopefuls into regular patrons.
Specialty Coffee Drinks
There are virtually limitless possibilities when it comes to creating specialty coffee drinks that tailor to your customers' taste buds. Here are some examples of popular choices:

Espresso: A strong concentration of black coffee made in an espresso machine by forcing steam through pressurized coffee beans. This drink contains no milk.

Black Eye: Coffee with a shot of espresso.

Americano: A single shot of espresso added to a cup of hot water.

Breve: A latte prepared with half and half instead of whole milk.

Cafe Mocha: Two thirds steamed milk, one part espresso, and one part chocolate syrup or powder.

Cappuccino: Three equal parts of steamed milk, foamed milk, and espresso. You can add flavoring syrups to make vanilla, caramel, or hazelnut cappuccinos.

Cafe Latte: One part espresso with three parts steamed milk with froth on top.

Chai Tea Latte: A single shot of espresso mixed with chai tea.

Cafe au Lait: Single shot of brewed coffee or espresso mixed in a 1:1 ratio with steamed milk.

Cortado: Equal parts espresso and steamed milk.

Frappe: A cold espresso drink blended with sugar, milk, and other flavorings into a thick drink, similar to a milkshake.

Iced Coffee: Brewed coffee served over ice with sugar and milk.

Irish Coffee: Coffee spiked with whiskey and cream added on top.

Macchiato: Espresso with a dollop of steamed milk added in a 4:1 ratio.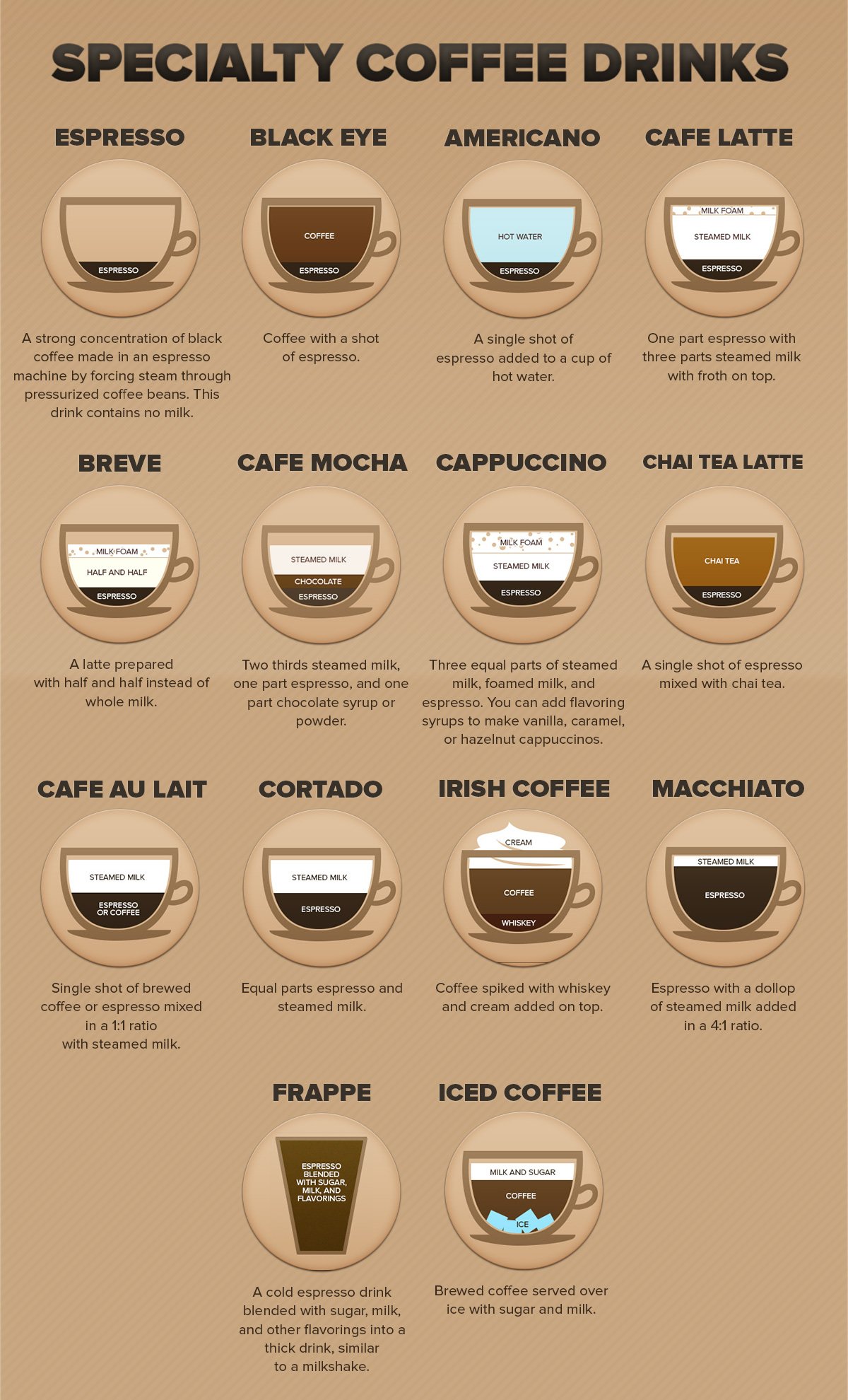 Machine Types
Espresso and espresso-based drinks are a rapidly growing industry that attracts a broad demographic. Traditionally, creating these beverages required extensive knowledge of
how to craft the perfect cup,
including the coffee bean, how it's roasted, grinding and tamping, extracting and finally, adding the perfectly frothed milk. With the new advancements in
hot beverage equipment,
like espresso and cappuccino machines, these drinks are easier than ever to produce, since you don't need a highly trained barista. Operators can now choose from a manual, semi-automatic, or super automatic machine to best suit the needs of their business. Check out the list below to learn more about each kind.
Manual:
If you are looking to continue down the traditional route of producing specialty coffee drinks, a manual machine will work best for you. These units require an experienced barista to grind the coffee beans, tamp the grounds, control the extraction time, and steam the milk. The authenticity of the process often achieves the highest-quality flavor.
Semi-automatic:
These units automate the espresso grinding production, but the steaming and addition of milk still occurs manually. These are often the most sought after machines, because they still require some knowledge of how to properly steam milk, but the more complicated dynamic of grinding and tamping coffee beans is removed.
Super automatic:
Super automatic machines can be used in both full and self-service settings. These units fully integrate espresso production with milk steaming and frothing at the simple push of a button. These labor-reducing machines most often come with programmable settings as well, which offers your customers a choice between espresso drink sizes and varieties.
The Right Equipment
Now that you have some background knowledge on espresso and cappuccino machines, it's time to decide which equipment is right for you. The chart below lays out some examples of what we offer.
| Product | Common Drinks | Benefits |
| --- | --- | --- |
| | Lattes, mochas, cortados | Grinding your coffee right before brewing it is one of the most effective ways to serve up the best-tasting drinks. Experts say that within 2 minutes, coffee beans begin to oxidize, which changes the flavor. The sooner you brew your coffee after it's been through the grinder, the better your coffee will taste. |
| | Iced lattes, cold brews, frappes | Serving iced coffee drinks at your establishment will keep guests coming during all seasons of the year. After a hot summer's day, guests will love coming into your coffee shop and ordering an iced latte that serves as both a cool refresher and a caffeine boost. |
| | Lattes, cafes, mochas | For customers who crave an authentic and deeply concentrated coffee flavor, coffee presses are the way to go. Plus, the coffee's natural oils wash away easily and leave no residue in the pitcher, unlike most automatic brewers. |
| | Espressos, cappuccinos | Most espresso/cappuccino machines are user-friendly, so even the barista you are training will have no trouble whipping up the perfect drink. Espresso provides a quick caffeine boost, which many customers enjoy, while cappuccinos cater to those without the acquired taste for espresso but still wish to indulge in a similar beverage. |
Barista Accessories
If you decide that buying specialty coffee equipment is a good investment for your business, it's important to consider the tools and accessories your baristas will need to effectively produce hot coffee drinks from the machines. Check out the chart below for a list of common accessories that help to enhance the drinks you serve to your guests.
Accessory

Benefits and Uses

Frothed milk adds flavor and texture to drinks. The key is to bring the milk just to its boiling point, but not beyond. If your milk gets too hot, it can curdle and ruin the drink. Having a frothing thermometer will help you monitor the temperature of the milk, and thus achieve consistent results every time.

Having a variety of

coffee flavoring syrups

will add versatility to your café, bistro, or coffee shop. Serving a signature drink with creamy caramel or rich vanilla flavor will keep customers coming back for more. If you really want to impress your guests, try offering them holiday classics as well, like

pumpkin spice

or

peppermint mocha.

Coffee decanters keep your freshly brewed coffee hot and ready to serve. By having a full

carafe

on-hand, you'll always be able to mix up a breve or Irish coffee while another pot is brewing.

Coffee machine urns are made with different specifications and capacities, which allow you to dispense more than 100 cups with every refill! They also come in different sizes and styles, so you can find one to match any décor, theme, or atmosphere.

Frothing pitchers are great for foaming milk for your specialty drinks, or even to serve cold cream at a condiment bar. The fine point at the end of the pitcher makes pouring easy, so you can create delicate designs in your customers' drinks. Plus, the durable metal is easy to clean.

Offering customers coffee-to-go boxes will encourage them to purchase group-sized take-out orders, which will increase your sales and reach new customers. You can purchase to-go boxes that hold several gallons of coffee for a catered event, or individual cups for an office or work site setting.
Other Considerations
Water Filtration
Water filtration is necessary in protecting the integrity of the drinks you serve, as well as the service life of your machine. Water filtration systems block contaminants and help to extend the life of your equipment by consistently preventing sediments, cysts, and scale from clogging the internal workings of your machines. For example, the mineral content in an espresso/cappuccino machine should be kept below five and as close to three grains per gallon (or GPG) as possible. This has the potential to eliminate up to 70 percent of machine failures! For more information on the importance of water filtration for your equipment, check out our water filtration systems article.
Voltage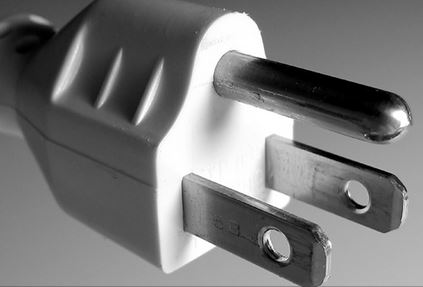 Electrical voltage is another important factor when deciding to purchase a specialty coffee drink machine. Operators will need to verify that their location has the proper voltage capacity required to run the machine. If not, an electrician will need to run a utility line to hook up the unit. Check out our
amps, voltage, and watts calculator
to determine if your location is properly equipped.
Availability of parts
Since these drinks are huge revenue generators, it's crucial to know which parts are available if your machine ever malfunctions. Most operations can't afford downtime caused by a delay in repairs, so make sure to ask your manufacturer about service and parts prior to making the purchase. In most cases, group gaskets in espresso/cappuccino machines ought to be replaced every six months and clean water level probes twice a year. It pays to know!