Are you starting a bakery and need to know what kinds of take out containers are available for your baked goods? Or do you already own a bakery but are branching out to include a new type of baked good like mini-cupcakes, cake pops, or cannoli? Then you've come to the right place. Our large selection of bakery take out containers includes cardboard and plastic containers for serving and displaying a variety of baked goods. Plastic containers have matching lids that are either sold with the container or separately. We even have a line of ovenable containers for a more versatile option!
Cakes
Cardboard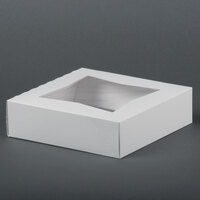 Cake boxes
are a mainstay of any bakery. Available in a variety of sizes and themes, these cardboard boxes can accommodate many different cakes, doughnuts, and other baked goods. We have boxes large enough to fit full sheet cakes (18" x 26"), quarter sheet cakes (9" x 13"), and everything in between. It's important to remember to use
cake boards
, especially for larger sheet cakes. The boards provide a clean cutting surface without damaging the case underneath. Also, the added strength keeps the cake from bending the box. There are also smaller sizes better suited for holding slices or cupcakes.
The colors include an
elegant white
, an
eco-friendly, kraft beige
, and a
playful pink
. Themes include holidays like
Fourth of July
,
Easter
, and
birthdays
.
Also, cake boxes are either 1 piece or 2 piece designs. The 2 piece design allows you to completely remove the lid, creating easy access for buffet tables in catering situations. With the 1 piece design, you can easily flip the lid closed. This is ideal for use in settings where the lid doesn't need to be open for a prolonged amount of time. Both styles include lids with and without a window. The windows allow customers to decide on the baked goods they want without first opening the lid, ensuring the contents will stay fresh for longer.
Plastic
Plastic cake take out containers
are also a great option for showing off your cakes while also being easy to carry out. Available in round, square, and semi-circle shapes, these containers feature a textured, bottom tray to keep your baked goods from moving around. It is important to use cake boards in these containers because the plastic bottoms are susceptible to bending just like the cardboard containers. And again, the cake board provides a clean cutting surface to protect the container.
These plastic containers have a 2 piece design. The clear lids snap securely into their compatible bottoms, effectively creating an air tight seal. Also, the clear lids provide easy viewing access to conveniently display your cakes. They are the perfect tool for keeping your baked goods tasting great from the time they are put on display until the time they make it to the birthday party.
Check out the table below to see our cake containers similar to other brands.
Our Product

Comparable Product Manufacturer
Comparable Product Combo Number
Comparable Product Lid Number
Comparable Product Base Number


D&W Fine Pack G20

Inline Plastics

Pactiv

Par-Pak

1007SBK

YEH89702

-

-

-

5D023

-

-

5D100



D&W Fine Pack G21-1

Inline Plastics

Pactiv

Par-Pak

1007BK

YEH89701

-

-

-

5D040

-

-

5D100



D&W Fine Pack G22

Inline Plastics

Pactiv

Par-Pak

1008MBK

YEH89802

-

-

-

5E034

-

-

5E100



D&W Fine Pack G23-1

Inline Plastics

Pactiv

Par-Pak

1008BK

YEH89801

-

-

-

5E050

-

-

5E100



D&W Fine Pack G25-1

Inline Plastics

Pactiv

Par-Pak

Winkler

1009SBK

YCB11B350F

-

-

-

-

5F021

9-425

-

-

5F100

9-B



D&W Fine Pack G27-1

Inline Plastics

Pactiv

Par-Pak

Winkler

1009BK

YCB11B500F

5F050-PD-C

-

-

-

-

9-425

-

-

-

9-B



D&W Fine Pack G33-1

Inline Plastics

Winkler

1010SBK

-

-

10-35

-

10-B



D&W Fine Pack G83

Pactiv

Par-Pak

YQSB425FSTAB

5J038-PD-C

-

-

-

-



D&W Fine Pack G95

Pactiv

Par-Pak

YHSB500F1TAB

5L050-C

-

-

-

-



8" Half Cake Container

Pactiv
YHRB500F
Pies
Plastic pie take out containers
are a durable option for displaying and serving your award winning pies. Available for whole pies and slices of varying size, these containers are the perfect tool for keeping your pies safe while on display and during transportation. A
pie tin
is recommended for these containers.
There are also containers designed to hold a single slice. They give the obvious option of allowing customers to buy a more convenient serving size, while they also enable customers to select slices from multiple types of pies. This is perfect for the family that can't agree on the pie they want for dessert.
Our pie containers are available in 1 and 2 piece designs. The 1 piece design utilizes a hinge to keep the lid attached to the bottom at all times. The 2 piece design is only available for whole pies. The lids for both designs are clear to easily show off the pies, and they snap securely into the bottom to keep the pies fresh. They also feature a high dome that allows for a variety of toppings.
Check out the table below to see our pie containers similar to other brands.
Cupcakes and Muffins
Plastic
Cupcake and muffin take out containers
are essential for anyone selling cupcakes or muffins because their unique size and shape necessitates a specialized container. Our durable containers are available in multiple sizes, we have options for regular or mini sized cupcakes and muffins. Of the regular sized variety, you can choose from containers that will hold 1, 2, 4, 6 or 12 items. The mini containers hold either 12 or 24.
Almost all of the containers have a 1 piece design with a hinge to close the lid. The lids securely snap closed to preserve the freshness of the contents. The clear, high-domed lids make your cupcakes and muffins easy to see as well as provide ample room for a variety of toppings such as icing, sprinkles, nuts, bite-sized candy, cookie chunks,
and more.
Cardboard
It is possible to carry cupcakes in muffins in large containers or cake boxes; however, you will need a way to hold them steady. We have a variety
cupcake and muffin inserts
available that are designed for just this purpose. The number of inserts that fit in a box will vary on the size of both the insert and the box. Generally, 2-3 of our inserts that hold
12 standard sized cupcakes
can fit comfortably in our full sheet cake boxes and 1-2 inserts can fit in our half sheet boxes.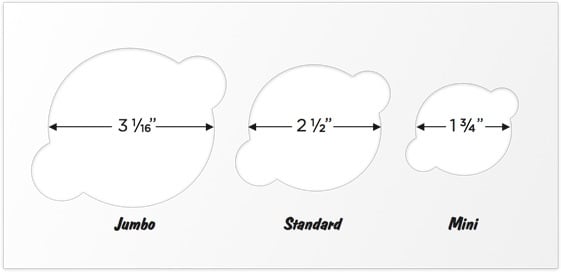 White in color, these inserts will go with any theme you are using, whether it's for Fourth of July celebrations or a regular day at the office. We have inserts for 1, 2, 4, 6, and 12 cupcakes. The diameters for the holes in the inserts range 1 3/4" to 3 1/16" to accommodate mini, standard, and jumbo-sized cupcakes and muffins.
Cookies
Cookie bags are a great way serving your gourmet cookies. We offer
open ended
bags that will help keep your customers and the front end of your bakery crumb free. For those who are environmentally conscious, we do offer eco-friendly, paper bags in both styles.
The recloseable bags work by folding down the opening of the bag and securing it with the tin tie. They are also large enough to hold many more cookies than the open ended bags and are only available in paper. Some of them feature a window for easy-identification for you and your customers.
The open ended bags can only hold at most 3 or 4 cookies at a time. You can choose from either plastic or paper, both of which are equally effective in collecting fallen crumbs and keeping your customers clean.
Ovenable Containers
The most obvious difference is that ovenable bakery containers can be used in the oven and microwave. Simply pour your cake mix or brownie batter into the container and then insert it into the oven at the desired temperature. When your cake or brownies are done, remove the container and let the product cool off. You can then decorate the cake in the container before securely attaching the matching lid. And just like that your delicious creation is ready for display.
The main feature that these bakery containers offer is that they eliminate the hassle of transferring your baked goods to their proper display container. With these containers you can simply move your baked goods from the cooling rack to the display case. It also cuts down on the time and resources needed to clean extra dishes.
To withstand intense baking temperatures, these containers are constructed of either
oven ready plastic
or
coated corrugated paperboard
, neither of which will melt or catch on fire. The industrious materials also allow for a batter-filled container to be placed in the freezer for a later date. Properly covered, the batter will stay fresh for when you need it. Remember to thaw the batter before baking to ensure your baked goods will still taste great.
We offer numerous ovenable bakery containers to accommodate a variety of baked goods. Each container has a matching lid to keep your baked goods from becoming stale while on display or in storage. However, some containers are sold separately from their compatible lids.
Check out the tables below to see the different uses, shapes, and sizes of our ovenable containers.
Ovenable Containers Comparison
Cardboard 101
Paperboard
Paperboard is a thick paper-based material, usually over 0.25 mm thick, but thin compared to corrugated cardboard. It can be single- or multi-ply, and can be easily cut and formed to the desired application. Paperboard is a lightweight product, making it great for packaging purposes. You'll commonly find it composing cereal boxes, gift boxes, non-corrugated pizza boxes, and cake boxes.
Corrugated Cardboard
Corrugated cardboard is much thicker than paperboard, consisting of several layers of paper (linerboard) separated by a fluted (corrugated) paper medium. Both the linerboard and the medium are made of a heavy paper called containerboard, a paperboard material usually over 0.25 mm thick. Air columns between the linerboard ensure proper cushioning, while the paper columns formed by the corrugated medium make the material strong. Corrugated cardboard is commonly used to make shipping materials, sturdy boxes, corrugated pizza boxes, cake circles, cake pads, and cake boards.
Corrugated Cardboard Flutes
When determining the proper corrugated cardboard for your application, it's important to consider the flute size, or the height of the heavy paper medium's corrugations. The larger the flute size, the greater the cushioning and stacking strength of the corrugated cardboard. The smaller the flute size, the greater protection from side impact and punctures. Below are the most common flute sizes in production today.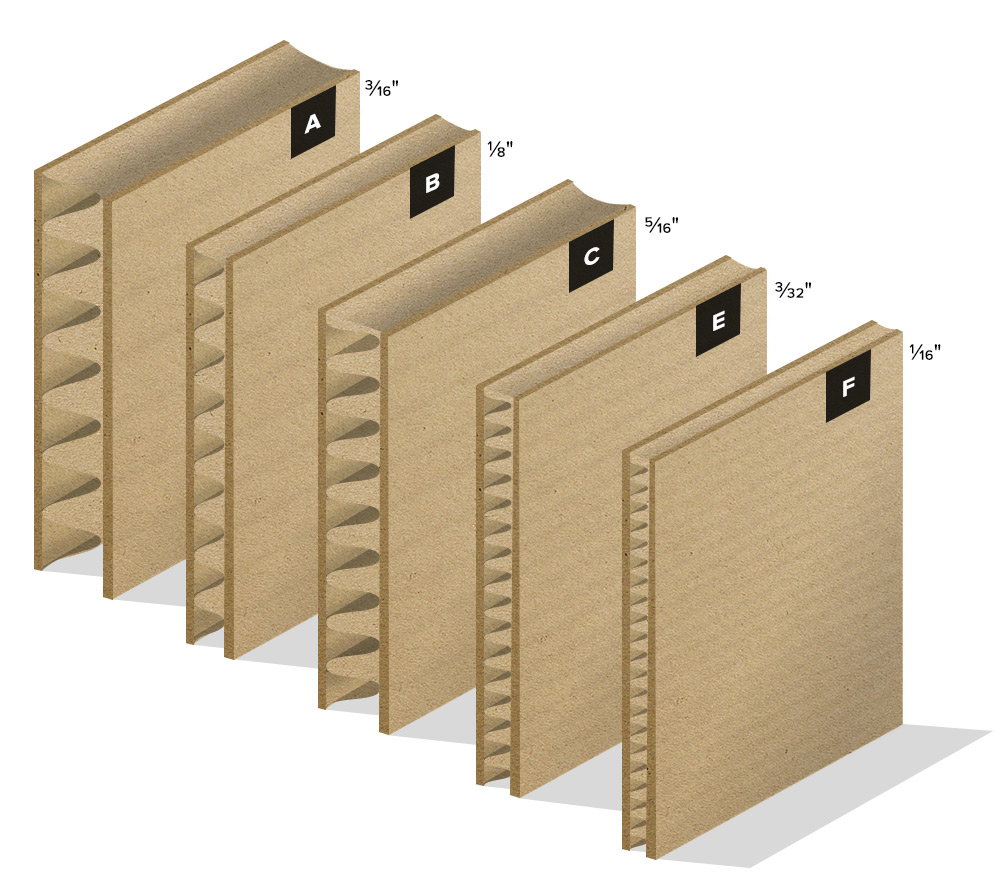 | Flute | Flute Size | Flutes Per Foot |
| --- | --- | --- |
| A (The original flute design) | 3/16" | 33 |
| B | 1/8" | 47 |
| C (The most common flute design) | 5/16" | 39 |
| E | 3/32" | 90 |
| F | 1/16" | 125 |
To achieve a custom cushion, strength, and total thickness profile, different flute sizes may be combined in one piece of combined board (example: a corrugated cardboard with one layer of A-flute medium and two layers of C-flute medium).
Styles of Corrugated Cardboard
In addition to the varying flute sizes, corrugated cardboard is available in several styles.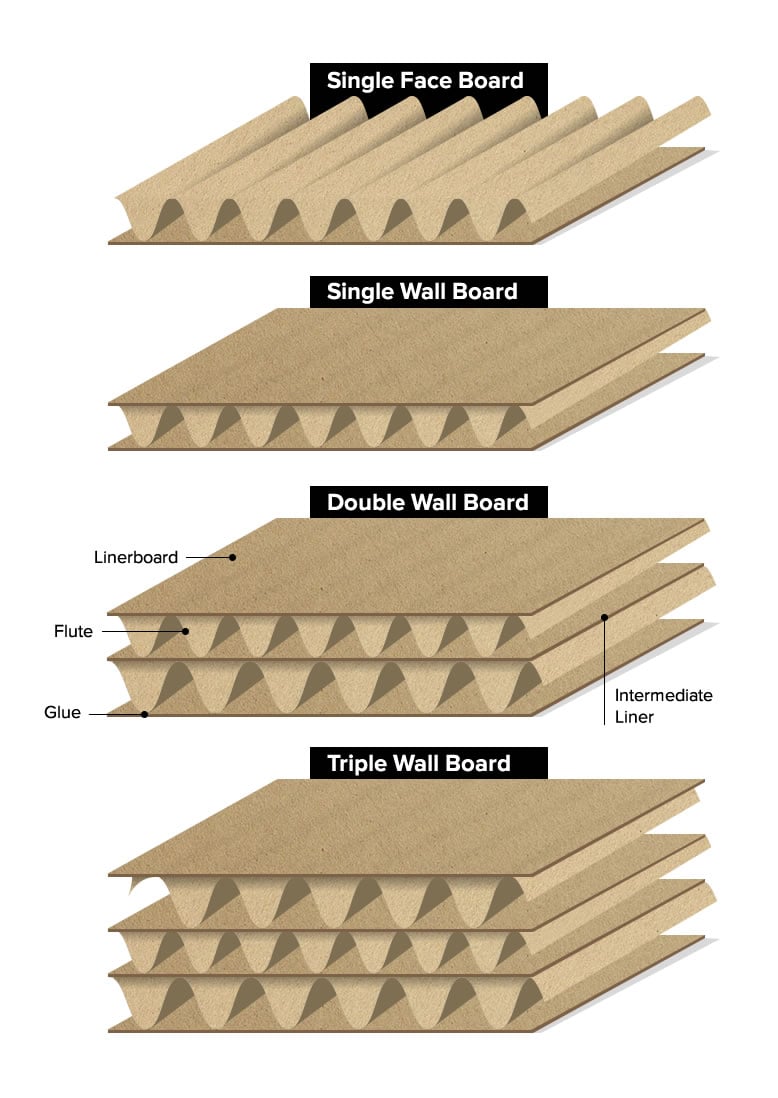 Single Face Board
Single face board is the simplest of all the corrugated cardboard styles, with just 1 linerboard glued to the corrugated medium. In this style, the flutes are exposed, resulting in a lack of durability when compared to other types of corrugated packaging materials. This style of corrugated cardboard is very cheap to produce, though, and works well when you just need an extra layer of protection on already packaged products.
Single Wall Board
The most common style of corrugated cardboard, single wall board is made with 2 linerboards, separated by, and attached to, the corrugated medium.
Double Wall Board
Much like single wall board, double wall board features 2 outer linerboards separated by, and attached to, the corrugated medium. However, instead of just 1 medium, there are 2 mediums in this case, 1 attached to each outer linerboard, and a third flat liner in the center, attached to both mediums. This design ensures a final product that's much more resistant to breakage when stacked. Double wall board is commonly used for larger industrial containers.
Triple Wall Board
For the sturdiest corrugated cardboard configuration available, triple wall board features a double wall design with another corrugating medium and a fourth flat liner. This style of corrugated cardboard is strong enough to be a substitute for wooden crates and is often used for shipping chemical containers.
Measuring Corrugated Cardboard Boxes
For all corrugated cardboard boxes, it's important to measure the product from the inside, with the dimensions being taken from the opening of the assembled box. This is because corrugated board thickness may vary, and measuring from the inside will give you the most accurate measurement of the capacity of the box. Dimensions should always be stated in the order of length (the longest side dimension), width (the shortest side dimension), and depth (top to bottom).
Corrugated Box Strength
Box strength is measured by two different methods - the Bursting (Mullen) Test and the Edge Crush Test (ECT).
The Bursting (Mullen) Test
The Bursting (Mullen) Test is designed to measure resistance to rupture or puncture in pounds per square inch (psi) for the face of a corrugated box. It is measured by a Mullen Tester, a special tool designed just for this purpose, and is indirectly related to a carton's ability to withstand external or internal forces.
This test looks at the basis weight of the linerboard and the corrugated medium, as measured in pounds per 1000 square feet (MSF), with a higher basis weight equaling a stronger product. The resulting bursting strength is then measured in pounds (example, 275#).
The Edge Crush Test (ECT)
While the mullen test does test rupture strength in corrugated boxes, it lacks in another important area, stacking strength. This is where the Edge Crush Test (ECT) comes into play. A newer standard, this test measures the ability of the corrugated cardboard to sustain a top-to-bottom load during stacking. It looks at the edgewise compression strength of both the linerboards and the corrugated medium, gaging strength by box compression strength (BCT) and stacking strength.
Box compression strength is the maximum load a box can stand for a moment, whereas stacking strength is the maximum load a box can stand throughout a distribution cycle. Stacking strength looks at the fluctuations in temperature, humidity, and other factors that impact boxes during the entire time they're stacked. Handling, pallet patterns, pallet deck board spacing, and overhang all come into play with stacking strength. As a general statement, stacking strength is almost always much lower than compression strength for a given box.
ECT is measured by compressing a small segment of the corrugated board on edge between two rigid platens or plates, perpendicular to the direction of the flutes until a peak load is established. The peak load is measured in pounds per lineal inch of load bearing edge (lb./in.) but is usually reported as an ECT value (example, 44 ECT). The ECT value is calculated using a special mathematical formula for this purpose alone.
Bursting (Mullen) Test vs. ECT
Under the Bursting Test, a minimum board basis weight is required. With the ECT, this requirement is eliminated, allowing the use of lighter weight materials while still providing the strength needed for various applications.
Here are the common requirements for corrugated cardboard measured with both the Bursting Test and the ECT:
| | Bursting Test | Min. ECT | Max. Load Per Carton |
| --- | --- | --- | --- |
| Standard | 200# | 32 ECT | 40 lb. |
| Heavy-Duty | 275# | 44 ECT | 65 lb. |
| Heavy-Duty - Double Wall | 275# | 48 ECT | 80 lb. |