Not sure which warewashing products are right for your kitchen? Whether you are washing dishes manually or with a dish machine, each method has its own kinds of detergents and sanitizers that are important to meet regulations. Our selection of Noble warewashing chemicals is a great, budget-friendly way to get sparkling dishes that will impress your customers and your health inspector!
Types of Warewashing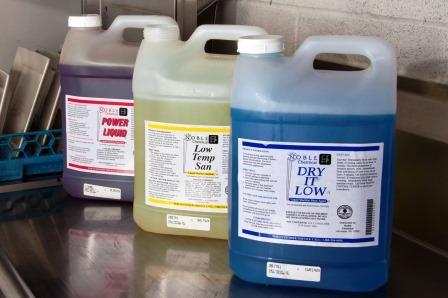 High Temperature Dish Machines
Wash temperature ranges from 150 - 165 degrees Fahrenheit
Rinse temperature ranges from 180 - 194 degrees Fahrenheit
Requires a detergent and a rinse aid
Sanitizing is done by the extremely hot rinse water temperature.
Low Temperature Dish Machines
Wash temperature ranges from 120 - 160 degrees Fahrenheit
Rinse temperature is a minimum of 120 degrees Fahrenheit
Requires a detergent, rinse agent, and chemical sanitizer
Manual Dish Washing
A 3 compartment sink is required: one compartment each for washing, rinsing, and sanitizing
Quaternary sanitizers are commonly used, as are iodine based sanitizers
Sanitizer Type (Manual)

Minimum Required Temperature | Sanitizer Concentration

Chlorine

120 degrees Fahrenheit | 25 ppm
100 degrees Fahrenheit | 50 ppm
55 degrees Fahrenheit | 100 ppm

Iodine

75 degrees Fahrenheit | 12.5 - 25 ppm

Temperature

171 degrees Fahrenheit | N/A

QAC (Quaternary Ammonium Chloride)

75 degrees Fahrenheit | 200 - 400 ppm
Specialized Chemicals
Bar glass detergents are designed to remove tough soils, like lipstick, from bar glasses without affecting beer head.
Shop for bar glass detergents
Tableware presoak helps to loosen and remove food film from silverware, stainless steel, flatware, and glass. Some varieties can also be used to de-tarnish silver.
Shop for tableware presoak
Chemical Selector
| I need a detergent that is... | | | |
| --- | --- | --- | --- |
| Biodegradable | | | |
| Biodegradable, phosphate-free | | | |
| Chlorinated, powdered | | | |
| Good for beer glasses | | | |
| Metal safe | | | |
| For pots and pans | | | |
| Skin-friendly | | | |
| Tough on grease | | | |
| For hard water (contains descaler) | | | |
| For all water types | | | |
| I need a sanitizer for... | | | |
| --- | --- | --- | --- |
| Dishes, glasses, and flatware | | | |
| Dishes and kitchen surfaces | | | |
| I need a rinse aid that is... | | For low temperature machines | For high temperature machines |
| --- | --- | --- | --- |
| Liquid | | | |
| Solid | | | |