Food storage containers are essential to any commercial kitchen. They're available in a variety of colors and materials, and in an array of sizes in round, square, or rectangular shapes. With so many options to choose from, determining which containers are best for your establishment can get rather tricky. This guide will walk you through the basics of food storage containers, and guide you to the right containers for your unique needs.
Materials
Clear (Polycarbonate)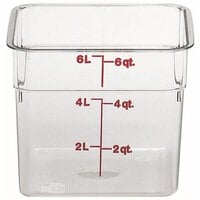 Thanks to their crystal-clear clarity and shatter-proof construction, polycarbonate food storage containers offer fast product identification and longevity in commercial kitchens. These containers can withstand temperatures from -40 degrees Fahrenheit to 210 degrees Fahrenheit, making them perfect for use with cold foods in refrigerators and freezers. Polycarbonate food storage containers are designed to resist food acids and oils to maintain their clarity even after extended use.
May contain Bisphenol-A (BPA).

Price: $$$
Shop Round
Shop Square
Translucent (Polypropylene)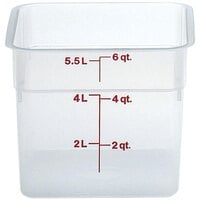 Polypropylene food storage containers offer an economical option for cold food storage, while providing a 100% Bisphenol-A (BPA) free food contact surface. They feature a high chemical resistance and can withstand temperatures from -40 to 160 degrees Fahrenheit, making them also perfect for use with cold foods in refrigerators and freezers. Polypropylene food storage containers offer a translucent appearance.

Price: $$
Shop Round
Shop Square
White (Polyethylene)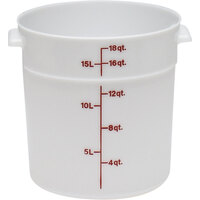 Made from the most common type of plastic, polyethylene food storage containers are 100% Bisphenol-A (BPA) free and among the lowest priced containers on the market. They feature a white, impact, stain, and chemical resistant construction, and, like polypropylene containers, can withstand temperatures from -40 to 160 degrees Fahrenheit. They are perfect for use with cold foods in refrigerators and freezers, or for dry food storage.

Price: $
Shop Round
Shop Square
Shapes and Sizes
Shapes
Food storage containers come in one of two shapes – round or square, with each shape having its own set of benefits and limitations. While round food storage containers promote proper air circulation around the container and faster cooling times, square food storage containers maximize storage space. Further, while square food storage containers serve to hold more product in a smaller area of space, the rounded interiors of round food storage containers minimize food waste.
So which shape is right for you? That all depends on:

A) your storage space (if limited, you may want to opt for square food storage containers) and
B) your personal preference (compare the benefits of round food storage containers with the space savings that come along with square containers)
Sizes
Once you've decided on the shape of the containers you're looking for, it's time to determine the sizes of containers you'll need. Food storage containers come in a variety of sizes, including:
2 C.
3 C.
1 Qt.
2 Qt.
3.5 Qt.
4 Qt.
6 Qt.
8 Qt.
12 Qt.
18 Qt.
22 Qt.
What sizes you'll need will depend primarily on what you are using the products for. Wet ingredients, dry ingredients, fresh produce, sauces, soups, pickles, jams, the possibilities are endless in these containers!
Special Features
Food storage containers are differentiated not only by material, shape, and size, but also by the special features that are unique to certain containers. These features include:
Lids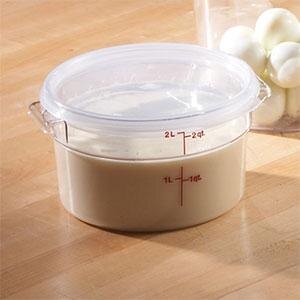 Lids ensure that the contents of your food storage containers remain fresh until ready to use. There are several types of lids to choose from.
Cambro Seal Cover lids are tight fitting and spill resistant, with an inner and outer seal for superior protection. Lids like these enable the containers to be tipped completely upside-down without leakage.
If this type of protection is not quite what you are in need of, a less expensive, easy-on/easy-off snap-on version offers an airtight fit and great spill-resistance, but not the guarantee that if you tip the container over, no leakage will occur.
For fast lid identification, some lids come in color-coded varieties, with one color per size. Again, these lids are not liquid tight, but do offer a snap-tight closure to keep foods fresh.
Graduations/Measurements
Food storage containers are not only great for storing food and liquid, but they are also great for providing approximate measurements, thanks to the graduations or measurements that are etched or printed onto the exteriors of many containers. These indicators allow your staff to see how much is in each container without having to measure out the contents.
Stackability
For space-saving storage, all of our food storage containers feature stackable designs. These containers easily nest when not in use, and when in use, their stacking lugs allow for safe, stable stacking with other containers of the same brand, or even with similar brands.
Food Storage Boxes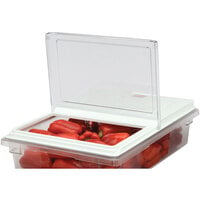 Similar to food storage containers, food storage boxes serve to keep your food fresh and organized during storage. These boxes are available in polycarbonate, polypropylene, and polyethylene, and come in several sizes. Within these sizes, there are also several depths to choose from, including:
For the ultimate in food safety, color-coded food storage boxes offer a color-coded system to eliminate cross-contamination. The colored tints make these boxes ideal for keeping raw meats separate from ready-to-eat foods or other stored food products. Learn more about Cambro food safety boxes in the following video:
Food storage boxes have several accessories available to them, including:
Colander pans easily slip into food storage boxes to drain liquids away from foods such as fresh produce, improving food quality. Simply lift out of the food pan for safe and quick disposal of liquids as needed.
Much like colander pans, plastic drain trays slip into food storage boxes to allow liquids to drain to maintain optimum freshness.
Food storage box lids come in white, clear, or color-coded colors, and serve to keep contaminants out of your food during storage. While they do not seal, they do offer a secure cover for your fresh ingredients. Food storage box lids are available in standard flat varieties, as well as sliding and flip top designs for your convenience. Both sliding and flip top lids allow your staff to only open one-half of the cover at a time, ensuring that the other half remains protected.
Shop Standard Food Storage Boxes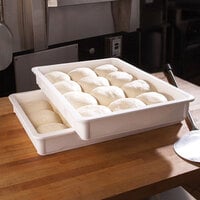 Great for proofing and storing pizza dough, pizza dough boxes prevent crusting to increase the storage life of dough. Available in polycarbonate or polypropylene varieties, and sized at 18" x 26", these boxes are often used with their compatible covers and then stacked with additional boxes for space-saving proofing and storage. Dollies are also available to make transport a breeze when multiple boxes are stacked.
Shop Pizza Dough Boxes
Using Food Pans for Storage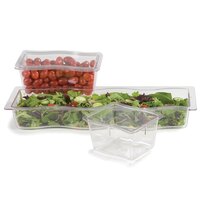 Food pans, plastic or stainless steel, are great alternatives to food storage containers and food boxes when storing food. When used with airtight seal covers, these containers will keep your food fresh during storage. Seal covers also make transport easy, eliminating the threat of spillage, and ensuring that contaminants stay out of your food.
Melamine food pans offer a unique alternative to stainless steel and can be used in wet heat applications, while china food pans have an upscale, sophisticated appearance combined with excellent heat and cold retention.
Learn more about food pans and their food storage capabilities with our Food Pan Buying Guide.
Certifications to Look For
NSF Listed
NSF International – In the food service industry, NSF International's primary function is to create sanitation safety standards for testing products. NSF also uses these testing standards to approve anything from large restaurant equipment to small manual prep tools for safe use in food service operations. In most instances, restaurants will be required to have NSF Listed equipment and supplies to pass health inspections.
NSF Certifications are noted on every product that meets these industry standards. Look for this symbol when you shop!