Commercial baking pan liners save operators money by eliminating the labor time and cleaning costs associated with greasing and washing baking pans. When it comes to labor and cost savings, pan liners are a chef's best friend. They are one of the greatest inventions since sliced bread!
Advantages
Pan liners have many advantages in a food service operations:
Labor Savings: Why Scrub? Less scrubbing = more time for cooking. This increases productivity in the kitchen.
Improves Food Quality: Bulk pan liners eliminate the direct food-to-hot-metal contact to prevent the moisture in the food from "scalding off". This moisture contributes flavor and temperature to the food.
Makes Food Safer: Since food cooked with pan liners or parchment paper never touches the pan, the chance of surface contamination is eliminated.
Protects Plumbing/Better for the Environment: Using disposable pan liners ensures grease goes into the trash, not down the drain.
Sheet Pan Liners
Paper Pan Liners
Our extensive line of pan liners offers a wide variety of paper pan liners to meet your baking and cooking needs. Bulk paper pan liners are easy to use with standard foodservice baking sheets. Flat packs are convenient for laying flat in the pan. We carry Quilon® coated, Silicone coated, or EcoCraft® Bake 'N' Reuse paper.
Quilon®:
Excellent for temperatures up to 425 degrees Fahrenheit
Features a hard, pinhole-free surface
Treated with a Quilon® non-stick coating that resists grease and oven-browning
---
Silicone:
Excellent for temperatures up to 475 degrees Fahrenheit
Great for high sugar baking and candy making
Treated with a silicone non-stick coating that resists grease and oven-browning
FDA approved
---
EcoCraft® Bake 'N' Reuse:
Excellent for medium to high heat (400 to 425 degrees Fahrenheit)
2 to 4 uses per sheet
Made from unbleached, chlorine free, compostable, grease proof paper with a chromium free, multi-bake release
Great natural alternative to standard sheet pan liners
Soy-blended eco-wax reduces dependence on petroleum
We also offer pre-cut, moisture- and grease-resistant round cake pan liners to fit 6"-12" round cake pans for quick and easy use. No more cutting your own, save that time for making more cakes.
---
SILPAT® - Silicone Baking Mat:
Nothing sticks to SILPAT®
Excellent for temperatures from -40 to 480 degrees Fahrenheit
Offered in a variety of sizes
No greasing required
Microwaveable, FDA approved, NSF Listed and Kosher Certified
To clean, wash with warm soapy water and rinse. Dry thoroughly and store flat or rolled
Do not ever cut or bend them!
---
Silicone Baking Mat:
Comparable to the name brand SILPAT®, but a fraction of the cost
Offered in a variety of sizes
Non-stick and reusable
Great for baking, fondant work, or high heat sugar work
Use the same way you use your SILPAT®
Make sure to care and maintain properly for long-lasting use
---
Pan Pal:
Reusable and non-stick
6 mil. thick
Impart no odor or taste to the food that is being cooked on them
Excellent for temperatures up to 500 degrees Fahrenheit
Hand washable
Should not be wrinkled or creased, as that may result in cracking or ripping
Food Pan Liners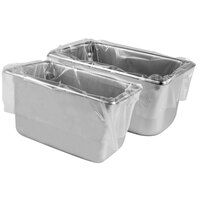 There are also a variety of other materials used for commercial pan liners. Check out our line of PTL liners that provide great performance, while offering low maintenance: just line and bake! These plastic disposable bun pan liners are oven and microwave-safe, with a temperature range of -100 to over 400 degrees Fahrenheit. They are also offered in a variety of sizes other than standard baking sheets. These liners are great for all your steam table inserts and have become a staple in most healthcare and institutional foodservice facilities.