From busy kitchens to hotel hallways, if you're looking for a way to keep your floors spick and span, you've come to the right place. Mop heads are a great way to keep hard floors sanitary and shining bright, but with the large selection to choose from, how do you know which type is best for your establishment's needs? This guide will help you make the right decision.
Types of Wet Mops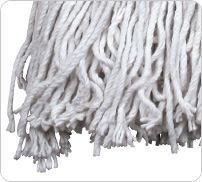 Cut End Mops
Cut end mops are the standard option when it comes to mop heads. Generally the least expensive type of mop head, they are often considered disposable because of their low initial cost and the fact that laundering is not recommended.
Purchasing considerations:
Ideal for mopping and soaking up spills
Economically priced
Laundering not recommended
Shop for Cut End Mops
---
Looped End Mops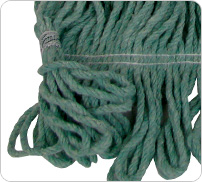 Looped end mops provide extra surface area, which allows for more liquid retention. These mops are also able to cover more space per swipe compared to cut end mops. Because of their moderate price and sufficient durability, looped end mops are considered the most common type of mop head.
Purchasing considerations:
Longer life than cut end mops
Looped ends prevent snagging and unraveling
Cotton, and poly/cotton blends not machine washable
Shop for Looped End Mops
---
Microfiber Mops
Microfiber mops are made from a unique combination of polyester and polyamide that easily collects and traps dirt until it is washed. These types of mops are the most sanitary of any mop head.
Purchasing considerations:
Absorbs up to 7 times its weight in liquid
Can be washed 500+ times without degrading
Hypoallergenic and non-abrasive
More eco-friendly because it requires less chemicals
For more information on microfiber, read this handy guide.
Shop for Microfiber Mops
Comparison
Features
Machine Washable
Uses

100% Cotton

Economically priced
Use-and-toss (disposable)

×
General purpose cleaning

Poly/Cotton Blend

Longer lasting alternative to cotton
Use-and-toss (disposable)

×
General purpose cleaning

Rayon Blend

Highest quality blend
Cleans 2-3 times the area
6 times the life of a cut end mop
Mildew resistant

General purpose cleaning

Microfiber

Hypoallergenic
Non-abrasive

General purpose cleaning

Finish Mops

Perfect for applying finishes, disinfectants and sealers
Release liquid for faster and smoother finish

Applying floor finish
Advantages of Color Coded Mops and Cleaning Systems
Color coded mop heads, buckets, and microfiber cloths are ideal for preventing cross-contamination in places where bacteria and germs may be spread easily. These mops are mainly used in food handling facilities, hospitals, schools, and nursing homes.
Utilizing different colors and creating "zone isolation" to help prevent cross contamination is great for use in conjunction with a HACCP compliance program.
Industry Standard Color Coding System
Hospitals and other health intuitions demand a clean and safe facility, and by using color coded mops, workers can prevent spreading infections and bacteria between rooms.
A color coded mop system also allows employees and workers to better organize and distinguish among cleaning tasks.
Wet Mop Care and Maintenance
Proper care and maintenance of your wet mop can help it last up to 5 times longer. Plus, you'll be able to achieve better results.
Clean your mop head thoroughly in warm water before you start mopping every time to make sure that any chemicals previously used are rinsed out. This will help reduce the risk of cross contamination.
Always let the mop wringer rinse the mop. Never twist the wet mop head while it is in the wringer, because this may loosen and weaken the mop strands.
Soak the mop head in hot water for up to 10 minutes after you are finished mopping, and then rinse. This will help keep your mop heads clean and prevent cross contamination.
Never leave a mop in dirty mop water overnight because this can create a breeding ground for bacteria, mold, and mildew and may also weaken the mop fibers.
Hang your mop heads to dry once you have finished washing them as this will help prevent mold from forming.
Launder mop heads that are machine washable on a regular basis, as this will help prevent them from breaking down due to residual chemicals. It is not recommended to wash cut end mops, as they are likely to tangle in the wash.
Do not use bleach when washing your microfiber wet mops as this will break down the fibers. Use a mild disinfectant that is suited for mop washing.

Suggestion: Designate a different mop head for each different mop job that you are doing, especially if you are using more than one type of floor cleaner.
Wet Mop Accessories
To ensure safety, organization, and convenience, these mop accessories are great add-ons that help keep your business clean.