With so many commercial fryer styles and manufacturers to choose from, shopping for a new fryer can be overwhelming! However, with a little bit of basic knowledge of what is available, you can choose the fryer that is right for your needs.
Industry Terms
Tank Capacity
Commercial fryers are often referred to by their tank capacity. For example, a "40 Pound Fryer" will hold up to 40 pounds of fryer oil. Some manufacturers will also rate their units based on the number of pounds of French fries the unit can produce per hour. Generally, a quality fryer can produce a volume equal to 1 1/2 to 2 times the weight of oil it can hold. Thus, a 40 pound fryer could produce up to 80 pounds of French fries per hour, under ideal conditions.
Recovery Time
Recovery time is the length of time it takes the fat to return to the desired cooking temperature after food is submerged in it. If the temperature drops too much or does not return quickly to the proper cooking temperature, the food may absorb excess fat and become greasy.
Sediment Zone
A major difference between fryer types is the "sediment zone". This is where cracklings, small pieces of food, and breading will collect as they fall off during cooking. Some manufacturers may call this area a "cold zone" because the oil in this area is not as hot as the cooking zone.
Fryer Types
Tube Fryer
Tube style gas fryers are a versatile, economical choice for a variety of frying duties. The tube shaped gas heating elements are permanently fixed in the fry pot. These types of fryers excel with high sediment, heavily battered foods.
Pros
Suitable for a wide range of heavy frying
Large sediment zone below the burner tubes allows particles to settle and accumulate
Cons
More difficult and time consuming to clean than open pot fryers
Recommended Applications
Fried chicken
Onion blossoms
Fried fish
French fries
Cheese sticks
Hot wings
Poppers
---
Open Pot Fryer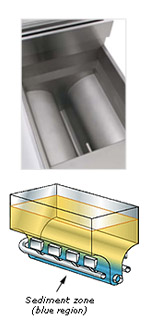 Open pot fryers have an unobstructed heating area. Gas models will heat the fry pot from the outside, while Electric models have a heating element that is immersed in the oil. These electric elements usually fold up and out of the way for easy cleaning.
Pros
Versatile and suitable for most basic frying needs
Easy to clean
Cons
Small and narrow sediment zone is less suitable for heavy sediment foods
Recommended Applications
Fried fish
French fries
Hash browns
Hot wings
An open pot fryer will handle items like onion rings, fried chicken, and cheese sticks just fine, but if you plan on making lots of these types of foods or other freshly-breaded items, you might consider a tube fryer instead. The reason for this is that freshly-breaded items produce a lot of sediment, and will fill up the cold zone frequently if produced in high volumes. A tube fryer has a larger sediment zone than an open pot model, so it will take longer to fill up and allow you to run the fryer longer between cleaning.
---
Flat Bottom Fryer

These fryers have a wide, flat bottom that is heated from below. They have no dedicated sediment zone. Flat bottom fryers are best for specialty or delicate items that float near the oil's surface, like funnel cakes. Because the sediment settles to the bottom of the fryer and remains there until the fryer is cleaned, flavor transfer and a burnt taste may occur if the sediment on the bottom remains too long and scorches.
Pros
Great for liquid battered foods
Great for specialty foods
Cons
Difficult to clean
Lack of sediment zone allows food particles to settle to the bottom and scorch
Not suitable for high-volume tasks or types of food that you would use an open pot or tube fryer for
Recommended Applications
Donuts
Funnel Cakes
Tortilla Chips
Taco Shells
Tempura
Take note that regardless of the type of fryer you purchase, it's extremely important to properly clean your fryer to ensure dirt and debris do not build up! Watch this video to see how to perform a boil out on your deep fryer so you don't have to change your oil as frequently, ultimately saving you money!
style="">
Gas or Electric?
In the past, gas fryers were usually less expensive to operate. However, in recent years, utility rates for gas have increased faster than electric rates. Therefore, you may want to compare gas and electricity rates for your area to help you decide. However, if you're replacing an existing fryer, it may be wise to purchase the same type to avoid having to run new gas or electric hookups.
Floor Fryers
Whether you want a small countertop model, or a larger freestanding model will generally depend on the amount of output you require, your menu, plus the amount of space you have available. For larger-volume applications our selection of floor fryers usually presents the best option and there are several types available.
Tube: Medium duty, all purpose frying
Open Pot Basic: Medium-heavy duty, all purpose frying; insulated combustion chamber
Open Pot Deluxe: Heavy duty, all purpose frying; insulated combustion chamber/flue; may be set up in battery
Countertop Fryers
Some small food service operations like delis, concession stands, snack bars, or sandwich shops may not need the level of output or have the space for a large floor model fryer. In those cases, a counter top model may be all that's needed. We offer a variety of lighter duty countertop fryers in 120 and 208 volt electrical configurations from Avantco and Waring, as well as heavier-duty gas models from CPG, APW, Star and Frymaster. Below are some of our most popular countertop fryers.
Countertop Fryer Comparison
Specialty Fryers
We carry several types of restaurant fryers designed for special applications. Read on to learn more!
Pressure Fryers
Much like a pressure cooker allows you to cook foods faster, a pressure fryer lets you fry foods under pressure, which results in shorter cooking times, and juicier, more tender meats.
---
Funnel Cake Fryers
Funnel cake fryers boast special design features that make them especially suited for making these tasty treats! They tend to have wide, shallow fry tanks that are great for frying multiple funnel cakes at a time.
---
Outdoor Fryers
Outdoor fryers and steamers help you bring fried Cajun flavor and smokey meats to your restaurant establishment! If you organize outdoor events you should buy a deep fryer that is specially designed for outdoor use. These portable deep fryers are great for BBQ competitions, company picnics, outdoor concession stands, and street fairs. Equipped with wheels and portable fuel tanks, these frying machines are ideal for caterers and other traveling foodservice businesses.
---
Ventless Countertop Fryers
Great for convenience stores or sandwich shops that might not have a hood, or anywhere without room under their hood for a fryer, these models from Perfect Fry come with catalytic converters to filter out the grease particles, meaning in most municipalities, you don't need a vent hood. Both semi-automatic, and automatic models exist. Operation is as easy as loading the food and pressing a preset. The fryer does the rest of the work, and the finished product comes out a chute into a food pan underneath!
Specialty Fryer Comparison
Our Fryer Accessories
We carry a range of deep fryer accessories for your fryer! From fry pots and fry baskets, to filter paper and accessories, manual and electric fryer oil filtering machines, and gas connectors and hoses from Dormont and T&S, we have everything you need!
Fryer oil is expensive. To get the best performance out of your commercial fryer and prolong the life of your oil and save money, check out our selection of frypowders. Or, visit our Cooking Oil Buying Guide to learn which oil will work best for your needs; and check out our videos below to learn how to test and extend the life of your fryer oil!
How to Filter and Stabilize Your Fryer Oil
style="">
Although you may want to prolong the life of your oil as long as possible, it's very important to continuously test the quality of your oil. As your fryer oil breaks down over time, polar substances build up, increasing the your risk of serving undercooked food. Watch the video below for step-by-step instructions to test the quality of your fryer oil!
MirOil FQA Frying Oil Test Strips
style="">