A food processor's motor is the most fundamental part of the machine. The motor's power is commonly rated in horsepower (hp for short) - the higher the horsepower, the stronger the motor. High-horsepower motors can also handle larger volumes for more efficient production.
A more powerful motor generally also increases the weight in the food processor's base, lowering its center of gravity and decreasing the chance that it will tip during use. The motor is also directly tied to the controls.
A food processor's controls can be designed in paddle, touchpad, button, or knob configurations, with each setup carrying its own pros and cons. Check out each kind to figure out what would be best for you.
Type
Batch Bowl: Batch bowl food processors collect food as it's processed. Operators drop food vertically into the bowl to achieve a specific cut. A central pillar inside the bowl supports a Sabatier or "S" blade or a disc to cut food to the desired size and shape, and the bowl is detachable to easily dispense its contents.
---
Bowls can usually hold between 1 and 6 quarts, although there are larger sizes for industrial units. Using multiple bowls in rotation can help increase efficiency and save time during food preparation, especially for large batches. Most bowls are made of plastic, but some are made of stainless steel for added durability and strength.
Compare Batch Bowl Food Processors
---
Continuous Feed: Continuous feed food processors allow the user to constantly supply the unit with food as it operates while dispensing into a separate container. This cuts down on time when processing large batches of food, making it easier to prepare various dishes quickly.
Compare Continuous Feed Food Processors
---
Combination: Some processors have both a bowl and continuous feed capabilities. This means you can use the processor as a bowl unit or attach an add-on that lets it dispense food externally instead.
---
Buffalo choppers are specialized food processors that are typically heavier and sturdier than other food processors because of their all-metal design, and they're used for chopping everything from carrots to meat. These heavy duty units can handle almost anything you throw at them, making them great for all-purpose and frequent use, and their accessory hubs help increase versatility by connecting to add-ons like specially designed slicers.
Attachments
With everything from hoppers to prep machines, there are dozens of accessories you can use to customize your food processor. Hoppers, bowls, and pushers are all helpful add-ons that can tweak your kitchen set-up to achieve the goals you want. But the most practical and common attachments available are the "S" blade and discs.
The "S" blade sits at the bottom of a bowl to cut food in a certain way depending on its size, serration, and other factors. They're typically used for combining ingredients like you would find in salsa or hummus. Discs are fastened to the top section of a bowl to cut food in a variety of ways, from smooth slices to waffle cuts. Discs are often used to obtain a certain cut for presentation or visible ingredients, like sliced pickles for a sandwich or mushrooms for a pizza.
Hoppers:
Holds large batches of food before its processed.
Photo credit: Hobart
---
Bowls:
Contains the food as its cut.
Photo credit: Waring:
---
Pushers:
Lets you safely feed product into processor blades.
Photo credit: Waring:
---
Slicing Discs:
Cuts vegetables and other foods for a wide variety of applications.
Photo credit: Robot Coupe
---
Julienne Disc:
Cuts potatoes, carrots, and other foods into sticks for garnishes or vegetable trays.
Photo credit: Robot Coupe
---
Grating Disc:
Finely cuts cheeses, vegetables, and more to add an extra touch to dishes.
Photo credit: Robot Coupe
---
Shredding Disc:
Shaves food into long, thin strands.
Photo credit: Waring
---
Dicing Disc:
Cuts large chunks of vegetables for soups and stews.
*Please note:
To properly dice food, a food processor must also have a
dicing grid
.
Photo credit: Robot Coupe
---
French Fry Disc:
Specially designed to cut French fries.
Photo credit: Robot Coupe
---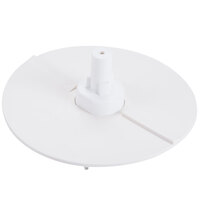 Discharge plate
: Collects and dispenses food from combination bowl / continuous feed units.
Photo credit: Robot Coupe
---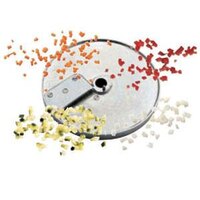 Brunoise Disc:
Cuts food at a size between grating and dicing for garnishes, soups, salads, and appetizers.
Photo credit: Robot Coupe
---
Gaufrette / Waffle Cut Disc: Cuts waffle-like waves in vegetables for eye-catching presentation.
Photo credit: Robot Coupe
---
Crimping Disc:
Cuts thick wavy slices of a wide variety of vegetables.
Photo credit: Berkel
---
Pulping Disc:
Cuts fruits and vegetables into a zesty pulp for extra flavor on a dish.
Photo credit: Waring
---
Whipping Disc:
Used to create butter, cream, and other ingredients.
Photo credit: Waring
Discs fit on the bottom of your bowl to cut your food a certain way before it exits the processor. There are discs for just about every cut, grind, or grate you could ever need, and some are even designed to pulp fruit, whip cream, and cut special designs into your food.
---
Food processors can be split up into
entry level
,
mid tier
, and
premium grade
units. Entry level machines are best suited for just a few hours of work each day, and they tend to be the most affordable models. Mid tier units are designed for greater durability and versatility so that they can be used more often. Last, premium grade processors are built with high horsepower motors and rugged exteriors for excellent performance, maximum versatility, and frequent use.
Comparison
| Item Number | Thumbnail | Manufacturer | Model Number | Horsepower | Bowl Size | Continuous | Dicing | Duty | List of Accessories |
| --- | --- | --- | --- | --- | --- | --- | --- | --- | --- |
| 165B32 | | Berkel | B32 | 1 1/2 | 3.2 qt. | No | No | Heavy | Includes serrated S blade |
| 165CC34 | | Berkel | CC34 | 1 1/2 | 3.2 qt. | Yes | Yes | Heavy | Includes S blade |
| 425FP411 | | Hobart | FP41-1 | 3/4 | 4 qt. | No | Yes | Heavy | Includes S blade |
| 425HCM611 | | Hobart | HCM61-1 | 1 1/2 | 6 qt. | No | No | Heavy | Includes S blade |
| 425HCM621 | | Hobart | HCM62-1 | 2 | 6 qt. | No | No | Heavy | Includes S blade |
| 649BLIXER3 | | Robot Coupe | Blixer 3 | 1 1/2 | 3.5 qt. | No | No | Medium | Includes serrated S blade, bowl scraper |
| 649R2DICE | | Robot Coupe | R2Dice | 2 | 3 qt. | Yes | Yes | Medium | Includes S blade, slicing disc, grating disc, dicing disc |
| 649R2DICECLR | | Robot Coupe | R2Dice CLR | 2 | 3 qt. | Yes | Yes | Medium | Includes S blade, slicing disc, grating disc, dicing disc |
| 649R2DICEULT | | Robot Coupe | R2Dice Ultra | 2 | 3 qt. | Yes | Yes | Medium | Includes S blade, slicing disc, grating disc, dicing disc |
| 649R2NCLR | | Robot Coupe | R2N CLR | 1 | 3 qt. | Yes | No | Medium | Includes S blade, slicing disc, grating disc |
| 649R2NGRY | | Robot Coupe | R2N | 1 | 3 qt. | Yes | No | Medium | Includes S blade, slicing disc, grating disc |
| 649R2NULTRA | | Robot Coupe | R2N Ultra | 1 | 3 qt. | Yes | No | Medium | Includes S blade, slicing disc, grating disc |
| 649R301 | | Robot Coupe | R301 Series D | 1 1/2 | 3.5 qt. | Yes | No | Medium | Includes S blade, slicing disc, grating disc |
| 649R301ULTRA | | Robot Coupe | R301 Ultra | 1 1/2 | 3.5 qt. | Yes | Yes | Medium | Includes S blade, slicing disc, grating disc |
| 649R602V | | Robot Coupe | R602V Series E | 3 1/2 | 7 qt. | Yes | Yes | Medium | Includes S blade, slicing disc, grating disc |
| 92240826 | | Vollrath | 40826 | 1/3 | 3 qt. | No | No | Medium | Includes S blade |
| 929FP1000 | | Waring | FP1000 | 2 | 2.5 qt. | Yes | Yes | Medium | Includes serrated S blade, slicing disc, shredding disc, julienne disc, dicing disc, food pusher |
| 929FP2200 | | Waring | FP22000 | 3/4 | 6 qt. | Yes | No | Medium | Includes serrated S blade, slicing disc, shredding disc, food pusher |
| 929FP25 | | Waring | FP25 | 1 | 2.5 qt. | No | No | Medium | Includes serrated S blade, slicing disc, grating disc, julienne disc, food pusher |
| 929FP25C | | Waring | FP25C | 1 | 2.5 qt. | No | No | Medium | Includes serrated S blade, slicing disc, grating disc, julienne disc, food pusher |
| 929FP40 | | Waring | FP40 | 1 1/2 | 4 qt. | No | No | Medium | Includes serrated S blade, slicing disc, grating disc, julienne disc, food pusher |
| 929FP40C | | Waring | FP40C | 1 1/2 | 4 qt. | Yes | No | Medium | Includes serrated S blade, slicing disc, shredding disc, food pusher |
| 929FPC14 | | Waring | FPC14 | 1/2 | 2.5 qt. | No | No | Medium | Includes S blade, mixer S blade, thin slicing disc, medium slicing disc, thick slicing disc, shredding disc, funnel, food pusher |
| 929FPC15 | | Waring | FPC15 | 1/2 | 2.5 qt. | Yes | No | Medium | Includes S blade, mixer S blade, thin slicing disc, medium slicing disc, thick slicing disc, thin shredding disc, medium shredding disc, julienne disc, food pusher |
| 929WCG75 | | Waring | WCG75 | 3/4 | .75 qt. | No | No | Light | Includes S blade, grinding blade assembly |
| 929WFP11S | | Waring | WFP11S | 3/4 | 2.5 qt. | No | Yes | Light | Includes serrated S blade, slicing disc, shredding disc, grating disc, whipping disc, detachable disc stem, food pusher |
| 929WFP11SW | | Waring | WFP11SW | 3/4 | 2.5 qt. | No | No | Light | Includes S blade, whipping disc |
| 929WFP14S | | Waring | WFP14S | 1 | 3.5 qt. | No | Yes | Light | Includes serrated S blade, whipping disc, slicing disc, shredding disc, grating disc, detachable disc stem, food pusher |
| 929WFP14SC | | Waring | WFP14SC | 1 | 3.5 qt. | Yes | Yes | Light | Includes serrated S blade, whipping disc, slicing disc, shredding disc, grating disc, detachable disc stem, food pusher |
| 929WFP14SW | | Waring | WFP14SW | 3/4 | 3.5 qt. | No | No | Light | Includes S blade, whipping disc |
| Item Number | Thumbnail | Manufacturer | Model Number | Horsepower | Bowl Batch | Dicing | Duty | List of Accessories |
| --- | --- | --- | --- | --- | --- | --- | --- | --- |
| 165C32 | | Berkel | C32 | 1 1/2 | No | Yes | Heavy | Includes feed head, ejector plate |
| 165C322 | | Berkel | C32/2 | 1 1/2 | No | Yes | Heavy | Includes feed head, ejector plate, slicing plate, shredder plate |
| 425FP1001B | | Hobart | FP100-1/B | 1/3 | No | Yes | Heavy | Includes deflector plate, cleaning brush |
| 425FP1501 | | Hobart | FP150-1 | 1/2 | No | Yes | Heavy | Includes deflector plate, cleaning brush, decoring screw |
| 425FP1501B | | Hobart | FP150-1B | 1/2 | No | Yes | Heavy | Includes deflector plate, cleaning brush, decoring screw |
| 425FP2501 | | Hobart | FP250-1 | 3/4 | No | Yes | Heavy | Includes deflector plate, cleaning brush, decoring screw |
| 425FP2501B | | Hobart | FP250-1B | 3/4 | No | Yes | Heavy | Includes deflector plate, cleaning brush, decoring screw |
| 425FP3001 | | Hobart | FP300-1 | 1 | No | Yes | Heavy | Includes deflector plate, cleaning brush |
| 425FP3001B | | Hobart | FP300-1B | 1 | No | Yes | Heavy | Includes deflector plate, cleaning brush |
| 425FP3501 | | Hobart | FP350-1 | 1 | No | Yes | Heavy | Includes deflector plate, cleaning brush, decoring screw |
| 425FP3501B | | Hobart | FP350-1B | 1 | No | Yes | Heavy | Includes deflector plate, cleaning brush, decoring screw |
| 425FP4001 | | Hobart | FP400-1 | 2 | Yes | Yes | Heavy | Includes hopper |
| 165CC34 | | Berkel | CC34 | 1 1/2 | Yes | Yes | Heavy | Includes S blade |
| 425FP1001 | | Hobart | FP100-1 | 1/3 | No | Yes | Medium | Includes deflector plate, cleaning brush |
| 649CL50E | | Robot Coupe | CL50E | 1 1/2 | Yes | Yes | Medium | Includes slicing disc, grating disc |
| 649CL50EULT | | Robot Coupe | CL50E Ultra | 1 1/2 | Yes | Yes | Medium | Includes slicing disc, grating disc |
| 649R2DICE | | Robot Coupe | R2Dice | 2 | Yes | Yes | Medium | Includes S blade, slicing disc, grating disc, dicing disc |
| 649R2DICECLR | | Robot Coupe | R2Dice CLR | 2 | Yes | Yes | Medium | Includes S blade, slicing disc, grating disc, dicing disc |
| 649R2DICEULT | | Robot Coupe | R2Dice Ultra | 2 | Yes | Yes | Medium | Includes S blade, slicing disc, grating disc, dicing disc |
| 649R2NCLR | | Robot Coupe | R2NCLR | 1 | Yes | No | Medium | Includes S blade, slicing disc, grating disc |
| 649R2NGRY | | Robot Coupe | R2N | 1 | Yes | No | Medium | Includes S blade, slicing disc, grating disc |
| 649R2NULTRA | | Robot Coupe | R2N Ultra | 1 | Yes | No | Medium | Includes S blade, slicing disc, grating disc |
| 649R301 | | Robot Coupe | R301 Series D | 1 1/2 | No | No | Medium | Includes S blade, slicing disc, grating disc |
| 649R301ULTRA | | Robot Coupe | R301 Ultra | 1 1/2 | No | Yes | Medium | Includes S blade, slicing disc, grating disc |
| 649R602V | | Robot Coupe | R602V | 3 1/2 | Yes | Yes | Medium | Includes S blade, slicing disc, grating disc |
| 929FP1000 | | Waring | FP1000 | 2 | Yes | Yes | Medium | Includes serrated S blade, slicing disc, shredding disc, julienne disc, dicing disc, food pusher |
| 929FP2200 | | Waring | FP2200 | 3/4 | Yes | No | Medium | Includes serrated S blade, slicing disc, shredding disc, food pusher |
| 929FP40C | | Waring | FP40C | 1 1/2 | Yes | No | Medium | Includes serrated S blade, slicing disc, shredding disc, food pusher |
| 929FPC15 | | Waring | FP15C | 1/2 | Yes | No | Medium | Includes S blade, mixer S blade, thin slicing disc, medium slicing disc, thick slicing disc, thin shredding disc, medium shredding disc, julienne disc, food pusher |
| 929WFP14SC | | Waring | WFP14SC | 1 | Yes | Yes | Light | Includes serrated S blade, whipping disc, slicing disc, shredding disc, grating disc, detachable disc stem, food pusher |
| Item Number | Thumbnail | Manufacturer | Model Number | Horsepower | Continuous | Duty | Hub | List of Accessories |
| --- | --- | --- | --- | --- | --- | --- | --- | --- |
| 425841451 | | Hobart | 84145-1 | 1/2 | Yes | Heavy | Yes | Includes bowl, bowl cover |
| 425841452 | | Hobart | 84145-2 | 1/2 | Yes | Heavy | No | Includes bowl, bowl cover |
| 42584186-1 | | Hobart | 84186-1 | 1 | Yes | Heavy | Yes | Includes bowl, bowl cover |
| 42584186-2 | | Hobart | 84186-2 | 1 | Yes | Heavy | No | Includes bowl, bowl cover |