Core 1 Gallon Glass Penny Candy Jar with Chrome Lid
$5.99/Each
Buy in lots of 4:
$7.05

/Each

Regularly:
$7.99

/Each
<!-[AUTO_REORDER_CONTROLS]-> <!-[PRICE_INCREASE_ADVERTISEMENT_553040071]->
Ideal for storing dry goods, candy, or coffee beans
Polished chrome lid keeps helps keep contaminates out of the container
Wide opening allows for easy access to contents
Great for bakeries, cafes, and diners
Crystal-clear clarity increases impulse sales

Showcase cookies, candies, and more with this Core 1 gallon glass penny candy jar.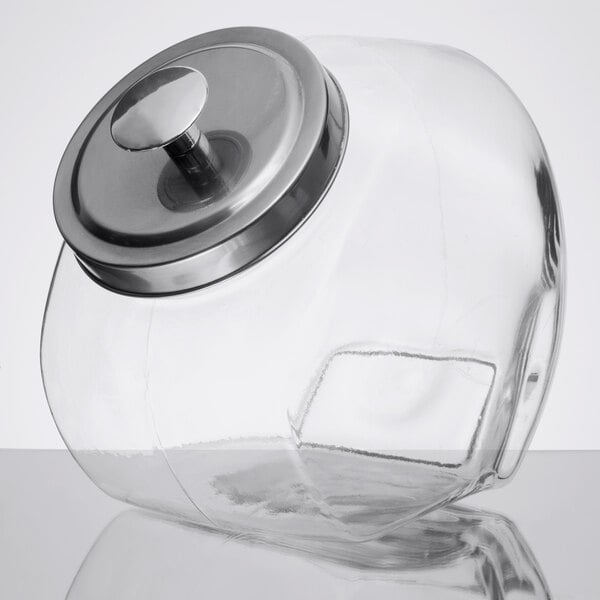 Perfect for cafes, bakeries, and deli countertops, this crystal-clear jar increases impulse sales and adds an old time classic look to your decor. Combining style and functionality, this penny candy jar is a great way to organize your displays and draw your customers' attention to your featured items.
Lead Free

This item is free of lead-based products.
"Great penny jar. I use it for my drink powders and its easy access to them and easy to use as well. Look nice on my counter and all the customers have been asking where I get them."
Read More Reviews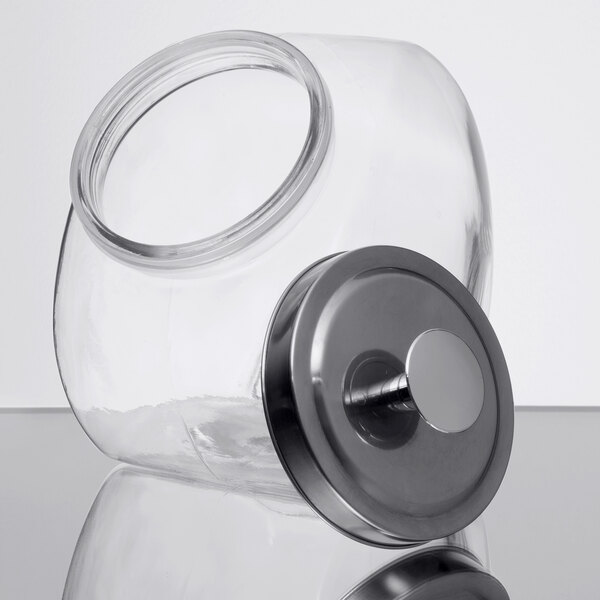 Easy Product Visibility
With a crystal-clear body, customers can easily see your brightly wrapped candy or freshly baked cookies. A wide opening provides easy access to the contents of this jar so you can store a variety of items. The opening is even large enough to accommodate a scoop for coffee beans and assorted nuts.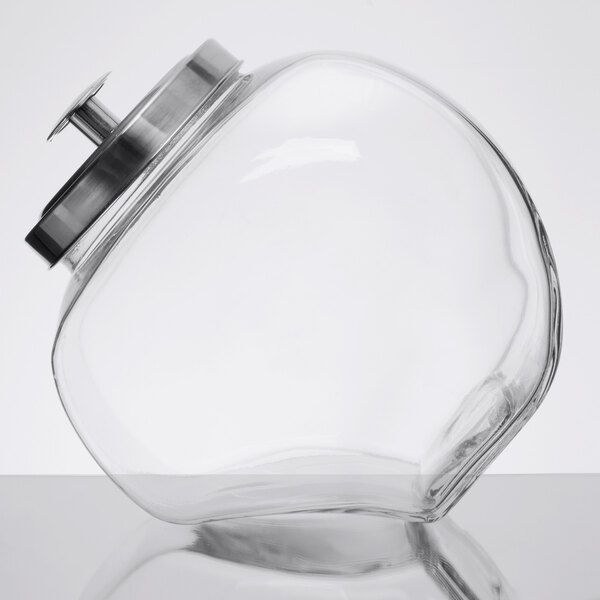 Lead-free Glass
Its lead-free construction makes this jar safe for food contact and a better option than other lower grade glassware.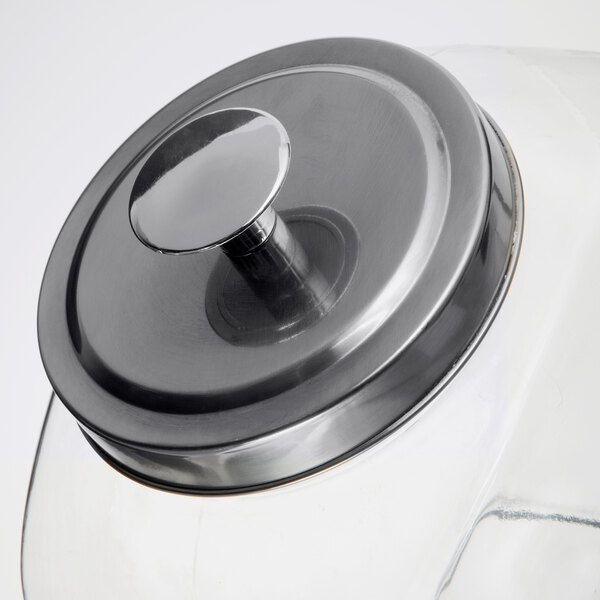 Polished Chrome Lid
This lid is the perfect way to keep contaminants out of your jar. Plus, its polished chrome finish gives this jar a classic look.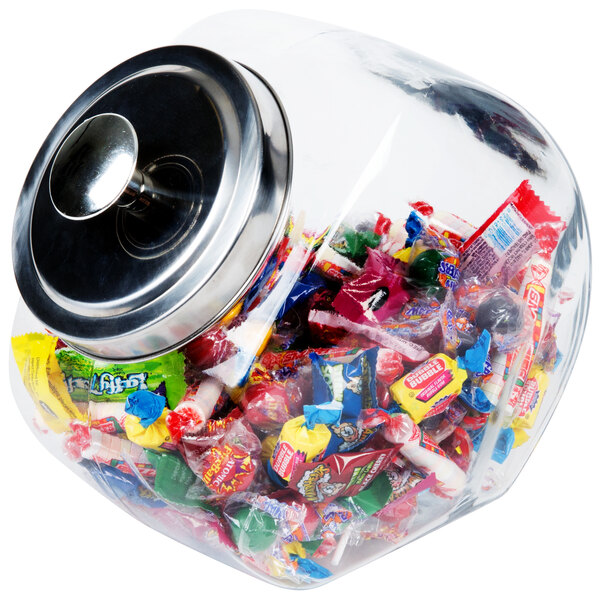 Core Glassware
Core glassware is designed to withstand the rigors of daily use, making it the perfect choice for lively bars or family-friendly restaurants. Each piece from Core's glassware line is designed not only to meet your needs, but to meet the needs of your budget as well.
Core 1 Gallon Glass Penny Jar With Chrome Lid
Add a classic appeal to your presentation area with these Core 1 gallon glass penny jars! Each jar comes with a sleek chrome cover that seals the jar and features your most popular baked goods, candy, or dry ingredients.
Add a classic appeal to your display area with these Core 1 gallon glass penny jars. Use these versatile jars to set out candy, cookies, and other baked goods for sale in your bakery, or to store dry ingredients and coffee beans in your café. Each penny jar comes with a sleek chrome cover that seals around the jar and features a rounded knob for easy removal. The clear glass construction makes each jar a great presentation piece, and helps increase impulse sales.
Overall Dimensions:
Length:

8 3/4 Inches

Width:

7 Inches

Opening Diameter:

4 1/2"

Height:

8 Inches

Capacity:

4 qt.
Related Items
Customer Reviews
Arrange by

1 out of 1 found this review helpful

I do not recommend these jars. They are not even and seem to be thinner in places than in others bought 27 and 10 have cracked or shattered. It is easy to see on the jars that are not broken that they are flawed. Wish I didn't go for the pop up ad when I went to order the anchor hocking jars

Terese M. from Candyality Posted on 07/02/2015

Thank you for your review, Terese! We are sorry these candy jars did not last as they should have for you. A Customer Solutions Representative will contact you soon to make sure the situation is made right.

WebstaurantStore Customer Solutions

Super cute! We ordered this in for a customer that was looking for a candy jar and they are very happy with it. The quality seems to be good and the price fantastic!

Kimberly G. from Evergreen Vending Posted on 06/20/2016

I don't understand how people leave bad reviews.. I know you want to so people be careful what they buy but I don't see anything wrong with these jars as long as there taken care good. There ok. And last as longs as u want them too

Devina S. from Cindy Posted on 06/10/2016

Overall I'm impressed with the quality for the price, and would buy again. The customer service has been amazing as well. These jars are not high end. If you're looking for pristine, these are probably not the ones for you. If, however, you want a substantial glass jar for an amazing price, look no further. The glass is thick and heavy and the jars are large. They look wonderful lined up in my display. There really are only a couple things keeping this from a five star rating- first is that the lids are very thin metal and the knob is plastic painted to look chrome. When you try to remove the lid, the thin metal flexes and creates a very tight seal making it a two handed job to get the lid off. The lids fit very tight. Seven out of 28 lids arrived dented. They were replaced immediately by the excellent customer service, but that does show how thin the lids are. The glass of the jars has a fairly thick, noticeable seam running down the middle of the jar, front and back. Not a concern for my use, but might be for those wanting a cleaner look. The other issue is that even though the jars are designed to sit either straight up or at an angle, they are only really sturdy when straight up. The angle part of the jar is curved making the jars rock side to side very easily. (Front to back had no issues, just side to side, making them knock into the neighboring jar every time they were opened) I've resolved this issue by placing them on a table cloth, that provided just enough of a barrier that the rocking is minimized, but if you're planning to use them on a solid surface be aware. I will be buying them again, and am very pleased with them (especially for the great price!) Not perfect, but so much better than I anticipated for such an inexpensive jar!

Howard P. from PBJ Fields Posted on 05/05/2016

Do not buy these jars. They are not formed even and seem to be thinner in places. I purchase 12 i now have 7. They crack and shatter like sugar candy.

Bhebishan A. Posted on 04/07/2016

Thank you for the feedback on these candy jars! We're sorry they shattered for you. A Customer Solutions Representative will be in touch with you about this.

WebstaurantStore Customer Solutions

This is a great jar and has a really authentic and antique look. The glass is thick and heavy-duty. It is very attractive and perfect for storing things you want people to see! The lid is a little flimsier than I had hoped and doesn't seal well, but it's still a nice jar.

Jessica Z. from Cod & Capers Seafood Posted on 03/09/2016

Great penny jar. I use it for my drink powders and its easy access to them and easy to use as well. Look nice on my counter and all the customers have been asking where I get them.

Cody B. from ACB Group, LLC Posted on 03/09/2016

The jars were nicely packaged but some of the jars have hairline fractions in the bottom of them. A few had wobbly knobs. We ended u removing the rubber neck seal because the lids were to hard to remove with them on. The size of jars are great. We haven't put anything in them yet.

Sade K. from Deliciously Dipped Posted on 03/08/2016

Thanks for reviewing these jars, Sade. We're sorry that some of them had damages. A Customer Solutions Representative will contact you shortly.

WebstaurantStore Customer Solutions

Bought this jar for my chocolate covered pretzels. Its not that good for the pretzels but I will use them for our cookies. Nice jar- always wanted one.

Tionna S. from The Tea Room Posted on 02/28/2016

perfect for dog treats the large size is perfect for any size treats for all dog sizes fits nice on the counter i love the fishbowl like shape will purchase again.

Shane W. from The Grateful Dawg Custom Glass & Mirror Etching Posted on 02/23/2016

I bought 120 of these for our new candy store. a few are uneven and wont sit right. I have only filled about 50 of them so far. We just opened on 2/4/16. I have had 2 screws from the lids fall into the candy. I have also had to retighten at least 30 of the 50. Some of the screws will not even tighten into the handle after a couple of times. if their is a solution let me know. Otherwise I am afraid someone might end up with a screw in their candy.

Laurie W. Posted on 02/05/2016

Thank you for the review, Laurie! We're sorry that you've had issues with some of these candy jars! A Customer Solutions Representative will contact you right away about this.

WebstaurantStore Customer Solutions

I originally bought these jars for displaying my scented bath and sugar scrub. However, as soon as they arrived I realized I would need the larger jars for my product. But I have found that these jars have organized my pantry so much better than all the other products I've tried! We buy everything organic in bulk and these jars are wonderful to store my flour sugar cereal and etc... Definitely buying more for my house and my business! Very sturdy and nice look ata fantastic price point! Even my husband was impressed.

Rebecca O. from Rose Noel Botanical Luxuries Posted on 01/19/2016

We use this glass jar in our bar to store chocolate chips used for cocktails. It's the perfect size and it is easy for us to scoop the chocolate out of. It has a clean, simple, neutral look that blends in with our decor. It also tucks underneath our shelving nicely which helps us conserve space in the bar.

Robert H. from Hurley's Restaurant & Bar Posted on 01/14/2016

Good quality and the air tight lids do work well, but opening and closing can/will be a struggle for some due to the obvious air tight seal. I'm not sure if the lid will have issues in the future since you really have to pull hard to open and push hard to snug it up, but for the price, it's hard to complain.

Michael K. Posted on 12/23/2015

I was all excited about this item. I thought it would be a great addition to our candy bar. However, upon receiving it we noticed glass in the bottom and where the lid sits was all cracked. Luckily, the amazing staff at webstaurant is going to replace ours. I will write another review once it is received :)

Jeannie A. from The Meyersville inn Posted on 12/03/2015

If you want organization in your kitchen these are the way to go,, you can use these for anything. My most favorite item is silverware it frees up my drawers for larger items.

Teresa M. from Suncatcher Jewelry Designs Posted on 11/17/2015

This is a great product. It's perfect for candy and cookies and etc. I ordered 8 of these and only one was broken. The company quickly gave me a credit for the one that was broken. I would order more.

Damon W. from Stonshi, LLC Posted on 10/24/2015

These penny jars are just what the doctor ordered. Great price for a gallon jar and look so nice even on a temporary coffee table long the new kitchen is being remodeled. After seeing these I will be buying a few more to store all our baking supplies in. I was concerned over some reviews saying they were thin but all 4 mine came in perfect. I love the ring under the lid to keep things fresh and lid on tight.

Rachel Y. Posted on 10/19/2015

We use these to display pickles and they work great. So clear and cheap. Decent construction all things considered. Thanks so much for the great product

Eric H. Posted on 09/19/2015

Previously bought some similar from big box store at twice the price. Not only half the price but these have an air tight seal for our candies. When doing candy bars for wedding these are perfect in both function and style. I already ordered another eight.

Terry M. from Sweet Alice's Posted on 09/08/2015

We use these penny candy glass jars for our ice cream toppings in the bakery. They look great on the counter and display the toppings easily for the customers to see! Sometimes the top can be a little hard to get off.

Kristin G. Posted on 09/01/2015

This penny jars are fabulous!! We use them for our gummies and chocolate covered nuts. Customers can get their sweets out by them selves "self service" so to speak. The lids keep everything air tight and fresh but are easy to remove to open and close the jars.

Neha K. from Finales Llc, DBA Tasty Image Posted on 08/26/2015

These jars look very nice. the seal around them seems to be decent some time will tell it it will keep items fresh. For the price and size i would recommend them for sure for on the counter flour or sugar holders.

Kyle W. Posted on 07/23/2015

I currently use these to store legumes, lentils and beans on my counter and they work well. The jar openings are wide enough so that you can stick a measuring cup in them while working and because they lean towards you, it's easy to get what you need quickly. I would recommend these for home and business use.

Padmini D. from Urmi Posted on 03/31/2015

These are great jars with a nice look. However the lids fit tightly and can be hard to remove if you don't know how to wiggle it just right.

Jonathan P. Posted on 02/25/2015

These candy jars are great for any individually wrapped candies, as well as sweetener packets, creamers, etc. Only complaint is that they're not quite as stable as we were expecting and are thus rather prone to tipping over when the owner of the hand reaching in isn't careful.

Beth H. from B's Kitchen & Koffee Posted on 01/11/2015

this is a good candy jar .we use it for all kind of things like putting our kool-aid packs, coffee filter, packets of splenda sugar, candies ,cookies anything that you would need quick access too that will fit in the jars can be used. the reason I gave it only four stars is because of the seal that the jar comes with is a little to tight and when you try to pull off the lid, the jar also pulls along with the lid and take two hand to open and if you have more then a few it came be a problem sometimes. this is still a great deal for the price and I would recommend this to all

Ray L. Posted on 12/31/2014

These are a very nice quality item. I filled them with frooties for my shop. I remember these from when I was a kid in a candy store.

Tuwanna R. from Louise's Sweets Posted on 09/19/2014

These classic jars look great with almost anything in them. We use our jars for putting our products in and the customers love them. They have great lids with built in seals too

Erin E. from Sophias Naturals Posted on 08/14/2014

We use these for our build your own trail mix and candy dispensers. very functional but also very fragile. we've broken a couple already using our dish machine.

Joyce B. from breezy point international Posted on 05/06/2014

These are great storage units at home for cookies, nuts, candies, cat/dog treats, etc. They are real glass, inexpensive a good size. I have several used for snacks & treats.

Paul S. Posted on 04/24/2014

This is an excellent product. I purchased them to hold candy at an antique and collectibles store where I have a booth. They look totally awesome on the shelf there. Thanks so much. And such a good price.

Donna L. from Kountry Kreations Posted on 04/08/2014

Very nice scoops, nothing cheap about them, very high end. Love your prices and fast delivery! Only wished I had ordered more. Thanks, so glad I found you guys!

Angela G. from vera belle soap co. Posted on 01/31/2014
Get paid to review this product!
If you've used this product, simply log in and share your text, video, and photo reviews of it. The customers on the left did it, and you can too! Earn up to $16.00 per product.
Write a text review
Earn $2.00
Post a product photo
Earn $4.00
Post a product video
Earn $10.00
Login or Register