More Fun Than You Can Shake a Stick At: Fair Season Foods
For many rural and suburban communities, late August to mid-October is more than just the start of school or the first whispers of fall that send everyone digging for sweaters and jeans. For these communities, it's also fair season, the time of year when parks and streets become closed off and full of midway games, odd vegetable exhibits, questionably rickety rides, and most importantly fair food! When planning a night out at the fair, visitors expect a wide array of food options including beloved basics like cotton candy floss, popcorn, candied apples, and funnel cakes.
Yet, as many fair goers know, everything is just a little bit more fun to eat when it's on a stick. A popular stereotype is that anything can become fair food if you put it on a skewer and fry it, and that's true to a degree. The great fair food masters of the world have discovered that all sorts of things can be put on a stick with enough dedication, from the obvious choices like hot dogs all the way to deep fried butter balls (not for the faint of heart…literally). The Minnesota state fair is rumored to have the one of the broadest food-on-a-stick menus of any fair, and the Iowa State Fair holds its own with an impressive list of 57 foods on a stick to choose from in 2012.
Fry it, freeze it, eat it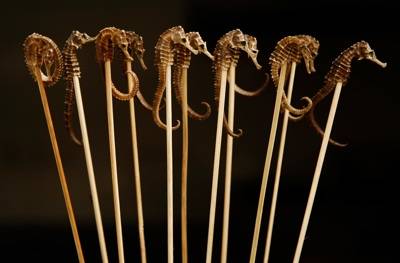 By placing unexpected or unique food combinations on a stick, fair food not only becomes easy to eat (with one hand!) but also amusing and inventive. A great place to start is by modifying existing staples, like the increasingly popular
"chip twister"
snack that is a hybrid between french fries and potato chips. Even funnel cakes can be fried into strips or around a skewer. Another simple modification is to swap out one component in a popular item, like replacing the frankfurter in a
corndog
with bratwurst…and then selling the hot dogs in another fun form like these cute
"octodogs!"
And, hey, might as well throw in some
fried Coca-Cola
as well! "Meal on a stick" offerings are also an inventive way to combine staples and create a unique food item. A sausage dipped in pancake batter, corndog-style, becomes a breakfast on a stick. Spaghetti encased in a roll, skewered, and topped with a meatball becomes a pasta dinner on a stick! And don't forget about the foods that already lend themselves well to being served in stick form: chicken kiev, pork chops, meatballs, falafels, chicken cordon bleu, shrimp, hard boiled eggs, fruit…and deep fried fruit, marshmallows, egg rolls, and pierogis are all easily skewer-able and can be combined for inventive meal choices. Just be aware of your audience - if, say, seahorse, is not common in your area, it might not be a good idea to
serve it on a stick
.
While a good deep fryer and a freezer can often make any food ready to be served on a stick, some fairgoers may wish to steer clear of fried foods for health reasons. Many healthy "stick food" options can be created, right down to salad on a stick - basically a raw veggie kabob. Steamed vegetables, grilled chicken, granola balls, yogurt coated or plain fruit, and low fat cheese are some of the things that can be combined for a fresh, tasty option that will leave fairgoers feeling good about their excursion and their health.
Beyond the midway
The popularity of "food on a stick" has begun to spread outside of fairgrounds, as evidenced by recent widespread love for. Stick food has even collided with the gourmet food truck scene in the form of Denver, Colorado's very own Stick It To Me truck that serves "fine cuisine on a stick." By moving beyond fair food staples or the traditional backyard shish kabob, the idea of stick food can be applied to various establishments and events, especially ones where guests are encouraged to mingle and mix while walking rather than sit.
Whether you are looking to bring new and inventive foods to your midway concession stand, or seeking to bring the fun of fair food off of the fairgrounds, delving into the world of food on sticks is an amusing, creative way to bring a smile to patrons' faces - and cut down on the dishwashing for you! And don't forget - if the stick food fun gets to be too much, there's always a great dessert that can apparently be found at the Minnesota State Fair: Pepto-Bismol…..on a stick.