WebstaurantStore / Food Service Resources / Blog
Behold the Power of Wenol!
By Ryan Loose
If you're like me, and you really like shiny things (pause for laugh), you're going to go crazy for this week's featured items: Wenol Red and Wenol Blue metal polishes! With the 1 - 2 punch of Wenol Red and Wenol Blue, all of your metal surfaces will have that just bought, "show room" shine all the time.
Wenol Red, Wenol Blue? What's the difference?
Wenol Red is an all purpose metal polish that's ideal for a variety of metals. It safely cleans, polishes, and preserves brass, silver, copper, chrome, aluminum, pewter, stainless steel, and even enamel.
Wenol Blue is a high gloss metal polish that's ideal for use on aluminum, chrome, and stainless steel surfaces. Thanks to its ultra soft formula, Wenol Blue metal polish gives an attention-grabbing shine to a variety of products like silverware, copper cookware, or brass fixtures. You can even use Wenol Blue to polish your car, truck, or van!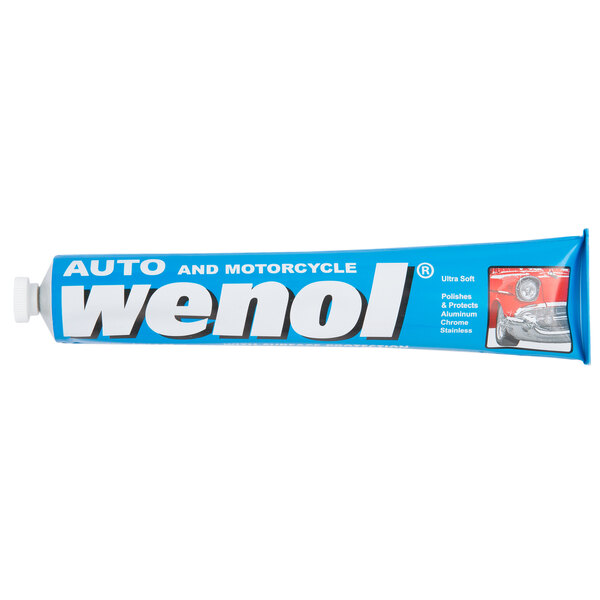 Well, now I'm intrigued, but how do I use Wenol?
It's simple. For the best results, first clean and prep the metal surface with Wenol Red, just like you would with any other metal polish. Then, use Wenol Blue to buff the surface to a high gloss, mirror shine that says, "go ahead, fix your hair, pick your teeth, shave if you like, I don't mind."
Now you've got me, but where can I buy Wenol?
WEBstaurantStore.com of course! Just click here!