How To Up Sell In Your Restaurant - Increase Your Tips With Up Selling Tips
By Ryan Loose
As a server, effectively up selling is one of the easiest ways to increase your tips and increase your restaurant's profits. Although up selling is an art form in some ways, it really isn't difficult. The primary key to up selling is to do it in a way that the customer doesn't realize they are being sold anything at all. If you are too aggressive, the customer will become aggravated. But, if you don't take the time to up sell, you're basically leaving money on the table. So here are a few tips for effective up selling that every waitress and waiter should know. There are three main opportunities for up selling when a customer enters your restaurant.
Introductions All Around - Your first opportunity to up sell occurs when the customer is seated. "What can I get you to drink?" is the traditional 'welcome to your table' motto. But, you can do better. Remember, up selling relies heavily on the power of suggestion, so go over any drink specials before you ask what the customer wants to drink. Another great technique to up sell right from the start is to physically make suggestions. "I just tried the new Blackberry Margarita last night, and it's delicious. I highly recommend it." Whereas the customer originally sat down thinking, I'll just have a water, maybe a soda, now they're thinking, man that margarita sounds incredible! You've just converted a $1.75 soda sale into a $7.00 drink sale! Making suggestions is also a great way to tack on an appetizer or two to the customer's bill.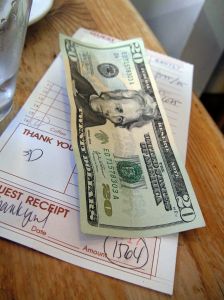 Order Up - Another key in up selling is to be assumptive. You have to assume the customer wants what you're offering. This comes into play mainly in the next up sell opportunity - taking the order. Don't ask if the customer wants an entree this evening. Assume they want one. So, start off taking the order by asking which entree they would like this evening. Making a recommendation at this time, or suggesting one of your favorite meals, is also a good way get your customers focusing on certain areas of the menu. Once the customer has chosen an entree, you can also try to up-sell to a larger serving size, or up sell additional sides, as basically every fast food restaurant does - "would you like fries with that?" Assuming the sale and suggesting add ons is another great way to add more $$$$$ signs to the check.
After Dinner Decadence - The final opportunity to up sell in a restaurant is after your customers have finished their meal. "Can I interest anybody in dessert?" Taking what we've learned so far, is this a good up sell technique? But think how many times you've used this line, or heard a server use it in another restaurant. First off, you're not assuming. You're asking. A better way to up sell after dinner would be to start with "So, what can I get everybody for dessert?". Before your guests have a chance to reply that they're 'too full', throw out a suggestion. But be sure to be descriptive. Rather than listing the desserts, tell your customers what each dessert is, and list it's main ingredients. Make the dessert temptingly irresistible. Make their mouths water before the dish is even delivered. Apart from being assumptive and suggestive, being descriptive is the final key to up selling. By remembering these elements, and taking advantage of each up selling opportunity, you'll quickly see your tips increase. (And your manager's mood improve. Hopefully).