Check Out Our New Recipes Section For Delicious, Inexpensive Meal Options
Looking for a quick, low-cost way to make delicious foods that will increase your profits, save you money, and have customers lining up for more? Recently, The WEBstaurant Store launched a new "Recipes" section to their website that makes cooking tasty, inexpensive meal options easier than ever. Just follow these few simple steps and you'll be making great food, and even greater profit, in no time!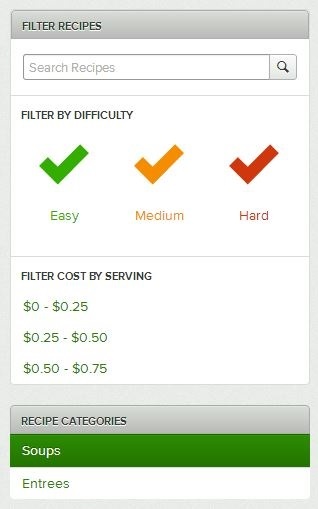 Simply visit the bulk recipes section of our website and use the recipe filter (pictured left) in order to select a recipe that's right for you. Narrow your results by selecting the difficulty of the recipe, cost per serving, or category of food.
Clicking on the recipe of your choice takes you to a page (pictured at bottom) that lists the cooking instructions as well as a list of ingredients with the ability to add them right to your cart! We also make it possible to print and switch between batch sizes with the click of a button.
At the moment we offer 12 mouth-watering soup recipes that cost as little as 20 cents per 7 oz. serving and range from chicken corn soup and New England clam chowder to three bean soup and vegetarian chili! We also have entree recipes for signature mac and cheese and chicken and waffles that only cost 57 cents per serving.
With more recipes and food categories like appetizers and desserts coming soon, there's never been a better time to master these simple catering and bulk food recipes! Also, be sure to check out our site for all your bulk consumable and spice needs!