WebstaurantStore / Food Service Resources / Blog
Happy New Year [Resolution]! – Kicking Off 2013 with a Healthy Restaurant Outlook
With the ringing in of 2013 only hours behind us, it's time to clear our slates of last year's yesterdays, and start anew – a new healthy lifestyle, that is.
It's no secret that the obesity epidemic is worse than ever in our great nation. Just look at the statistics:
72% of men and 64% of women are classified as overweight or obese, with about one-third of adults being obese
Approximately 32% of children and adolescents ages 2 to 19 years are overweight or obese, and 17% of children are obese
37% of the population have cardiovascular disease
16% of the U.S. adult population has high total blood cholesterol
34% of U.S. adults have hypertension
From 1970 to 2008, average daily calories available per person in the marketplace increased approximately 600 calories, with the greatest increases in the availability of added fats and oils, grains, milk and milk products, and caloric sweeteners.
Studies examining the relationship between the food environment and BMI have found that communities with a larger number of fast food or quick-service restaurants tend to have higher BMIs, and portion sizes served at these restaurants seem to be the major culprit. When larger portion sizes are served, people tend to consume more calories.
Despite all of these ominous statistics, National Restaurant Association research shows that nearly three-quarters of adults say they try to eat more healthfully when dining out than they did two years ago. People are striving for change – they want to turn back the clock and get healthier, today. Are you ready for to meet this new demand?
Simple changes to your daily menu can facilitate healthier eating. Here's 3 easy ways to upgrade your menu today:
1. Go heart healthy. Consider lowering sodium content, fat content, and cholesterol in even just a few of your menu items. Small changes like these will make big differences to your customers. Take it one-step further by getting your meals Heart-Check certified by the American Heart Association. This mark takes the guesswork out of spotting heart-healthy options while dining out, and gives your customers a positive image of your restaurant. Learn more about the Heart-Check meal certification.
2. Get smart about diabetes. Affecting 25.8 million children and adults in the United States, diabetes is a big concern to your customers. Keep in mind that not everyone with diabetes has the same meal plan or the same nutrition goals. According to the American Diabetes Association, while cutting calories may be important for some of your customers, fat, salt, and fiber content are bigger concerns to others. Make sure that your staff is well informed of the contents in your dishes so that they can educate your customers if asked, and/or keep a nutrition/ingredient breakdown for every single menu item so that customers can effectively evaluate their options prior to dining.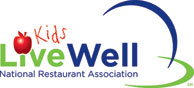 3. Increase access to healthy foods. Whole grains, fresh fruit, fresh vegetables, fish, chicken, fat-free milk – simply adding these options to your menu can make a big difference. Offer options like broiled, grilled, or steamed instead of fried. Simple changes like these are sure to catch the eye of your health-conscious customers in 2013. Adding these healthy options to Kid's Menus is even better. Consider signing up for the National Restaurant Association's Kids LiveWell program. According to their website, restaurants that participate in this voluntary program commit to offering healthful meal items for children, with a particular focus on increasing consumption of fruit and vegetables, lean protein, whole grains and low-fat dairy, and limiting unhealthy fats, sugars and sodium. Participating restaurants receive:
Placement on HealthyDiningFinder's Kids LiveWell website
Promotion of the Kids LiveWell program by the National Restaurant Association and Healthy Dining
An icon that can be used on menus to indicate a healthful choice
Increasing access to healthy foods is a win-win – you get the positive image you need, your customers get the healthy foods they want.
To learn more about how to update your menu, check out the Dietary Guidelines for Americans.