WebstaurantStore / Food Service Resources / Blog
Customizable Napkins Now Available at WebstaurantStore
For your drink-serving and crumb-catching pleasure, WebstaurantStore has now added personalized napkins to its ever-growing line of customizable products to help you spread your business' logo or slogan! Capitalize on subtle, viral marketing by placing customized napkins on your restaurant's tables or sending them in a carryout bag with takeout patrons to leave a lasting impression on all of your current customers while reaching new customers too.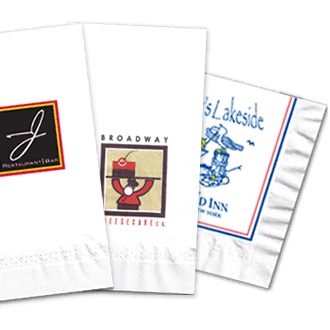 With the availability of 1 ply and 2 ply beverage and dinner napkins with a variety of colors to choose from, you are granted total creative freedom in the design process! Perhaps best of all, we offer the smallest production run of printed napkins in the commercial market so that this option is easily accessible for everyone. Whether you're running a small business, are dealing with limited inventory space, or are having a massively gargantuan wedding (here's looking at you, William and Catherine), WebstaurantStore has you covered!
Simply check out our customizable napkins guide to begin customizing the napkins of your choice!