WebstaurantStore / Food Service Resources / Blog
Interior Color Choices and Your Restaurant's Message
If you operate any type of foodservice establishment, then you are probably aware of how much color affects that overall message your restaurant delivers to your customers. Everything from paint, upholstery, and tile color to plate, napkin, and menu color can evoke many different emotions. Whether your goal is to achieve fast flow-through rates, or you're trying to provide a relaxed dining experience for your guests, it's extremely important to choose a restaurant color palette that adheres to your business's brand and helps it achieve its goals. Check out some interior color schemes for your restaurant below before you start remodeling your existing establishment or designing your new one.
Interior Color Ideas for Restaurants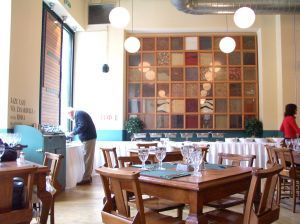 Light Color Scheme: Ivory, beige, white, pale yellow, light gray
Pros:
Often used to make a smaller room look bigger than it really is
Evoke a leisurely and relaxed feeling
Encourage customers to stay longer, making these colors great for more upscale establishments
Cons:
Not ideal for restaurants with high-volume goals, like fast food joints, quick-serve restaurants, and take-out businesses
Dark Color Scheme: Deep blue, purple, crimson, dark gray
Pros:
Often used to make larger rooms look smaller and feel less empty
Create a more intimate setting and reduce the impersonal feeling of large group dining, making them ideal for banquet halls
Mask structural blemishes, like duct work or chipped molding
Cons:
Not a good idea to overuse dark colors in your establishment, especially in small dining rooms because the mood can become depressing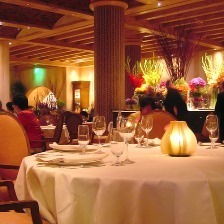 Warm Color Scheme: Red, yellow, terracotta, orange
Pros:
Often incorporated into a restaurant through wall hangings, tabletop accessories, tablecloths, and brick accent walls
When combined with soft lighting, warm, earthy colors help customers relax
Encourage customers to stay longer, making them ideal for fine dining establishments that serve multiple courses
Cons:
Not ideal for fast food establishments that want customers in and out as quickly as possible
Cool Color Scheme: Green, blue, purple, burgundy, metallic
Pros:
Promote a reassuring and inspiring mood
Typically incorporated into a restaurant through accent walls, candles, charger plates, and tabletop accessories
Cons:
Blue is known to suppress the appetite, which means the main focus point of your restaurant shouldn't be a cool color
Evoke a sense of thirst more than hunger, so they're more suited for the bar area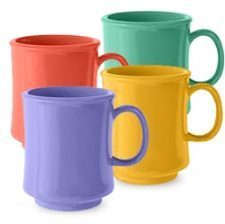 Bright Color Scheme: Bright shades of red, yellow, orange, green
Pros:
Raise the heart rate and blood pressure, which excites customers and makes them eat faster
Best for restaurants that want high table turnover rates, like fast food establishments, dining halls, and cafeterias
Commonly incorporated into the decor through plates, mugs, and other tabletop accessories
Cons:
Since they make the customers feel rushed, they're not suited for fine dining establishments
When choosing a restaurant color scheme, it all comes down to the type of establishment you operate. If you run a white tablecloth restaurant, but really want to incorporate bright shades of red, then just be sure that smaller items, like charger plates and candles, are that color. Or, if you feel blue would complement your sushi bar well, then consider using blue tablecloths, or paint an accent wall. All in all, the interior design depends on your preferences and the experience you want your customers to have.