WebstaurantStore / Food Service Resources / Blog
Preparing Your Bakery for the Holidays
It's that time of year again – work holiday parties, a class winter party for the kids, one family dinner after the other, ugly sweater parties, cookie exchange parties, and more parties, parties, parties!
"RSVP with a dish or dessert you'll bring."
"Don't forget your tray of cookies for the exchange."
"Please take note of little Jimmy's peanut allergy."
But with all these gatherings and our other day-to-day obligations, who has time to slave in the kitchen for hours perfecting their great, great grandma's holiday candy recipe? Not many; and that's why you, our amazing bakers, have bakeries buzzing with customers caught up in the hustle and bustle that comes with the season. We're here to give you some tips for preparing your bakery for the holiday season rush and to share some favorite holiday baking ideas that give us that nostalgic feeling of celebrating at home with family and friends!
Cookie Trays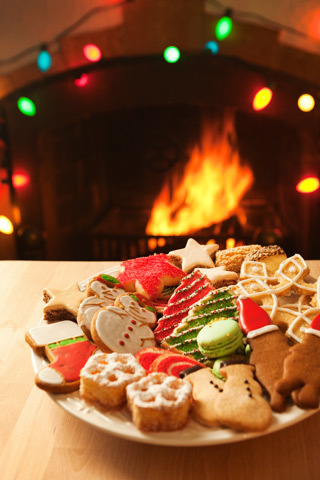 As far back as we can remember, cookie baking and decorating has always been a holiday tradition in many homes, leading to the even more favored cookie exchange. Many of us here look forward to bringing in our own family recipes to share with coworkers every year, sometimes leading to competitive battles in search of the best snickerdoodle! But in today's busy society, not everyone has the time or desire to whip out their mixing bowls, spatulas, cookie sheets and cutters to start baking, let alone, clean it all up! So now it's up to our favorite bakeries to craft the ultimate assortment of intricately decorated, oddly shaped, great tasting, traditional and non-traditional assorted cookie trays! Consider some of these suggestions to ensure your tray not only looks professional, but has a cookie to hit everyone's sweet tooth.
Incorporate at least one traditional holiday cookie. Nobody wants to upset grandpa at family dinner because someone forgot to invite the gingerbread man! Dating back to the Middle Ages when Queen Elizabeth I of England decided to shape and decorate gingerbread cookies to resemble her favorite courtiers, gingerbread cookies have become a cookie staple during the holiday months with their cute shape, deliciously spiced flavor, and infinite decorating possibilities.
Icing, sprinkles, and toppings galore. Nothing makes people happier than a tray of intricately decorated sugar cookies! Add the gumdrop buttons. Use colored sprinkles. Add coconut flakes to resemble snow or bring a snowman cookie to life. Dye dough and swirl the different colors together into pinwheel or candy cane themed cookies. Be creative!
Make transport and delivery easy. After all that hard work, it would be a shame if you set your cookies onto a cheaply made tray. Holiday baked goods are not something to mess around with! Be sure your serving trays and platters provide support and look nice enough to sell. And don't forget to arrange your cookies into a flattering assortment. Don't just pile them on top of one another – after all, you put so much hard work into decorating!

Holiday Candies

Beginning as a solid white sugary stick, the candy cane is believed to have developed into its modern curved shape around 1670 when they were supposedly passed out to young children as a sweet treat to keep them satisfied during the lengthy Nativity scene. Whether or not this tale is true, it's definitely evident that candy making has evolved into another holiday tradition as people continue to give homemade candy as gifts, not only this season, but throughout the entire year. From chocolate dipped fruit and drizzled pretzels to peanut butter balls, caramel turtles, and chocolate lollipops, homemade chocolate candy is a beautiful option for catering or gifting.

Cupcake Assortments

Have you noticed how popular cupcakes have become and how they've evolved in just the past few years? Bakers have become incredibly skilled at transforming an ordinary cupcake into a decadent masterpiece. Cupcakes make great holiday baked goods because they're easy to share, and they make a great display. Customers will be drawn to your bakery cases filled with carefully frosted, mouth-watering cupcakes, ordering their supply for their next… you guessed it, party! Here are some ideas to add holiday cheer to your treats.

Twist it up. You don't always have to use your traditional buttercream frosting recipe. Try mixing two unique flavors together, like cherry and white chocolate. How does mixing red and white for a candy cane twisted icing sound? You can do this very easily by using a duo decorating pastry tube. You can also add a fun homemade topper to each cupcake, such as connecting mini marshmallows to make a snowman.
It's all about the batter. Tis the season to experiment with festive, wintery cake flavors. Use traditional yellow cake with a complementary icing, or switch it up and try a devil's food cake chocolate mix with a brown sugar buttercream frosting!
Make festive displays. Another fun idea, great for catering holiday parties, is to frost cupcakes with a basic icing that's dyed green. Assemble them onto a cupcake stand shaped similarly to this one, and it will resemble a holiday tree. What a great centerpiece for the dessert table!