Wedding

Menu Ideas

There's a significant amount of responsibility that comes along with being hired as a wedding caterer. After all, you're playing a major role in a special event that the bride and groom will remember for the rest of their lives! It can be stressful to be responsible for the wedding menu - you want to satisfy not only the wedding party but the guests, and finding a selection of meals to appeal to all of those people can be a daunting task. But never fear! We'll provide you with some ideas to ensure that your wedding menu will be a crowd-pleaser.
Are you looking to create a wedding menu that is...
...Trendy?
If you're catering the wedding of an adventurous couple, it's likely that they'll want an exciting and fresh menu to match their personalities! Grab some inspiration from these recently popular ideas to give the bride and groom the wedding of their dreams.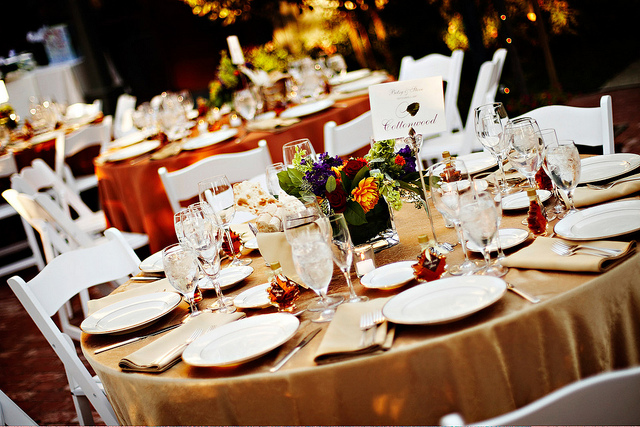 Surprise guests with an appealing breakfast-for-dinner spread! This idea has been rising in popularity with brides and grooms who want to offer something fresh and fun at their reception. For appetizers, cook up some miniature French toast and waffles for everyone to choose from. But don't feel confined to basic breakfast staples like bacon and eggs; how about serving some smoked salmon with cream cheese and an array of gourmet bagels?
Put a fun new twist on that classic meatball appetizer by placing an elegant swirl of spaghetti on top of each meatball. Guests will love the unexpected take on an old favorite!
If you're catering a spring or summer wedding, offer chilled soup stations to give your menu a cool and flavorful feel. Some favorites according to renowned catering managers like Morgan Bedore: classic tomato gazpacho with grilled shrimp and cilantro oil, white gazpacho with green garlic and toasted almonds, or yellow grape tomato gazpacho with micro basil and charred eggplant.
Allow guests the freedom to mingle by providing appetizers that don't require a plate and cutlery. They'll love the convenience of caprese pops: grape tomatoes cut in half, filled with small slices of mozzarella cheese, and seasoned with thinly-sliced basil, salt, pepper, and balsamic vinegar. Thread onto a short wooden skewer for a tasty and portable treat!
...Classic?
If the couple who hired you isn't up for trying anything too daring, consider some of these old standbys. Just because a menu choice is traditional and classy doesn't mean it will be boring!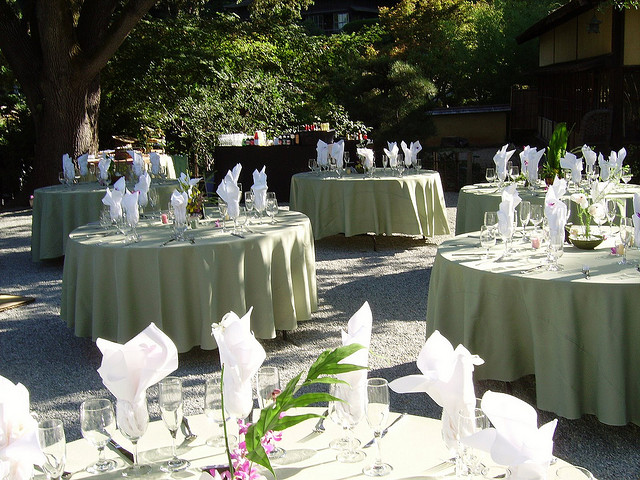 Set up a cheese table with an array of flavors, textures, and colors. Offer a selection of bread and fruit on the same table so that guests can create their own tasty combinations.
Worried about finicky guests? Create a large, beautiful buffet where diners can pick and choose the things they'd like to try. Some delicious ideas: melon wrapped in prosciutto, miniature crab cakes, or roasted potatoes with dill cream and golden caviar.
Impress guests with an awesome new take on the classic hamburger sliders idea: duck confit sliders with Asian slaw!
Most people will probably work up an appetite on the dance floor as the night goes on. That's the perfect time to break out some delicious midnight snacks, like mini-hamburgers or tiny cookie sandwiches, to keep their energy level up! You can even class up the traditional grilled cheese sandwich with some fresh combos: Maine lobster with Gruyere or slow-cooked short ribs with fontina cheese are great-tasting gourmet snack sandwiches that will surely impress the guests.
...Casual?
If you're catering a laidback wedding with an outdoor reception, think about considering some of these fun, low-maintenance ideas. Let your guests kick back and relax while you create some memorable, no-frills dishes.
Everyone loves a backyard barbecue! On a sunny summer day, guests will love indulging in pork spareribs, beef brisket, or barbecue chicken. As far as sides, potato salad, coleslaw, and baked beans are tried and true favorites.
Mini hamburgers have long been a safe and casual wedding reception staple. If the bride and groom aren't huge burger fans, consider serving other forms of mini sandwiches: mini chicken parmesan sandwiches or BLTs are always a big hit!
At a casual wedding, guests will likely not be expecting a sit-down dinner. Create a laidback feel with some fun buffet tables: if the bride and groom are into Mexican food, put together a taco bar with plenty of options (soft/hard shells, toppings, sauces) for people to choose from.
Upgraded comfort food is always a hit! Serve lasagna cupcakes, macaroni and cheese in ramekins, or mini grilled cheese sandwiches on top of tiny tomato soup shooters for low-key but delicious appetizers!
Related resources:
How to Cater Your Own Wedding
Free Catering Invoice Templates