5" Probe Thermometer
<!-[PRICE_INCREASE_ADVERTISEMENT_913T220]->
1" dial with magnifier
5 1/2" stem
Reads between 0 and 220 degrees Fahrenheit
Water-tight lens
NSF Listed
Item:

913T220

Units:

Each

Shipping:

Usually Ships in 1 Business Day
When will I receive my Item?

Reviews:

UPC Code:

789313417834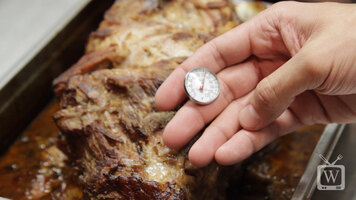 How to Calibrate a Dial Probe Thermometer
Calibrating a dial probe thermometer is easier than you think! Try following these simple steps:

1. Get one glass of ice.
2. Fill with water.
3. Slide your thermometer into the built-in wrench.
4. Place the thermometer in the ice water, ensuring that the dimple is underwater.
5. Wait until the thermometer stops moving.
6. Turn the dial until it reads 32 degrees Fahrenheit.
7. Start measuring the temperature of your food!
Learn how to quickly and easily calibrate your dial probe thermometer for your specific needs!
Specs
Probe / Stem Length
5 Inches
Display Size
1 Inches
Display Type
Analog
Features
Protective Sleeve
Maximum Temperature
220 Degrees F
NSF Listed
Yes
Style
Handheld
Type
Probe / Pocket Thermometers
Details
Easily read the internal temperature of your most popular dishes while they cook with this 5" probe thermometer! This thermometer's stem is 5" long so it can accurately read the internal temperature of meats between 0 and 220 degrees Fahrenheit, and its 1" diameter dial comes with a magnifier so it can be easily read at a glance. The lens on this probe thermometer is also water-tight to avoid possible damage during use. NSF Listed.

Overall Dimensions:
Display Size: 1"
Stem Length: 5"
Related Items
Frequently Purchased Together
Customer Reviews
Overall User Rating:
5" Probe Thermometer

(

4.7

stars from

74

reviews )
Simple but necessary kitchen tool. At this price, you won't get a giant display, but it does the job and fits easily in the pocket of an apron.

Jacob F. Posted on 07/03/2015

This 5 inch probe works fairly well. In our food truck we keep these around for a back probe. Priced very reasonable and made very well.

William P. from Funky fresh food truck Posted on 06/24/2015

I bought these to give out as gifts for cooking classes, excellent, simple and works well! I recommend these thermometers to do your job! I like the size of them, easy to fit in your pocket.

Kenyatta S. from Rescupies Posted on 06/24/2015

Works as promised and is sturdy. So no complaints. I like these better than electronic version because they are less likely to get damage and I don't need a battery. Cheaper too.

Ali A. from OPC Posted on 06/09/2015

Thermometer works well and come in a protective sleeve with a clip for easy storage. Reads temperatures at a standard speed as expected from a non-digital thermometer

Melinda A. Posted on 06/07/2015

This was the best priced product I could find after an extensive internet search. I use it to make sure products are cooled below 140degrees before storing.

Daniel P. Posted on 06/05/2015

This is a great, reliable, inexpensive thermometer. It's got an easy-to-read dial, handy pocket holder, and is easy to clean and sanitize. This is a great choice if you're getting thermometers for a number of staffers.

James D. from Zulu Co Posted on 06/05/2015

It seems to work well but was given to my father who says he has difficulty reading it due to the small writing. Temperature however seems accurate.

Jennifer I. Posted on 05/15/2015

Decent thermometer, but quite slow at coming up to temp on meats or other items on the grill. Better for immersion situations. Well built, easy to read.

Michael P. from Mike's Mindful Plate Posted on 04/07/2015

The dial is a little on the small side so you'll have to look in a little closer to see the temperature but overall a great buy because it can easily fit into your pocket to carry around. Great to have a handful of these since they are a necessity in the kitchen.

Anna N. from Honeybee Patisserie Posted on 03/19/2015

This thermometer works great. There's not much to it--just a simple probe thermo that just works. It usually gives me a stable read after a couple of seconds. When not in use, fits nicely into the holder which conveniently has a pocket clip attached to it.

Hai D. Posted on 03/17/2015

This thermometer is a good value compare to the retail stores. It is required by the health department to take temperature of food products. We have a few of these around the food service area.

Beshoy I. Posted on 03/03/2015

Great for controlling temperatures on hot drinks. Also works great for taking temperature of meat. Easy to clean, and the red outer case makes safe storage an ease.

Michael O. Posted on 02/13/2015

I'm really impressed with this inexpensive thermometer. I use it for testing if bread is sufficiently baked. It takes about 5-10 seconds to give a consistent reading at 200+ degrees F, which is slower than a digital instant read thermometer, but this works well in a pinch.

Michael H. Posted on 02/13/2015

We have a hard time keeping track of thermometers... I was VERY tired of buying them at chain stores $$$. Found these and LOVED the price. I now have them hidden in the kitchen for "emergencies" when we can't find the darn things. Great price and works well

Katy M. Posted on 01/22/2015

Quick and easy to use, It's a nice tool to keep in your pocket or toolbox to satisfy health department needs. It does its job but in my case has broken at the attachment between the probe and the display.

Matthew M. from 8 Bit Bakeshop Posted on 01/15/2015

We use these for different things. Mainly for soups to check temperature. I also keep one by our espresso machine so when we do kid drinks we can double check the temp for them so its kid temperature.

Reva C. from Heaven in A Cup Posted on 01/06/2015

It appears we may have gotten a defective probe cover case. The probe will not stay firmly in the cover. It clicks in but immediately pops right back out..

Mary M. Posted on 10/17/2014

Thank you for your review! We're sorry to hear your probe won't stay in the cover. For a heavier duty thermometer, try this Taylor Instant Read Probe Thermometer.

WEBstaurantStore.com Customer Solutions

This thermometer is above all accurate, but is also very easy to use, includes the slide cover for safe keeping and has made cooking meat a much easier task!

Shalane H. from Shalane Bakes Posted on 09/11/2014

These thermometers were accurate. The downside is the products i received do not have a way to calibrate them. The difficulty to calibrate is a big problem in a restaurant.

James M. from Daily Grinders Posted on 08/15/2014

Thank you for your review. This thermometer can be calibrated in ice water. Please watch our video on this item's page!

WEBstaurantStore.com Customer Solutions

We use these thermometers for keeping a check on our soup temperatures and also for checking the meat temperatures. They are very sturdy and accurate.

Angie A. from Sergeant Major's Subs Posted on 07/20/2014

very durable- both the thermometer and the holder. Easy to read and accurate. this thermometer will last, unlike some previous ones I have purchased. Cant beat the price! recomment this product

Andy G. Posted on 07/08/2014

This is a great basic analog thermometer. It is very easy to read, and I like that it comes with its own convenient protective cover.

Jennifer G. Posted on 07/02/2014

bought these for each line cook to have. no more guessing temps. work well, recalibrate when nesacary, good price point. keeps health inspector happy recommend

Marty K. from Cafe Marty Posted on 06/19/2014

very good and accurate reading, and most important is NSF approved and you must have that in the kitchen, good to use with hot food.

Elias A. from ERA Posted on 04/09/2014

The 5" probe thermometer is a solid thermometer that is easy to calibrate and sanitize. The price is great, which makes this a really good buy.

Cullen G. Posted on 03/03/2014

We bought several of these for our fundraising events when we are serving food and must keep track of the proper temperatures of our food that was prepared earlier. They work very well.

Violet K. from Advanced Technology Mktg Inc Posted on 02/02/2014

This 5 inch probe thermometer comes with a holder and a bunch of helpful tips on the holder. It tells you about different temperature ratings for different kinds of foods.

Sanif M. Posted on 02/02/2014

This has really exceeded my expectations. I have had 3 different thermometers that have stopped working after just a few uses, but this is not the case here. It was priced very well and has been very reliable. I also love that it came with its own case!

Amber B. Posted on 01/27/2014

So far so good. This thermometer is analog, and does a good job at checking temperatures. Slower than a digital one, shown in comparison in the photo. Comes with a sleeve.

Dario C. Posted on 10/18/2013

Works great. It does need to be calibrated every so often as most will need. This is a great product that can withstand being in liquid so I would recommend paying a bit more for this versus any of the cheaper brands.

Courtney M. from BlueSteele Coffee Company Posted on 10/10/2013

Every home and professional cook should have this thermometer. I actually own two of these, I like to keep one in my home kitchen as well as my moms house. It gets the job done, is durable and easy to clean. Readings are accurate.

Jeffrey B. Posted on 08/21/2013

These thermometers are great quality and a must for businesses with refrigeration equipment so you don't get fined by the local health department. The price is nice too!

Tom K. from TKNY Capital, LLC Posted on 08/01/2013

Accurate. quick and handy to have around the kitchen and grill. Love the fact that the thermometer "locks" into the holding sleeve so you don't have to worry about it falling out. I bought two but will probably buy more.

Kent D. Posted on 05/14/2013

It's nothing fancy like the digital ones, but it is nothing but reliable. I own several of these for the house, and I've used them in numerous restaurants where I used to work as well.

Darrell S. Posted on 05/07/2013

This is a great basic pocket probe style thermometer. Great for safely cooking food to the proper temperatures. Not dishwasher safe but easy to wash by hand.

Rick M. Posted on 03/23/2013

A must have for any kitchen! This thermometer works quickly and accurately and is easy to calibrate (which isn't needed often at all). A highly recommended product for sure.

Michael H. Posted on 02/24/2013

Its just your Basic Dial thermometer. Didn't seem very reliable. We constantly had to re-calibrate it. Also didn't survive the dish washer very well, the dial melted.

Daniel S. Posted on 02/04/2013

Thank you for reviewing this product! This thermometer is not dishwasher safe, and the dial should never be submerged underwater. To clean this thermometer, we recommend purchasing probe wipes and washing this product by hand.

WEBstaurantStore.com Customer Solutions

5" Probe Thermometer is good for the price, but ended up not working as well for me. I ended up getting the digital probe and was much happier. This didn't last as long as I'd hoped. Good for the price though!

Patricia Z. from Primitive Gardens Posted on 02/01/2013

This a simple economic way to ensure both quality and food safety. We issue these to all our shift managers and insist they check holding temperatures. It takes the guesswork out! There are nicer digital thermometers, but I would not purchase to issue to employees, and for the cost you can replace these several times over, for what the other cost.

Justin H. Posted on 01/08/2013

This is such a great price! You should get several of these for your kitchen for the different stations as well as Gluten Free products and Kosher products. It helps ensure proper temps as well as no cross contamination.

Laura B. Posted on 12/14/2012

Nothing beats the probe thermometer by using this to ensure cook food before its served to the guests. This is a basic one and does last a long time.

Roelh L. Posted on 11/19/2012

Out of the box you will need to check calibration just like with any manual thermometer. These are easy to adjust and give a quick enough reading.

Randall S. from Sbarro Pizzeria Posted on 11/04/2012

This thermometer has been a mainstay in our kitchen for years. Actually we always have several in the kitchen at any given time, and it's easy to do that with the wonderful low price !It takes the guesswork out of cooking meats and helps produce a perfectly prepared product. This is always a great gift for a new cook as well!

Mary D. from homeschool Posted on 10/18/2012

This thermometer can't be beat for its price. It's good to know that I can buy a few and keep them in different areas. It appears to work accurately.

Jean B. from Stella's of Middle Street Posted on 10/11/2012

The 5" Probe Thermometer its a great little gadget very affordable and accurate found that webstaruant had the best price on the web :) am enjoying my new TOY :)

Roweliza L. Posted on 09/14/2012

We use the probe thermometer to check doneness on any meats we roast. For makeline spot temperatures, we endorse an infrared thermomter as there is no risk of cross contamination. We have both and use both styles frequently depending on the application.

Curtis C. from Uncle Tony's Pizza Posted on 08/30/2012

Theses thermometers are quick and accurate. They are very easy to carry around with you. They are priced so reasonable you can afford to have a few. Keeps you on board with all of the food codes. Very good product. Very satisfied.

Gale D. from GDB Enterprises, LLC Posted on 08/05/2012

Cant beat this price for a standard probe thermometer. These are identical to what you see everywhere else but for a fraction of the cost. Add a couple of these to your order and shipping is unaffected.

Adam S. from Gallaghers Pizza Posted on 07/29/2012

Really good thermometer. It is good for minimal use and is extremely inexpensive. Add a few to your cart and keep going. I highly recommend them.

David D. Posted on 06/09/2012

The 5' Prob Thermomter.Is a must to have in any kitchen, to test meats, candy, ect .Safe your meats have to be cooked up to s certain tempature. certain candy has to be an accorate temp to work with what you are makeing , Like candy apple's.

Angela H. from Harrison Familey Restaurant Posted on 06/04/2012

I use this thermometer a lot and it's done beautifully. It's easy to read and seems very accurate (I test it occasionally by putting it in boiling water and ice water).

Aileen F. from Babycakes Bakery Posted on 05/11/2012

Great small pocket thermometer that works wonders. Allowing you to make sure that proper health department codes are being met. Ordering one is not enough what if you lose one? Is you health license that not important to you ?

Tristan M. from Tristan's Posted on 04/06/2012

these are the cheapest priced thermometers i have found anywhere what so ever. They look great in the side pocket of a chefs coat. essential for every chef and cook.

Tom M. Posted on 03/23/2012

All resturants have to have a thermoneter and these for the price work great. You do not have to have a digital at every station.

James C. from SMOKEY J'S Posted on 01/15/2012

One of the most important item in a coffee shop to make great cappuccinos. It's cheap and works great. I will buy this product again.

Wendy Z. Posted on 12/31/2011

Excellent value. We use these as our everyday thermometers. Very reliable and easy calibration make this an excellent product. They also are very resistant to being knocked out of calibration due to being dropped etc.

Andrew G. from Cafemantic Posted on 12/27/2011

I have eight of these in my restaurant. Each chef of mine, including me has one on our side pockets. They work perfectly for temping all kinds of food products. And they are priced perfectly.

Aaron h. from The new haven cafe Posted on 10/07/2011

I bought this 5" probe Thermometer in preparation for a wedding. The thermometer helped me to check on the temperature on my beef roasts and chicken.

Christopher H. from Flashback Unlimited Posted on 09/15/2011

The first thing I would like to say is that we are very pleased with the price of these thermometers. In addition to that, and most important, they are reliable and accurate.

Ying B. Posted on 09/12/2011

Very good thermometer at a terrific price. I've ordered several as the cooks use them with confidence. The price makes it a must have in our busy kitchen.

Bill L. Posted on 08/13/2011

These thermometer are a must for the kitchen, we order several at a time so we always have enough for every station, never wear out, just lose them

Mike M. from Golden Rule BBQ Posted on 08/10/2011

Very sturdy and heavy weight. Was very impressed with the quality for the price. Thank you for supplying such a great thermometer for such a great price. Every kitchen should have one of these for the safety of your friends and family.

Trinh T. Posted on 07/18/2011

Cheap, accurate, and good. The dial is easily readable, and it hits the temp very quickly. Really can't complain about this item. It's exactly what I was expecting.

Rodney G. Posted on 04/19/2011

Very useful thermometer. The plastic case is great for protecting the sensitive probe. The dial is just big enough to read but not too big to wear on your sleeve. Great size and price!

Eric K. Posted on 04/13/2011

Quite a good deal for the money. Has a nice clip for keeping it in your pocket, and is well constructed. Dial is easy to read.

Jarris W. Posted on 04/05/2011

The probe works well in reading temperature, but as with most dial models can be slow to respond. Would benefit from some color markings around the 140f mark.

Michael B. from Pure Pasty Co Posted on 03/16/2011

Good quality and good price. What else can we ask for. Nice job by this website in selection and good service as well every time.

Verindar K. from AMAYA LLC Posted on 03/15/2011

I like this 5" probe thermometer, this is very useful cooking tool.Every kitchen should have one to make sure food is cooking correctly. This has the best price

Aaron T. from Kajun Burger Posted on 02/17/2011

Getting a precise temperature is always useful, so I decided to get this thermometer since some of the recipes that I use require precise temperature readings. The thermometer comes with a black plastic tube-case that has a pocket clip so it can be attached to a pocket or a belt. To use the thermometer you just have to pull it out of the case and stick it in the food that you like to take a reading from. Wait for around 20 seconds for the temperature to adjust and you have a reading. If you have a hot or really cold food then the reading will be a bit faster. This thermometer is a must for every kitchen, because sometimes you will need to have precise readings if you want to cook the food the right way.

Alexander G. Posted on 09/20/2010

Excellent quality and comes with a sturdy protective case to clip on a coat. Easy to stay clean and doesn't damage in quat sanitizer. Has some weight to it, and I already dropped it on the floor once - no damage or cracks!

Anna S. Posted on 05/08/2010

A necessity for food establishments to meet food code requirements, and the case makes carrying easy (great for chefs who keep them in their jackets or pockets, so they stay clean and don't fall out). Certainly a great price too, so get as many as you need.

Lucas P. from Shaharazade's Restaurant & Tea Room Posted on 03/29/2010

Just what I was looking for, not a large gauge, but a good size for testing meats. Well-made and fairly-priced. Great customer service. --Patricia from Front Royal, VA

Patricia A. Posted on 03/09/2010

A great value & quality tool. A must have item for food safety at the best price I found on the internet. Shipping was very fast & packaged well

William L. Posted on 08/19/2009
Get paid to review this product!
If you've used this product, simply log in and share your text, video, and photo reviews of it. The customers on the left did it, and you can too! Earn up to $16.00 per product.
Write a text review
Earn $2.00
Post a product photo
Earn $4.00
Post a product video
Earn $10.00
Login or Register